Thursday, 27 October 2022
Image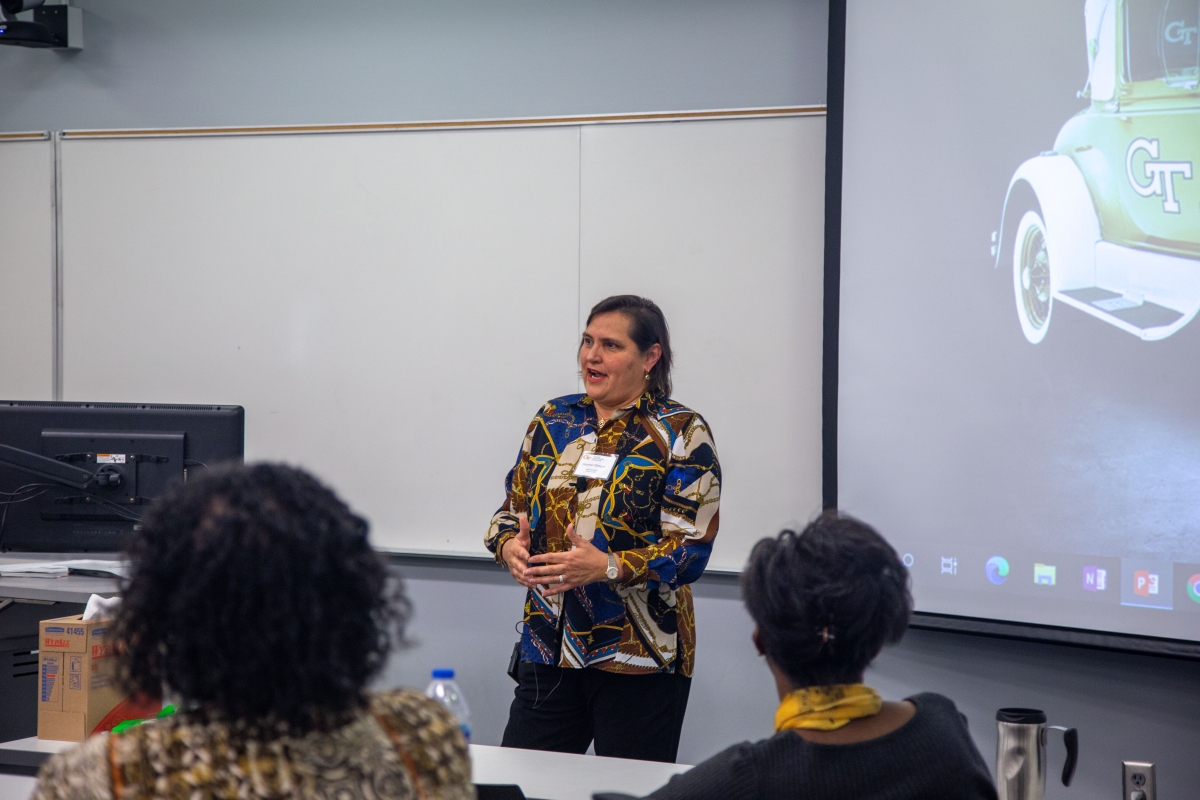 Guiomar Obregón has blazed her own trail. After growing up in Colombia, she went on to earn multiple degrees in the U.S., raised a family and started a thriving civil engineering company. Along the way, Obregón has worked to help others find success in engineering and construction.
Obregón, who delivered the Fall 2022 lecture for the Kenneth Hyatt Distinguished Leadership Speaker Series on Oct. 11, told students about her life story and the way she built her business from the ground up. She shared lessons from her journey and told students that there are many paths for them to succeed after graduating from Georgia Tech.
"There is no one formula," Obregón said. "You are the talent of the future. You will be changing the world."
Obregón is the CEO and co-founder of Precision 2000, also known as P2K, a general contractor in civil infrastructure and transportation-related projects. P2K works with government clients around the Southeast on infrastructure projects like airports, military bases, roads, and sidewalks. The company specializes in concrete paving and repairs, using high-strength concrete to repair runways at Hartsfield-Jackson Atlanta International Airport and highways throughout Georgia and South Carolina.
Engineering is part of Obregón's DNA. Both of her parents were civil engineers, and she knew early on that she wanted to be an engineer, too. Obregón worked in structural design for several years in Colombia before she decided to pursue a master's degree. She found her way to Georgia Tech, inspired by the possibilities of an international education in the U.S.
Obregón graduated from Georgia Tech with dual master's degrees in civil engineering and management. From there, life got busy: Over the next three years, Obregón married fellow Georgia Tech alumnus Carlos Sánchez, had a baby, and started a business.
She told students that being an entrepreneur isn't easy.
In the beginning, Obregón worked around the clock. She maintained a full-time job to pay the bills and dedicated her evenings and weekends to P2K. But after a couple of years, the hard work paid off: She was able to leave her day job and work for herself.
"Growing a business is hard work. You have to wear many hats, especially at the beginning," she said. "But you can have a business, and have a family, and be successful."
Obregón shared some of the things that have led her to where she is today.
She encouraged students to be lifelong learners and seek opportunities to pick up new skills and knowledge—whether through industry seminars, Small Business Administration training, or formal degree programs.
"The more education you have, the more successful you will be," Obregón said.
In addition to her engineering degrees, Obregón has also earned degrees in management and finance as well as a certificate in mergers and acquisitions.
Obregón is also a big proponent of helping others, especially women, find success in engineering and construction.
"Construction is typically a male-dominated industry," Obregón said. "Being a woman and a Latina, it is hard. You don't see many people like yourself and you're trying to prove you belong."
Fifteen years ago, she established an internship program at P2K for Colombian engineering students to get hands-on training to improve their professional skills.
She has also been an active supporter of students at Georgia Tech. the P2K Scholarship fund was created to support Hispanic and women students the School of Civil and Environmental Engineering while a fellowship at the School of Building Construction provides financial assistance to Colombian engineers pursuing master's degrees.
"We have been paying it forward to others," Obregón said. "I was helped at some point in my career, so I want to help others."