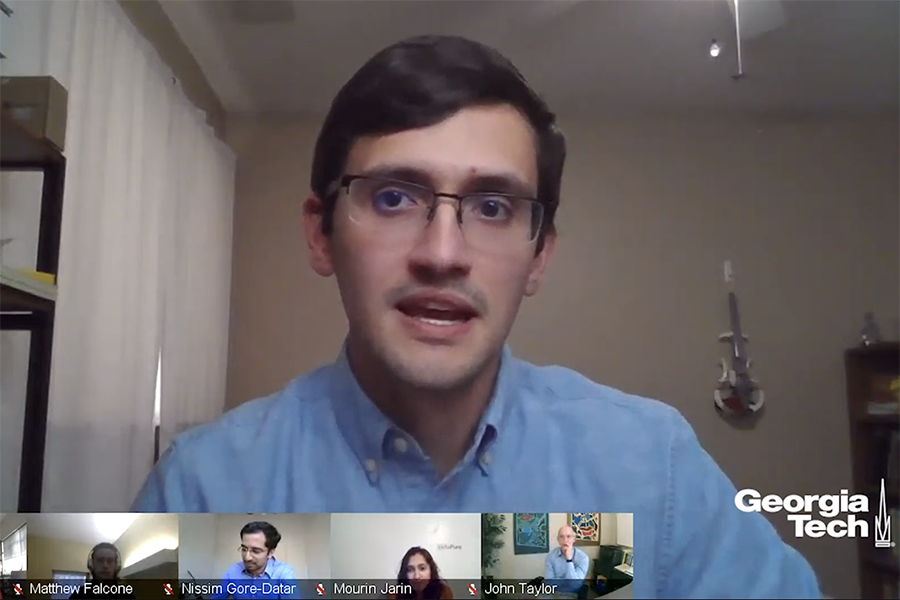 Timothy Purvis, a member of River Recon, answers questions about his team's device during CEE's Entrepreneurial Impact Competition.

In the first annual Entrepreneurial Impact Competition, the School of Civil and Environmental Engineering celebrated innovation and recognized two student teams with $5,000 prizes for their ideas to detect microplastics and disinfect drinking water.
During the two-hour virtual competition on March 19, four finalists pitched their projects to a panel of expert judges and a live audience.
Following the presentations, the judges—including CEE faculty and alumni with entrepreneurial experience—selected two teams to win $5,000 prizes sponsored by two generous donors: Bill Higginbotham, CE 76, and the Zeitlin Family.
"We are constantly amazed by the creative problem-solving and innovative ideas displayed by our students," said Karen and John Huff School Chair Don Webster. "We hope this competition will help to boost the entrepreneurial mindset in our School and help launch the innovative ideas of our students and community."
The Higginbotham Prize was awarded to River Recon, comprised of Matthew Falcone, Erin Kowalsky, Timothy Purvis and Kaylyn Sinisgalli.
River Recon designed a sensor to swiftly, inexpensively and efficiently identify microplastics in water. The sensing device works by using fluorescence, and in some cases light distortion, of plastic polymers at certain wavelengths to distinguish microplastics from soils and other interferences in water.
The device works by passing water samples into a light-tight testing chamber, where it is stored in a glass tube. Light sources of different wavelengths turn on and off sequentially, and a camera takes an image of the sample's response to each wavelength of light. The images are compiled and passed into a machine learning algorithm, which predicts which regions contain microplastics.
Volta Pure, made up of Nissim Gore-Datar, Mourin Jarin and Jianfeng Zhou, took home the Zeitlin Prize for their technology, which offers an alternative to chemical water disinfection.
VoltaPure's co-axial electrode copper ionization cell disinfects water while producing a very low and safe effluent copper concentration. The underlying mechanism behind the center electrode is locally enhanced electric field treatment, which exploits the lighting rod effect by distributing a low voltage to the modified electrode surface, significantly enhancing electric field exposure to pathogens.
VoltaPure's energy-efficient, chlorine-free technology can be integrated into point-of-use water disinfection for remote areas, developing communities and disaster regions without central water disinfection facilities. It can also be retrofitted into existing distribution systems to provide antimicrobial properties while eliminating the need for chlorination, offering clean drinking water without harmful disinfection by-products.
The Entrepreneurial Impact Competition began as an open call for proposals during the Fall 2020 semester. Individuals and teams of students at both the undergraduate and graduate level applied their CEE knowledge and skills to develop entrepreneurial ideas that could improve the human condition. Following a thorough review, the panel of judges selected the four finalists to participate in the competition.
Related: