The Environmental Engineering program provides comprehensive educational and research opportunities in air, land and water science and engineering.The principal focus areas include:
environmental biotechnology
water quality and treatment
wastewater reclamation and reuse
environmental hazards and risk assessment
ground water modeling and treatment
air quality monitoring; pollution control and modeling
environmental sciences; and industrial ecology
sustainability
Environmental engineering is also a key component in Institute-wide initiatives in bioengineering, bioscience and biotechnology, nanotechnology, materials science and technology, sustainable technology and development, environmental science and technology, and energy-water-food systems.
The multi-disciplinary credentials of our faculty, our state-of-the-art research facilities, and extensive collaborations with other engineering and science faculty all combine to attract high-caliber students from a variety of disciplines.
The master's degree requires 30 credit hours beyond a Bachelor of Science. Thesis and non-thesis options are available. Typically, a non-thesis master's degree can be completed in three semesters and a thesis degree program can be completed in two years.
The Master of Science in Environmental Engineering program is also offered at Georgia Tech's campus in Shenzhen, China.
GT-Shenzhen welcomes applicants from all over the world as well as exchange students from Georgia Tech's main campus. Students in Atlanta and Shenzhen have the option to exchange, further enhancing their global experiences.
There are two full-time faculty members in the environmental engineering program at GT-Shenzhen and faculty from Atlanta serve as visiting instructors.
Admission and degree requirements are the same as those in Atlanta.
Image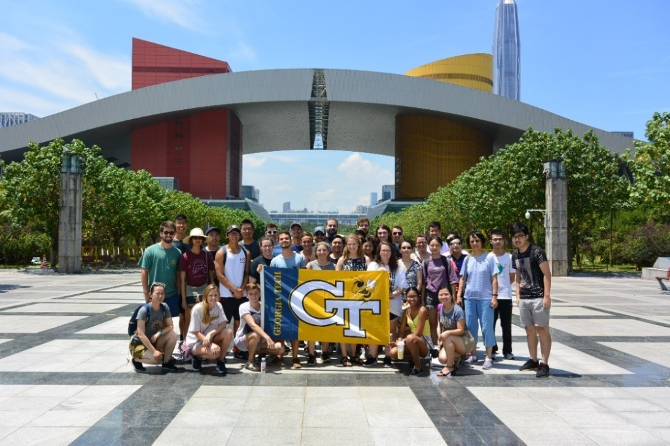 Non-Thesis Option
21 of the 30 credit hours of coursework must be at the 6000 level or higher
 

| | |
| --- | --- |
| Environmental Engineering Core Courses | 15 |
| Approved Electives | 15 |
| Total Credit Hours | 30 |
Thesis Option
21 of the 30 credit hours of coursework must be at the 6000 level or higher
 

| | |
| --- | --- |
| Environmental Engineering Core Courses | 15 |
| Approved Electives | 9 |
| CEE7000 Master's Thesis | 6 |
| Total Credit Hours | 30 |