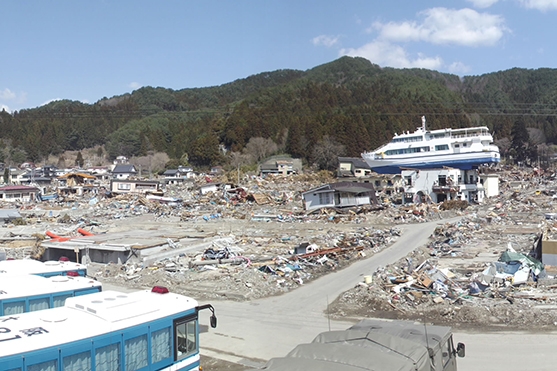 An April 2011 panoramic view of Otsuchi, Iwate prefecture in Japan after a tsunami devastated parts of the country the previous month. On the right side of the image, the 109-ton sightseeing catamaran Hamayuri sits atop a two-story hostel after the massive wave carried it over the seawall. (Photos Courtesy of Hermann Fritz.)
The journal Pure and Applied Geophysics published a special issue this month focusing on tsunamis in 2011 and 2012, including the massive wave that struck Japan and caused the Fukushima Daiichi nuclear power plant meltdown.
| | |
| --- | --- |
|   | Hermann Fritz, right, surveys damage in Japan after a tsunami struck in March 2011. |
The School of Civil and Environmental Engineering's Hermann Fritz co-edited the issue, helping pull together nearly two dozen new papers covering the Japan tsunami, other events in those years and advances in tsunami science.
"This special issue combines extended articles, including advanced and ongoing follow-up research on the 2011 Japan tsunami and some smaller tsunamis such as the 2012 Haida Gwaii [in Canada] and the 2012 El Salvador tsunami," Fritz said.
The El Salvador event has been of particular interest to Fritz, who co-authored a paper in the issue about the tsunami. It was generated by what he called a "mysterious slow earthquake."
"Slow earthquakes are barely felt by coastal residents, yet they produce outsized tsunami hazards for the comparatively small earthquake magnitude," he said.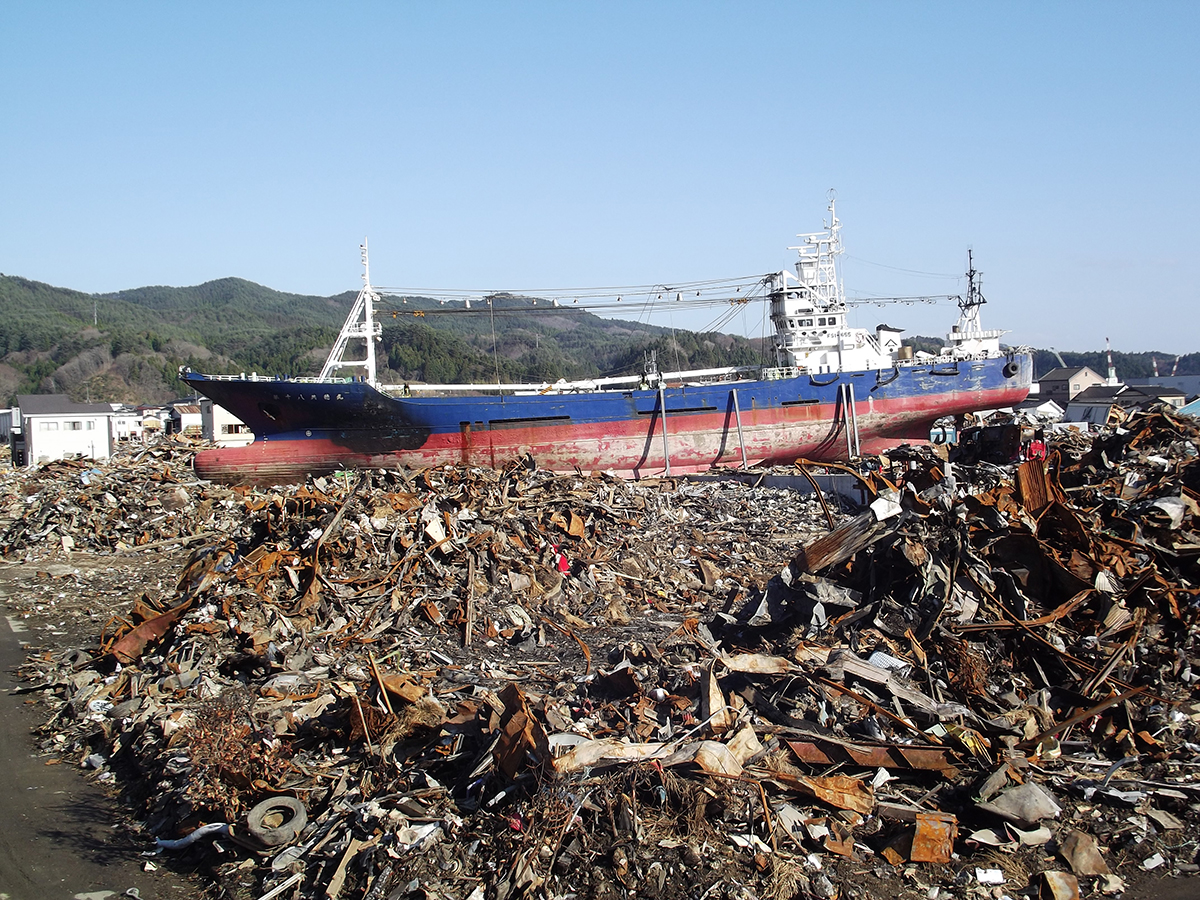 A massive fishing trawler, the No. 18 Kyotoku-maru, rests on top of a giant debris pile on one of the main roads to the JR train station in Kesennuma, Miyagi prefecture in Japan. A tsunami triggered by an underwater earthquake in March 2011 carried the ship ashore. (Photo Courtesy of Hermann Fritz.)
Fritz also is a co-author on three other papers in the special issue, including deeper research on the Japan disaster. One of those reported survey details from damage in the Fukushima exclusion zone, an area irradiated when the nuclear reactors melted down.
That area is "of high importance to fully understand the tsunami impact, tsunami defense structure performance and failure, as well as the resulting flooding dynamics along coastlines within 10-20 km of the Fukushima nuclear power plant," he said.
A second paper Fritz helped write used field surveys and numerical modeling to explain how the water reached its highest levels — almost 40 m or 131 feet — in a valley in Aneyoshi.
Springer also will publish the special issue of Pure and Applied Geophysics as a book in 2015.