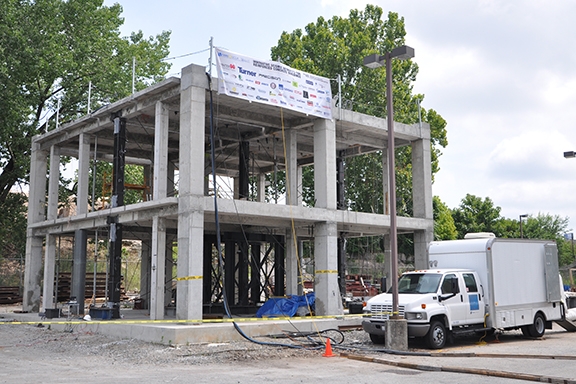 From the National Science Foundation's Science Nation:
Researchers at the state-of-the-art Structural Engineering and Materials Laboratory at the Georgia Institute of Technology are using a full-scale model building to test new ways to protect structures from earthquakes and potentially save lives.

The three-story concrete building is based on designs common through much of the 20th century. It has been subjected to round after round of simulated temblors to test if materials such as carbon fiber or new shape-memory alloys can be used to reinforce the structure so it would remain standing in moderate to strong earthquakes.

With support from the National Science Foundation, structural engineer Reginald DesRoches and his team have developed a series of retrofits of varying cost and intrusiveness to give building owners in quake-prone areas a range of choices for hardening their property.
Watch more video of the final round of testing.