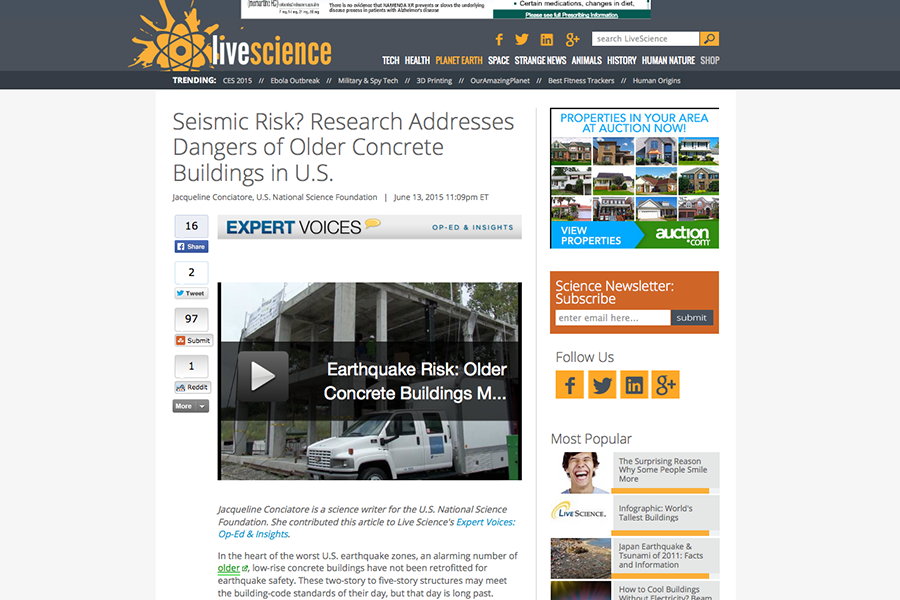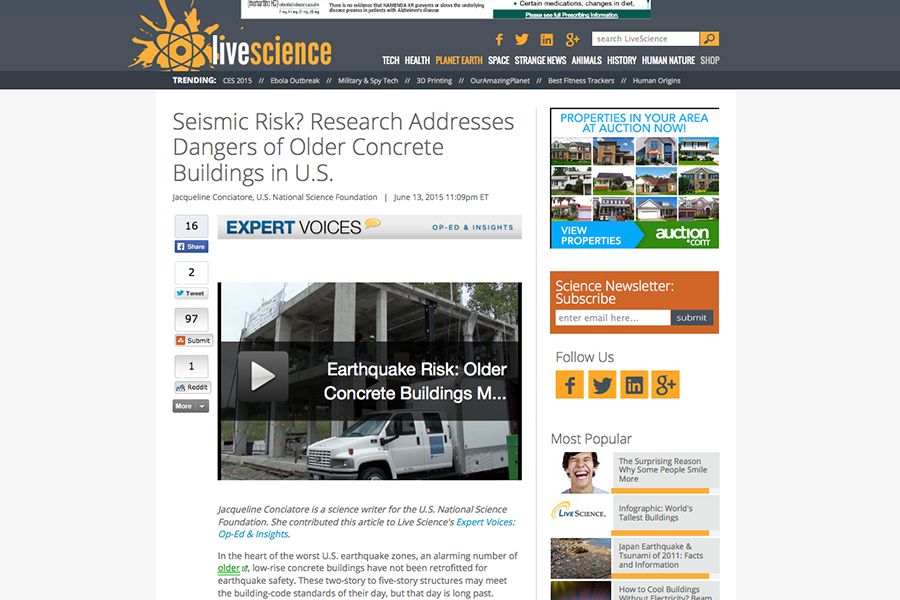 A new "Expert Voices" op-ed published June 13 on the website LiveScience features Karen and John Huff School Chair Reginald DesRoches' research simulating earthquakes to develop innovative rehab measures for a common type of reinforced-concrete building.
The National Science Foundation-funded project included constructing a full-scale building and using a unique "shaker" from the University of California, Los Angeles, to damage it the same way an earthquake would.
From LiveScience:
In the heart of the worst U.S. earthquake zones, an alarming number of older, low-rise concrete buildings have not been retrofitted for earthquake safety. These two-story to five-story structures may meet the building-code standards of their day, but that day is long past. Today's building codes reflect later earthquake engineering research and incorporate structural elements that allow concrete buildings to bend and stretch a bit during an earthquake. Older designs lack those details.

"There are hundreds of thousands of buildings that have not been retrofitted that ... are very dangerous," said structural engineer Reginald DesRoches, chair and professor in the School of Civil and Environmental Engineering at Georgia Tech.

Technically, these older, brittle buildings are called "non-ductile concrete" or "non-ductile reinforced concrete" buildings. ("Ductile" means flexible, while "reinforced concrete" refers to concrete embedded with material such as steel mesh and rebar.) During a 7.8-magnitude quake, such as the recent one in Nepal, these buildings may not hold up well — or at all.

"We know from past earthquakes, non-ductile reinforced concrete buildings don't perform well in earthquakes, all around the world," said DesRoches, whose research is supported by the U.S. National Science Foundation. "They collapse."
Read the full piece from NSF science writer Jacqueline Conciatore.