Thursday, 23 September 2021
EPA awards Georgia Tech $1M to help students and communities in southern Georgia and Alabama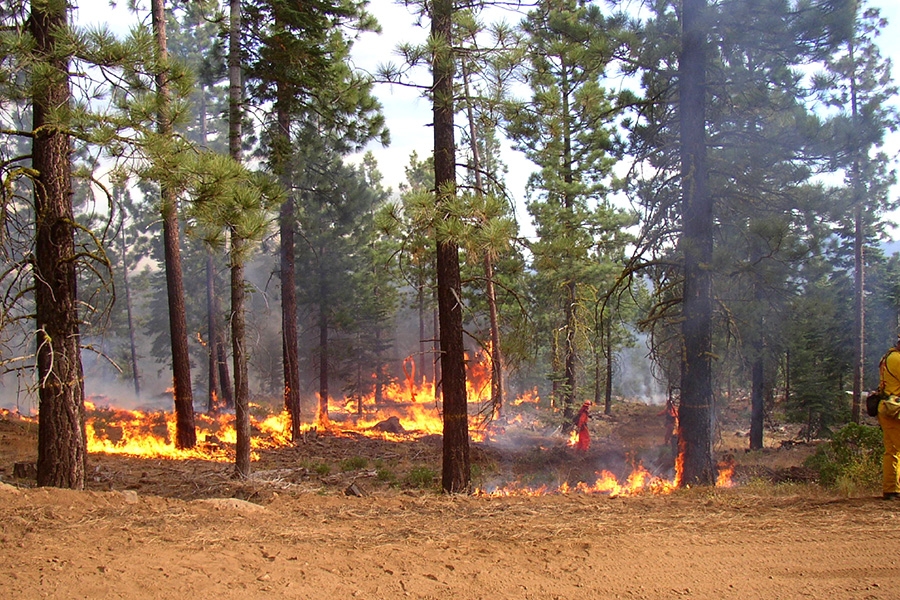 By Jason Maderer
College of Engineering

A $1 million award from the U.S. Environmental Protection Agency (EPA) will help researchers in Georgia Tech's College of Engineering develop tactics to protect children from harmful emissions from controlled wildland burns. The initiative will provide equipment and new communications approaches in middle and high schools in Albany and Columbus, Ga., and Phenix City, Ala. Georgia Tech is focusing on the three cities because of their proximity to regular controlled burns, in addition to the communities' lower socioeconomic statuses.
For the next year, the researchers will deliver daily fire impact forecasts to each school, while also installing air purifiers and low-cost air quality monitors. Data from those monitors will be broadcast in real-time inside and outside classrooms. The Georgia Tech team will also create new curricula for teachers and students that increase understanding of air pollutants, their sources, and mitigation measures. 
The Georgia Tech team consists of members in the School of Civil and Environmental Engineering (CEE), School of Chemical and Biomolecular Engineering (ChBE), and the Center for Serve-Learn-Sustain.
"Air pollution leads to more premature deaths than virtually all other environmental exposures. In the Southeast, prescribed burning is a major source of air pollution: it releases more particulate matter into the air than cars, trucks, factories, and power plants," said Armistead (Ted) Russell, the Howard T. Tellepsen Chair and Regents' Professor in CEE. "Children in areas that experience prescribed burning smoke are uniquely vulnerable. We are excited to work with schools to identify effective measures that can be used to help protect schoolchildren."
Russell and his colleagues have decades of experience studying emissions. His previous studies found that prescribed burns led to highly elevated emissions in southern Georgia, especially during the peak burn period from January to April. The research showed that the highest levels of unhealthy emissions — primary and secondary particulate matter — occur during school hours when burns are most active. However, Russell also found that elevated levels linger into the evening, long after the fires are extinguished.
Russell also found a communications gap that helped him create the new initiative.
"Schools are very good at providing information to parents about health-related interventions. Families serve as important communication channels," Russell said. "However, schools are infrequently used to disseminate information about fire emissions. Incorporating teachers and students into a communications strategy has the potential to reduce exposure to children and the school's broader community."
The award will allow Russell and CEE Principal Research Engineer Talat Odman to expand Georgia Tech's Southern Integrated Prescribed Fire Information System (SIPFIS), which they helped create in 2015. The tool merges prescribed fire and air quality data into a common analysis framework, providing a unified prescribed fire database for the southern U.S. That data is primarily used by forest and air quality managers. SIPFIS will now be tweaked to also provide daily forecasts to the schools.
Forecast and information products and lessons learned from the one-year project will be shared with the Centers for Disease Control and Prevention and its health partners.
The initiative will be coupled with outcomes from a $2.3 million Department of Defense Strategic Environmental Research and Development Program project that is currently being led by Odman. His team is measuring and modeling air quality impacts from prescribed burning at Fort Benning, which is adjacent to Columbus and across the border from Phenix City.
"By focusing on both the source of smoke, such as burns at Ft. Benning, and the effects on nearby schools, we can have a more complete understanding of the air quality impacts of prescribed fires," said Odman. "This will allow us to develop strategies to minimize exposure to smoke, while also helping to protect the health of people and forests."
The EPA and DoD projects will further a third project: Russell's NASA-funded work that is utilizing satellite products in SIPFIS for predicting smoke impacts on air quality and health. 
ChBE Professor Sally Ng, who researches airborne particles, is also on the Georgia Tech team and will lead the deployment of the low-cost sensors at the schools. Rebecca Watts Hull, a community engagement specialist with the Center for Serve-Learn-Sustain, is the fourth member of the team.   
"As wildfires become more frequent and severe, we are working to effectively communicate the risks of smoke exposure to impacted communities," said Wayne Cascio, acting principal deputy assistant administrator for science in EPA's Office of Research and Development. "We are seeing an increase in prescribed fires to reduce the risk of catastrophic wildfires; however, these are also a source of smoke exposure. The research we are funding will help develop strategies to prevent and reduce the health impacts of smoke from wildfires and prescribed fires."
The project will begin in October.
Related: