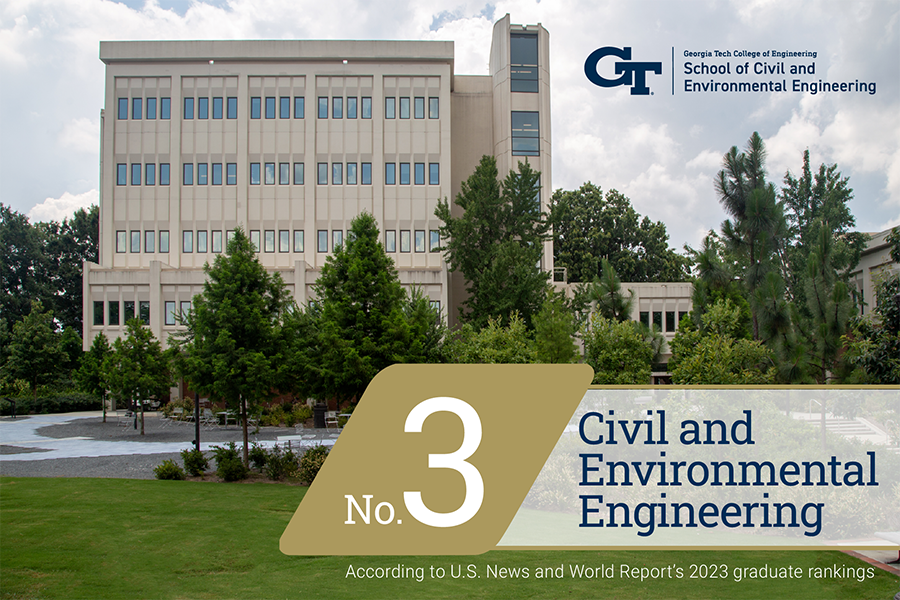 The School of Civil and Environmental Engineering's graduate programs are now No. 3 in the nation, according to U.S. News and World Report's 2023 list of best graduate schools.
This year's rankings mark a major milestone for the Environmental Engineering graduate program, which received the highest ranking in its history. The program went up three spots from No. 6 to No. 3 in the annual rankings.
The civil engineering graduate program maintained its reputation as one of the nation's best. It moved to the No. 3 spot after spending last year tied at No. 2.
The announcement of U.S. News and World Report's 2023 graduate rankings moves all of CEE's degree programs—graduate and undergraduate—into the top three.
"It is an honor to be recognized for the high-quality academic environment that we are proud to provide to our students," said Karen and John Huff School Chair Don Webster. "For all of our degree programs to be ranked in the top 3 this year is outstanding."
Overall, the Georgia Tech College of Engineering's standing went up from No. 8 to No. 7. In addition to CEE's excellent rankings, all 11 disciplines within the College of Engineering were once again recognized in the nation's top 10.
Related: