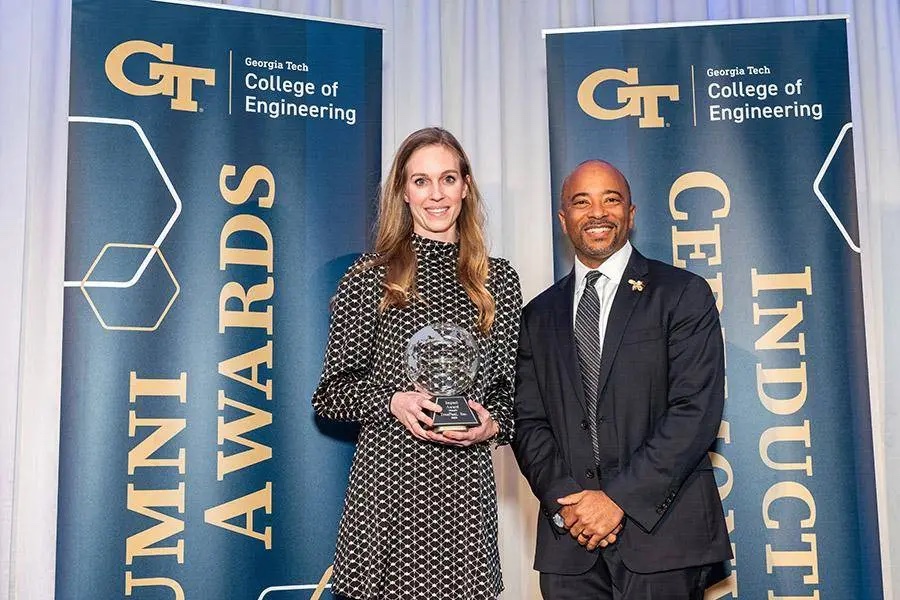 After two years of postponements due to the pandemic, the College of Engineering has celebrated 24 alumni who have contributed to the profession, advanced their careers, and enhanced the lives of others.  
The 2022 College of Engineering Alumni Awards were held on Saturday, April 23, in Atlanta. The inductees were originally scheduled to be honored in the spring of 2020.  
Each year, the College's eight schools nominate graduates in three categories. The Council of Outstanding Young Engineering Alumni includes rising stars who have distinguished themselves in the early stages of the career. Members of the Academy of Distinguished Engineering Alumni are still active in their careers and have already made significant contributions to the profession, field, Institute, or society at large. The Engineering Hall of Fame celebrates alumni for their lifelong achievements.  The Dean's Impact Award recognizes graduates who embrace engineering as a means to make an impact on society and who have a vision to find solutions focused on the world's grand challenges.
Read on for more about this year's honorees: 
Engineering Hall of Fame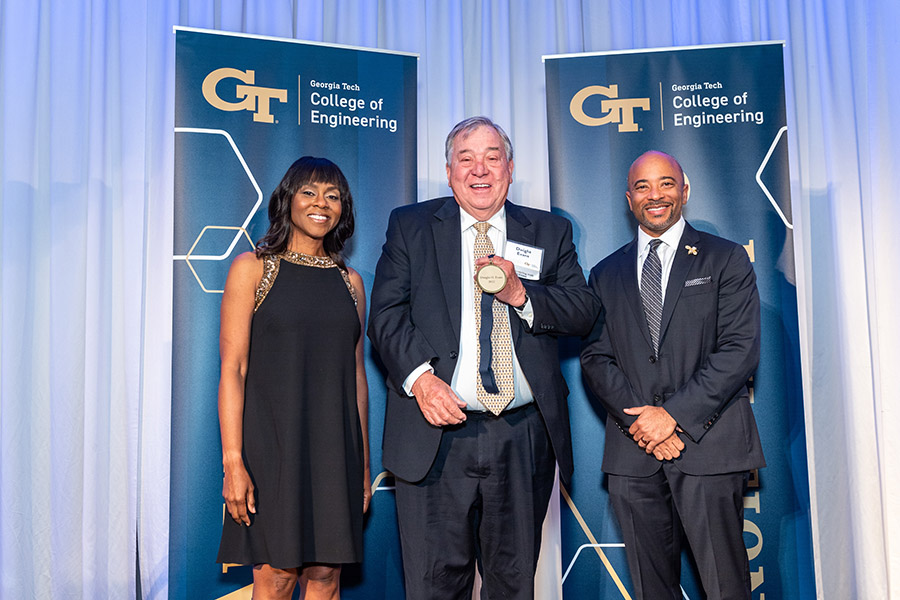 Left to right: Alumni Awards Ceremony Co-host Wonya Lucas, Dwight Evans, CE 70, MS EnvE 73, and College of Engineering Dean Raheem Beyah

Dwight H. Evans, CE 70, MS EnvE 73
During his tenure at Georgia Power, Evans held a number of positions ranging from Junior Engineer to Executive Vice President. He went on to become chairman, president and CEO of Mississippi Power. He completed his career as executive vice president and group president of Southern Company, where he retired after nearly 40 years of service.
In addition to his two degrees from Georgia Tech's School of Civil and Environmental Engineering, Evans holds a Juris Doctor Degree from Atlanta Law School. He also completed the Program for Management at the Harvard University School of Business and the Utility Finance and Accounting Program from the Wharton School of Business at the University of Pennsylvania. 
Evans is an emeritus member of the Georgia Tech Foundation and served on the Georgia Tech Alumni Board, the Georgia Tech Advisory Board, and the Georgia Tech Civil and Environmental Engineering Advisory Board. He has contributed to Roll Call for 56 years and has endowed a contribution to Roll Call. In the School of Civil and Environmental Engineering, Evans has endowed a scholarship is in the process of endowing a professorship.
Evans has served on the Georgia Board of Regents, the Georgia Department of Economic Development Board, the Georgia Regional Transportation Authority and the Georgia Department of Natural Resources Board, among others.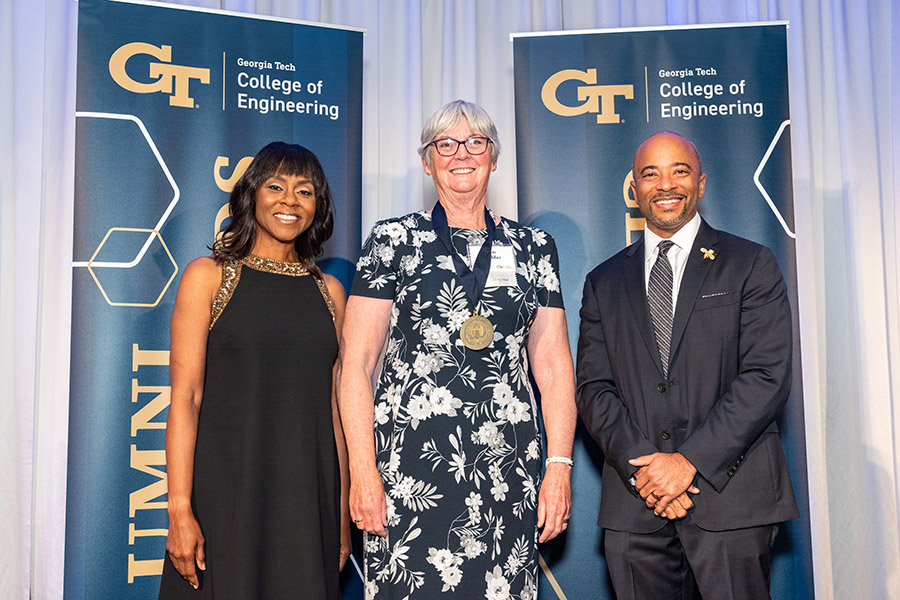 Left to right: Alumni Awards Ceremony Co-host Wonya Lucas, Lyn Wilder, CE 75, MS CE 78, and College of Engineering Dean Raheem Beyah

Carolyn D. Wylder, CE 75, MS CE 78  
Carolyn D. "Lyn" Wylder, CE 75, MS CE 78, was inducted into the Engineering Hall of Fame in recognition of her contributions to transit development across the country throughout the course of her career.
Wylder joined MARTA, the Metropolitan Atlanta Rapid Transit Authority, in 1982 to work on the construction of the rail transit system. Over the next 10 years she served in a variety of leadership positions, including as the chief civil engineer. During this time, she worked on expanding the MARTA system in multiple directions and adding new stops including Brookhaven, Indian Creek and Airport Station. 
Wylder left to become the chief engineer for the Massachusetts Bay Transportation Authority in Boston before returning to MARTA in 1993 as the assistant general manager for transit system development. She and her team completed hundreds of millions of dollars of construction in preparation for the 1996 Olympic Games in Atlanta. In 1997, she was promoted to executive vice president for operations, maintenance and construction. 
In 2000, Wylder went into private consulting as a vice president at David Evans and Associates Inc. in Portland, Ore. In 2004, she was assigned to work with the Federal Transit Administration on the 9/11 Recovery Projects to help New York City rebuild its transportation infrastructure damaged in the terrorist attacks on Sept. 11, 2001. She served on the David Evans Board of Directors from 2007 until her retirement in 2017.  
The Academy of Distinguished Engineering Alumni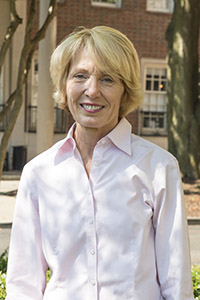 Emmy Montanye CE 82
Montanye is a Principal and Director at Kimley-Horn and Associates, a national engineering and planning firm. 
She has more than 35 years of experience in civil engineering and project development in the Atlanta market in both public and private sector projects. Her practice is focused on master planning, entitlements and sustainable engineering design for a broad range of projects ranging from complex urban redevelopments to suburban healthcare campuses. 
Her recent work includes almost every major project that has helped reshape Atlanta over the past few years:  Mercedez-Benz Stadium, SunTrust Park and The Battery Atlanta, Georgia Tech's Coda Building at Tech Square, the College Football Hall of Fame, NCR Corporate Headquarters, Piedmont Park Northwood's expansion, and more. 
She has also been actively involved at Georgia Tech. Montanye has been a member of the School of Civil and Environmental Engineering's Executive Advisory Board since 2015 and served as the immediate past chair. She was a Kenneth Hyatt Distinguished Lecturer in 2016, a 2015 Atlantat Buiness Chronicle Women Who Mean Business recipient, and the 2018 ACEC Georgia Engineering Impact Award recipient.  
Outstanding Young Engineering Alumni Award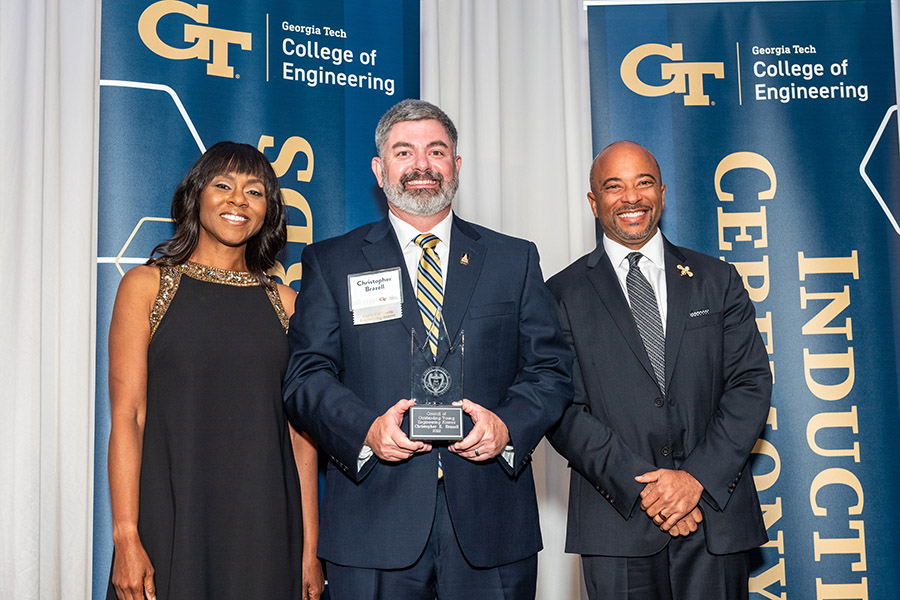 Left to right: Alumni Awards Ceremony Co-host Wonya Lucas, Christopher Brazell, CE 01, MS CE 04, and College of Engineering Dean Raheem Beyah

Christopher E. Brazell, CE 01, MS CE 04
Brazell began his career at EMC Engineering Services, Inc., a full-service civil engineering and surveying consulting firm, in 2002. He is currently the senior vice president of the West Georgia Division, where he manages a diverse team of engineers, surveyors and technicians in six regional offices. He is also a member of the firm's Board of Directors.
In 2015, Chris became the firm's youngest Senior Principal Owner. He is one of few dually registered professionals In the industry – a Licensed Professional Engineer in 26 states and a Licensed Professional Land Surveyor in one state. 
He was named the Georgia Engineering Alliance's Young Engineer of the Year in 2010 and Middle Georgia State University's 2017 Outstanding Alumnus by the institution's alumni association. Chris is a past member of Georgia Tech's Young Alumni Council and past president of the Columbus, Ga., Georgia Tech Alumni Network. He is involved in numerous organizations in his local community including North Columbus Rotary Club, Habitat for Humanity, and Greater Columbus Chamber of Commerce.
In addition to his bachelor's and master's degrees from Georgia Tech, Brazell holds associate degrees in nuclear engineering, engineering technology and geomatics from Middle Georgia State University, where he later taught land surveying classes for more than seven years.  
Dean's Impact Award 
Samantha Becker, CE 16, accepts the Dean's Impact Award with College of Engineering Dean Raheem Beyah.

Samantha Becker, CE 16, and Shannon Evanchec, EnvE 16
This award, established in 2018, was created to recognize alumni who are focused on developing globally-relevant, locally-sustainable designs and innovations that meet societal challenges across the world. The award recognizes graduates who embrace engineering as a means to make an impact on society and who have a vision to find solutions focused on the world's grand challenges.
TruePani is an environmental engineering, communications, and consulting firm focused on protecting public health through reducing lead in drinking water. Becker and Evanchec met on campus while working in a water research group. They co-founded TruePani and won the People's Choice Award at the 2016 InVenture Prize. After earning their bachelor's degrees, Becker (civil engineering) and Evanchec (environmental engineering) participated in CREATE-X and incorporated TruePani. 
TruePani supports state-level governmental clients to implement lead testing programs at schools and childcare facilities. Current projects include statewide programs in Hawaii, Nevada, New Hampshire and Texas to text for an remediate lead at more than 100,000 drinking water outlets. Through these projects TruePani aims to provide accessible educational resources to the public about reducing lead exposure in drinking water. 
TruePani also helps municipalities, utilities and water systems achieve compliance with the Lead and Copper Rule revisions. With new and emerging legislation surrounding lead in drinking water, TruePani assists clients in navigating rues and requirements to ensure that lead pipes are identified and properly replaced through their data management system and award-winning Locate Your Line tool. 
Evanchec serves as TruePani's CEO and recently earned her MBA from the University of Tennessee with a supply chain concentration. Becker, the company's CTO, received her master's degree in public health from the University of Michigan in 2019.