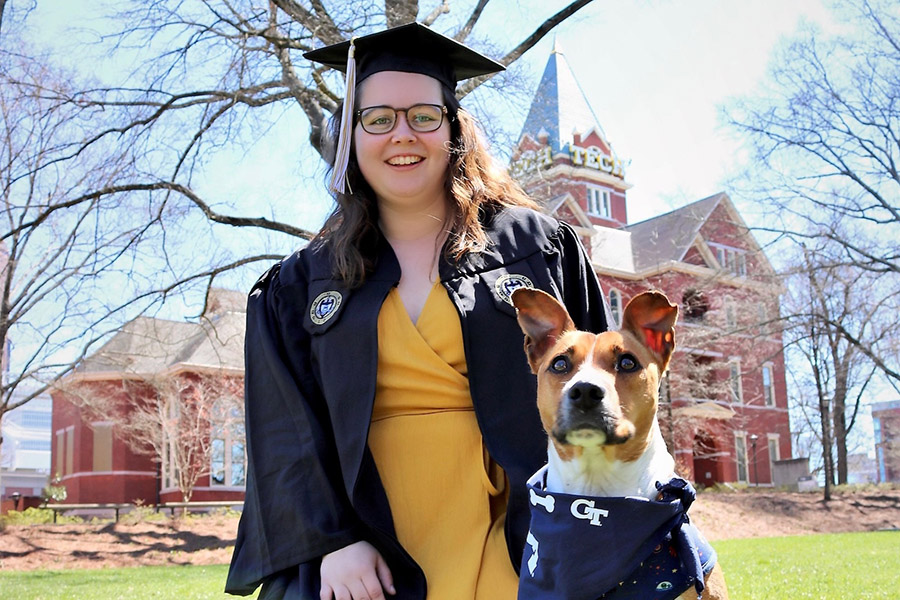 By Victor Rogers
Georgia Tech News Center

Celia Kornegay has attended five Georgia Tech Commencement ceremonies. But her sixth ceremony will be different — because it's her own.
"I was 13 when I attended my first Georgia Tech ceremony, where I watched my oldest sister, Elizabeth, graduate with a B.S. in environmental engineering in 2013," she said.
Kornegay returned the following year to watch Elizabeth get her master's in environmental engineering. In 2015 she saw her cousin, Raine Hayes, receive a bachelor's in psychology. In 2019 her other sister, Emily Baig, graduated with a bachelor's in industrial engineering. And in 2020 her boyfriend, Joey Bishop, earned a B.S. in computational media.
"I am excited to finally be the one walking across the stage," said Kornegay, who will receive a bachelor's degree in civil engineering. In June she will begin her career as a staff engineer on site design and land development projects at Eberly and Associates, a civil engineering firm in Atlanta where she interned last summer.
As a student, Kornegay was very involved with the Society of Women Engineers (SWE), serving in various leadership roles including middle school outreach chair, vice president of finance, vice president of membership, and president. "I am extremely passionate about encouraging young girls to pursue STEM fields. My involvement with SWE will continue as I enter my professional career," she said.
Kornegay is also passionate about animals, volunteering at the Atlanta Humane Society while in school. "My boyfriend and I adopted a dog from the DeKalb County Animal Shelter. His middle name is Burdell, after the well-known George P. Burdell," she said.
What she will miss most about Georgia Tech is the feeling of pride and sense of community. "I was in the Yellow Jacket Marching Band and the Georgia Tech Pep Band, where I was on the color guard and played piccolo for two years. Being a part of such a large organization that has such pride in Georgia Tech was definitely a huge part of my college experience."
Kornegay's entire family will join her in celebrating her graduation. "Everyone is coming — my parents, grandparents, sisters, cousin, and boyfriend. My oldest sister is married, and they are bringing their baby. I told her that having to bring a baby to my Commencement is equal to me having to sit through two of hers."