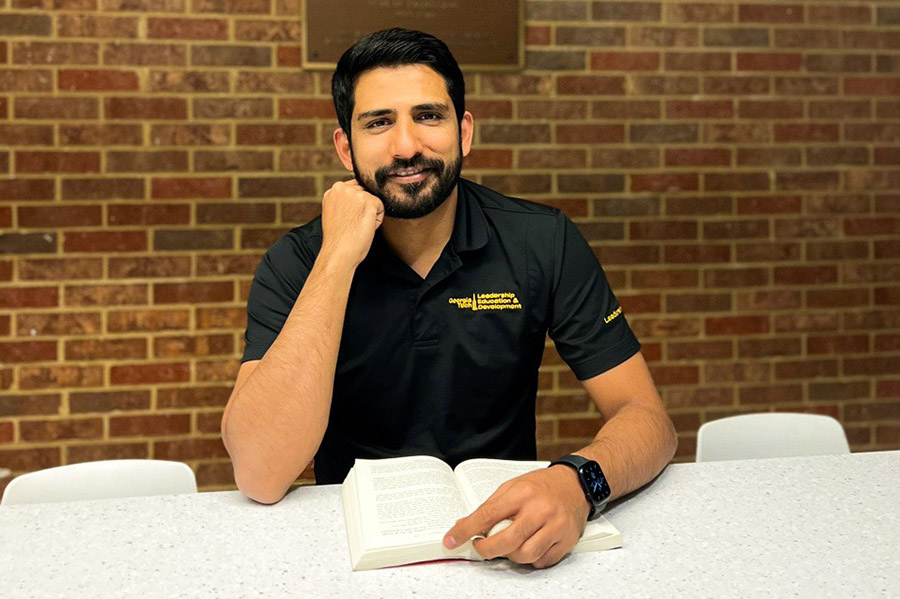 By Dr. Bilal Iftikhar
Ten years ago, I would have never imagined myself as a Ph.D. graduate from the Georgia Institute of Technology, one of the top institutes for civil engineering. Leaving my childhood, my family, and my responsibilities behind, I knew it was a step that I needed to take not only for the betterment of my future but the future of my country. I took a leap of faith with my intuition and journeyed off to an unknown land of opportunities. 
Before getting into my university experience, it is important for one to know my background. I was raised in the Southern Punjab region of Pakistan, where the vast agricultural fields were my playground and school lectures were taught in the open air. Education was always my family's top priority, and with that goal in mind, we moved from city to city so that my parents could provide us the best education possible. As I progressed in life, I ended up in Islamabad, the capital city of Pakistan, surrounded by luscious green mountains, beautiful weather, and the true vibrancy of a diverse population. So, you see, I did not have many reasons to leave Pakistan, but I had to make a decision for a more progressive future in my career.
It was through the process of obtaining higher education from one city to another that I realized the only way to excel in my field of interest—water resources engineering— and best serve my country was through procuring an education in the U.S., the top destination for students to study abroad.
In my hometown in Pakistan, I experienced devasting floods every other year. Living through these frequent floods made me want to pursue a career in civil engineering with a focus on hydrology and hydraulics.
In 2011, I joined the department of Irrigation in Punjab, Pakistan, which ranks amongst Pakistan's best engineering departments. During my years at the Irrigation Department, I learned how to manage reservoir operations and dealt with floods and droughts which were still very prominent in the region.
I worked on numerous projects for four years and realized in the process that reservoir operation, flood modeling, and routings were one of the most neglected areas in Pakistan. I explored possible options to contribute to solving this problem, which led me to the Fulbright program. Fulbright is a prestigious scholarship program that helps students expand their perspectives through academic and professional advancement and cross-cultural dialogue. The scholarship program is funded by the U.S. Department of State and helps international students obtain higher education experience in highly qualified universities in the U.S.
I applied for this scholarship in hopes that it could be the means for me to excel in my field and possibly find a solution to the problems I enocountered in my work. When I received my Fulbright scholarship acceptance email, I had feelings of mixed emotions paved through my years of hard work, sacrifices, and determination.
Upon reaching Atlanta for my educational pursuit, it was daunting at first to see so much diversity from all over the world and the opportunities this city has to offer. I was surprised to see how similar the weather of Atlanta is to Islamabad, which brought me great comfort. The welcome parties, grad student socials, and orientation programs seemed overwhelming at first, but I pushed through my comfort zone because I knew my way to excel in this society and in my career is to network and assimilate myself with the culture.
At Georgia Tech, I experienced an academic environment very different from my undergraduate program, and the opportunity to be taught by some of the best teachers in my academic life. My most significant life-changing moment was when I started my Ph.D. with my advisor, Dr. Aris Georgakakos. It was through his vision and guidance that I adapted characteristics that have proven to be lifelong assets professionally, personally, and socially. Through his constant mentoring, I was able to successfully complete my Ph.D. and assimilate myself into the American culture without forgetting my Pakistani roots. These social and formal experiences and conversations, though terrifying in the beginning, helped me get out of my comfort zone and develop an enthusiasm for improving myself personally and professionally.
My journey for striving for higher education has taught me immensely about life, from the sacrifices I had to make in leaving my family, to the language barriers I had to overcome while adjusting to the new educational system. But between these challenges I created my own family in America with my peers from different backgrounds—Saubhagya, Anant, Lida, Xiaofeng, Mario, Caleb, Husayn and Irfan among others—who taught me humility and how to become a better human being.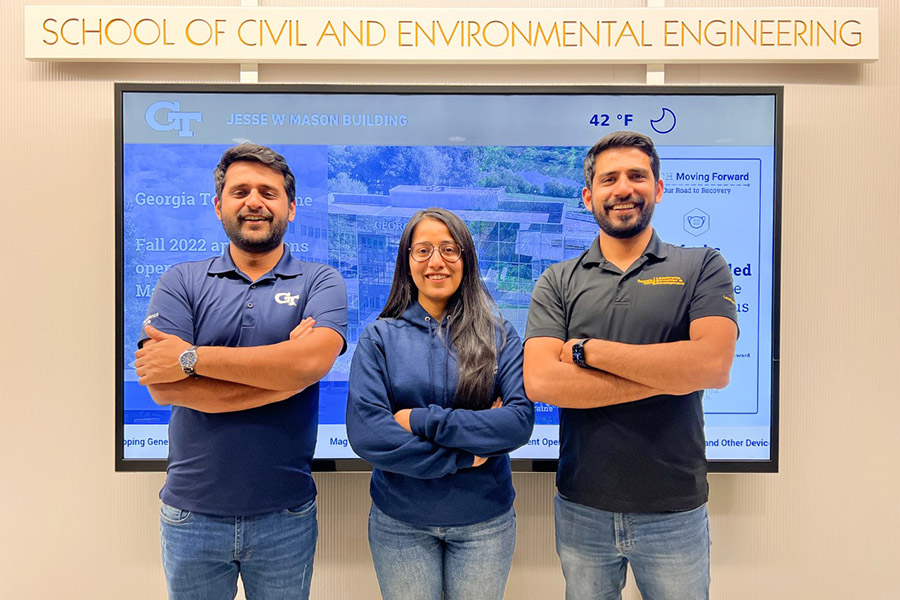 Left to right: Siblings Ali, Nida and Bilal Iftikhar in the Mason Building. Ali and Nida are working toward doctoral degrees, following in the footsteps of Bilal, who recently earned his PhD in civil engineering.

Over the last five years, while keeping up with my social activities, I managed to excel in my educational pursuit as well. I have conducted extensive research in water resources management, flood mitigation, climate change adaptation, and reservoir operations. In my main research project, I developed a new method for optimizing large reservoir systems. The new approach is applicable to general river systems, with its first application being on the management of rivers with multiple reservoirs and multiple objectives. I successfully validated the new approach in fairly large case studies. Specifically, one of the demonstrations in my dissertation encompasses a system of three river basins in the southeastern United States, each of which contains three to four large (and several smaller) reservoirs, all realistically modelled at the level used by the U.S. Army Corps of Engineers in their operational models and applications.
I worked as a teaching assistant for five different courses in CEE and that experience helped a lot in boosting my confidence and honing my teaching skills. For my academic accomplishments, I was awarded a Future Faculty Fellowship from the School of Civil and Environmental Engineering in 2020, and the best research poster award from the College of Engineering in 2021. In parallel to my studies, I was an active member of the Georgia Tech community, serving as president of the Fulbright Student Association, leadership coach with LEAD for Georgia Tech undergraduates, a CEE mentor, and a resident advisor for students living on campus.
My greatest achievement has not only been completing my Ph.D. but also assisting many Pakistani students, including my younger siblings Nida and Ali, as they also pursue their doctoral degrees in civil engineering at Georgia Tech. Having an elder brother in the same major, in the same institute, allowed my siblings to overcome many of the hardships and obstacles that international students face in a new environment. With a familiar face nearby, they had the opportunity to become successful students with fewer social and academic challenges. I have been so grateful to have my siblings attend the same university as me. I look forward to the day when we can all proudly say that we are alumni of the same university and have moved on to contribute to this world in our own unique ways. Who knows, maybe we will even have our joint photograph on the alumni wall of fame!
My Ph.D. is beyond doubt one of the hardest, most rewarding, confidence-sapping, confidence-boosting, brutal, and uplifting academic challenges I have ever faced. The progression from the neatly defined modules of an undergraduate or master's degree to the student-led study required for a Ph.D. is vast; vast, but absolutely achievable. Simply being accepted into a Ph.D. program is proof that you are capable of embarking on such a challenge and this should remain firmly lodged in your mind as you navigate the academic wilderness ahead.
I became the first in my family to come to America through the prestigious Fulbright scholarship and graduate with a Ph.D.,  proving to everyone in my family and my hometown that once you put your mind to something it is impossible not to achieve it. My experiences here have not only broadened my perspective but have also helped me become a better individual and have given me the courage to achieve my future goals. As with any other international student, I arrived in the U.S. with many expectations and hopes. During my five years here, I learned that even though all of these expectations do not turn into reality, some of them do and you just need to be consistent and patient enough to make it happen.
I am now working with Oak Ridge National Lab to further enhance my skills and knowledge in water resources management, reservoir operation and climate change. In the future, I plan to go back to Pakistan and serve my country by applying the expertise I gained from both my academics and work experiences in the U.S. in the field of water resource management.
After the successful completion of my academics, my main focus has always been to play a role in both research and development, to reproduce my knowledge and its practical application. With the expertise I have gained through my academics, research, and field work, I am confident that I will be able to forge ahead and achieve what I am set out to do: utilize a creative approach to water resources managements that benefits the world.