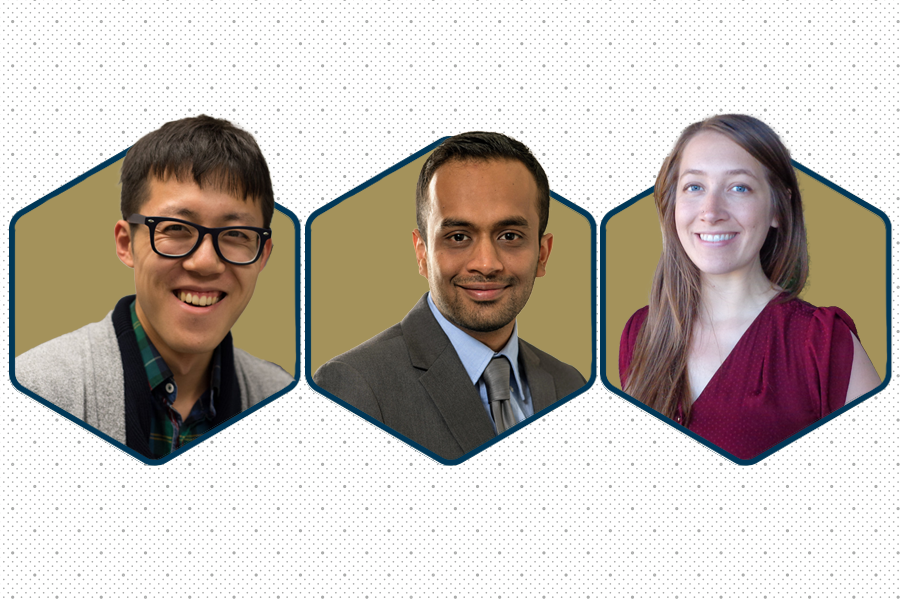 Three new faculty members will be joining the School of Civil and Environmental Engineering, bringing with them a range of expertise in areas including environmental, geotechnical, and structural engineering. 
Katherine "Katy" Graham will begin her role as an assistant professor on Jan. 1, 2023. Graham is already at Georgia Tech, serving as a President's Postdoctoral Fellow in CEE under the supervision of Professor Kostas Konstantinidis.  Her research expertise is in the fate of pathogens in the environment and evaluation of public health risk.  
Graham's work is motivated by global trends in population growth and climate change that strain water and sanitation infrastructure and put human health at risk. Her interdisciplinary research involves environmental engineering, biological engineering, environmental microbiology and public health.
Graham earned her bachelor's degree in chemical engineering from the University of Michigan in 2015.  At Stanford University, she earned a master's degree and Ph.D. in civil and environmental engineering in 2017 and 2021, respectively.
Aditya Kumar joins the School as an assistant professor in the Structural Engineering, Mechanics and Materials affinity group in August 2022.  Kumar's research focuses on developing theoretical and computational tools to describe, explain and predict fundamental phenomena related to mechanics and physics of solids, particularly polymeric solids.
Kumar earned a master's degree in 2016 and a Ph.D. in 2020, both in civil engineering from the University of Illinois at Urbana-Champaign. He received a Bachelor of Technology in civil engineering at Indian Institute of Technology (IIT) Delhi in 2014.  Kumar was awarded a Mavis Future Faculty Fellowship in 2019 as a Ph.D. student. Currently, he is a post-doctoral researcher in aerospace engineering and the Beckman Institute at the University of Illinois at Urbana-Champaign.    
Hejian "Patrick" Zhu is a Ph.D. candidate at the Massachusetts Institute of Technology.  His expertise is in the area of geomechanics and geotechnical engineering.  His research interests are related to understanding the behavior of engineering materials across length scales, including the use of a multiscale modelling framework of the mechanical properties of clay minerals.  
The goal of his work is to reduce greenhouse gas emissions by promoting the use of natural clay soil to supplement or replace cement paste and promote local production of construction materials to reduce transportation costs and emissions.  These fundamental insights could also be applied to other engineering systems, including tissues and bones in biological and pharmaceutical engineering, and microscopically structured materials for mechanical engineering applications.  Zhu earned a Bachelor of Engineering in civil engineering from the University of Hong Kong in 2016. Zhu is expected to earn his Ph.D. in Fall 2022 and will start as an assistant professor on Aug. 1, 2023.