Thursday, 19 January 2023
Image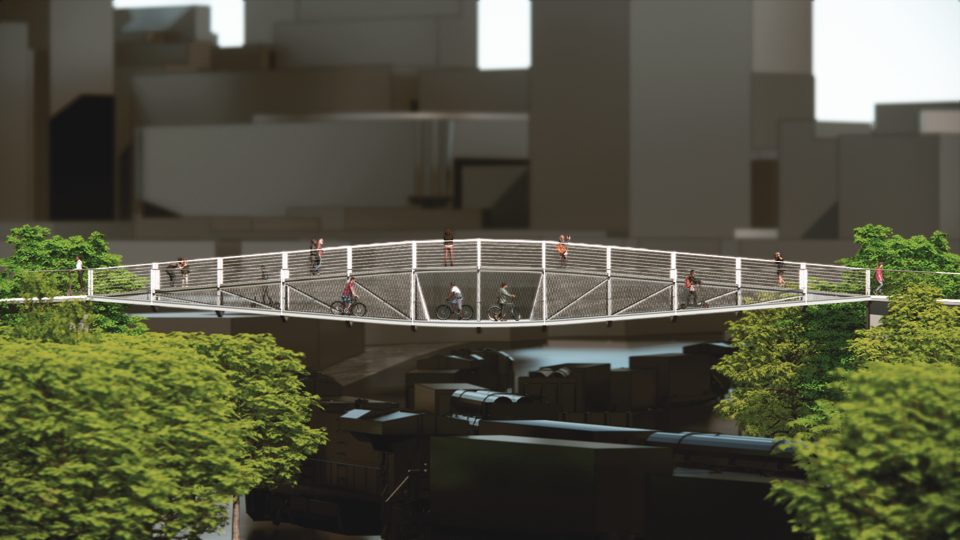 A rendering of the bridge illustrates the elevated pedestrian path and bike lanes over the rail lines. 
Inspired by one of modern London's most famous landmarks, a team of Georgia Tech students has created a winning design for a bridge to guide future growth of Georgia Tech's campus and the city of Atlanta.
The Westside Community Connector Bridge Class combined an architecture studio and a civil engineering special problems course, resulting in a collaborative design competition during the Fall 2022 semester. Comprised of graduate students from both disciplines, the class met weekly for guest lectures, site visits, and combined studio time with design and engineering professionals. The class even traveled to London over fall break to seek inspiration from the city's many unique pedestrian bridges.
Over the course of the semester, 12 pairs of engineering and architecture students worked together to design a bridge that would provide safe passage from the center of campus, above neighboring train tracks, to North Avenue's burgeoning Science Square corridor and beyond. One winning team was selected from five finalists, whose ideas will be used as inspiration to one day make this type of campus pedestrian bridge a reality. 
Jim Case, a co-instructor of the course and a senior principal at engineering firm Uzun+Case, said one of the goals for the class was to teach architecture students to think like engineers and teach engineering students to think like architects.
Image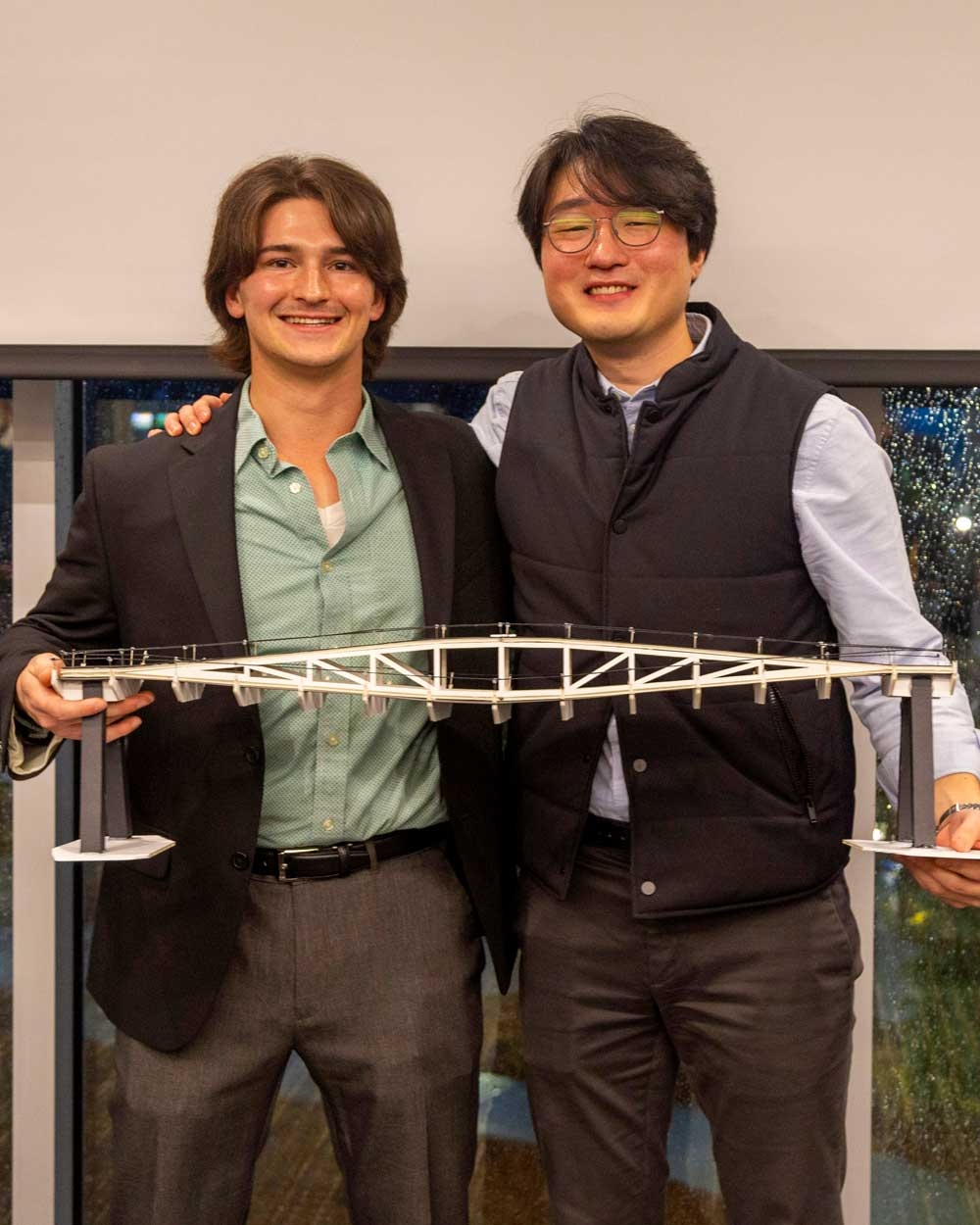 Isaac Wasson (left) and Charles Kim pose with the model of their winning bridge design at the final design competition on Dec. 5, 2022. Photo: Amelia Neumeister
"Architecture-engineering collaboration is key to achieving a truly great project and is an important component of successful professional practice," Case said.  "In the classroom, architecture-engineering collaboration helps students develop both their left and right brains, making them more effective problem solvers."
Blank Space (medium)
(text and background only visible when logged in)
Westward Migration
The class was presented with a challenging real-world design problem: how to create a landmark piece of infrastructure connecting two parts of campus — and the city of Atlanta more broadly — that have long been cut off by roads and rail lines. 
As Georgia Tech expands, there is a need to increase connectivity to the growing southwest corridor that's difficult to traverse from the core of campus, said Lauren Stewart, Williams Family Associate Professor of civil and environmental engineering and a co-instructor of the course.
"Designing a pedestrian bridge is relatively easy. Designing an inspired bridge that will meld into the environment, create an experience, and be economical—is not," Stewart said.
Image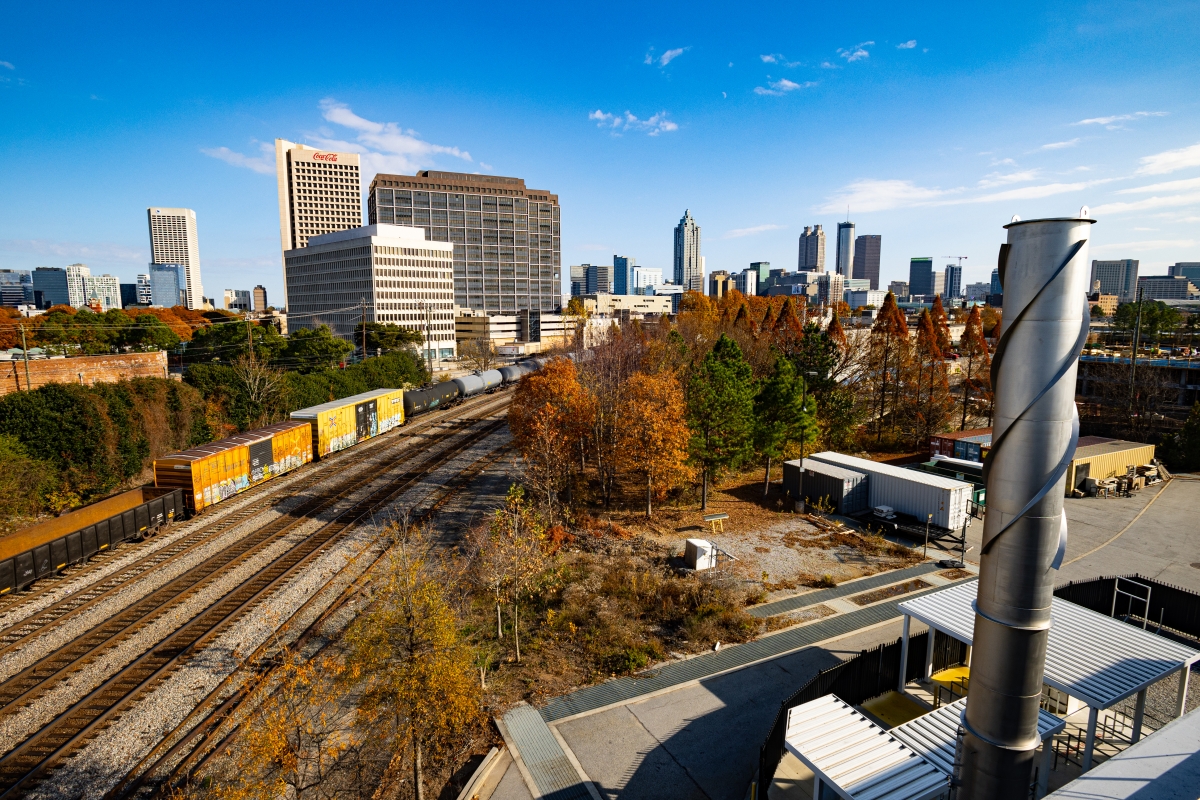 A view of the proposed bridge site. Photo: Candler Hobbs
The proposed bridge site begins at Georgia Tech's centrally located John Lewis Student Center and passes over Marietta Street and the railroad tracks to the North Avenue Research Area. The site then continues to the former Randall Brothers Construction Materials property (recently acquired by Georgia Tech for an arts-focused development) and continues to a planned life sciences district called Science Square.
Science Square will be an 18-acre mixed-use residential and commercial district on North Avenue that is dedicated to biomedical research and technology. The goal is to entice entrepreneurs coming out of Georgia Tech and other universities to stay in Atlanta and form a rich environment of talent and other resources to support their success.
In addition to creating a hub for life sciences innovation, the Science Square development will support job training and education for residents of westside neighborhoods to acquire the training credentials they need to work in these industries. 
A potential pedestrian bridge from Science Square to Georgia Tech's campus and the thriving Midtown business district beyond would bridge, literally and metaphorically, the "equity faultiline" represented by the rail line, said Tony Zivalich, Georgia Tech's associate vice president for real estate development.
"This will be catalytic connective tissue that will connect our campus all the way to the westside and have some pretty profound impacts," Zivalich said.
Blank Space (medium)
(text and background only visible when logged in)
Leaving a Legacy
The students in the course benefitted from the expertise of several instructors: Stewart, Case, and Daniel Baerlecken, an associate professor in the School of Architecture.
The class also received input and guidance from campus officials that included Zivalich, Landscape Architect Jason Gregory, and Associate Director of Strategic Planning Dan Nemec.
The graduate students — split evenly between The School of Civil and Environmental Engineering and School of Architecture — were paired together in engineer/architect teams for the duration of the class.
Throughout the semester, the teams designed a bridge that could be beautiful and monumental, while also having sound, cost-effective engineering. The students also had to consider the site's unique challenges in their designs: the need to rise over a railroad crossing, before reducing elevation and remaining accessible for all users.
During October's fall break, the class traveled to London to visit some of the city's unique footbridges and meet with professionals from high profile firms, including Zaha Hadid Architects. 
The city was an ideal location for students to seek inspiration, Stewart said. There are many pedestrian bridges over the River Thames, which runs through the heart of London.
"When we were designing the course, the term 'iconic bridge' was used repeatedly," Stewart said. "I recall thinking that many of our students have likely not seen an 'iconic bridge' in person. Thus, we wanted to give the students exposure to bridges that they could use for inspiration."
Over the four-day journey, the class experienced some of London's cultural and structural highlights, including museums, St. Paul's Cathedral, and of course pedestrian bridges — including the Royal Victoria Dock Footbridge, Golden Jubilee Bridge, and Millennium Bridge.
Image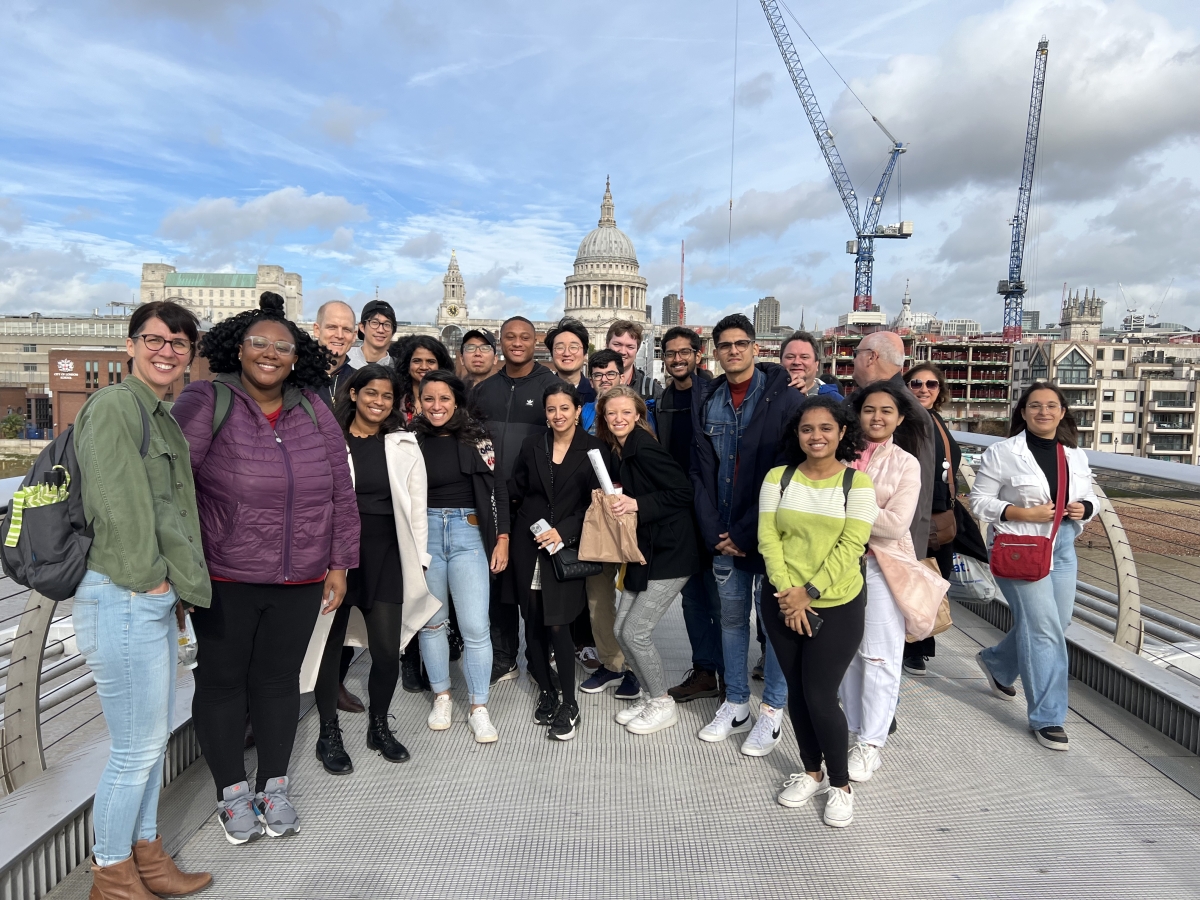 The class poses for a group photo in London
Image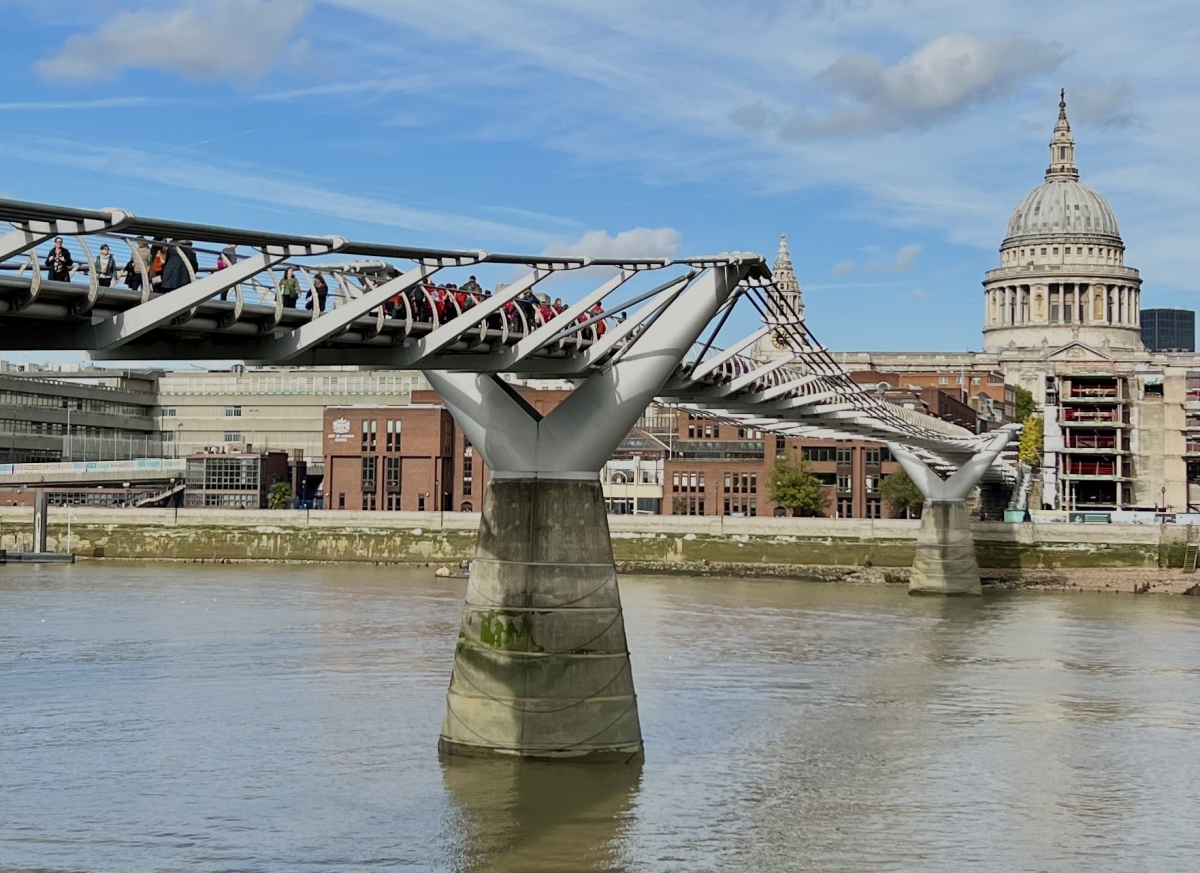 The Millennium Bridge in London
Blank Space (medium)
(text and background only visible when logged in)
Sparking Innovation
It was the Millennium Bridge that sparked a winning idea for architecture student Charles Kim and civil engineering student Isaac Wasson.
Kim and Wasson were taken by the shallow suspension bridge over the River Thames, which features two Y-shaped armatures supporting cables that run along the sides of the deck. The cables rise only about 6 feet, providing uninterrupted views of the city and the stunning St. Paul's Cathedral.
After returning to Atlanta, Kim and Wasson decided to scrap their previous design and start over with a concept inspired by their visit. Rather than designing a bridge that would stand out, they decided to create something that would blend in and let the surrounding skyline view be the star of the show.
"In the problem statement for this competition, the judges told us they wanted a monument —something that people could look at from all around Atlanta," Wasson said. "Our design was not that at all. It was definitely inspired by the Millennium Bridge and what it does so well:  taking the focus off itself and instead putting it on views of St. Paul's Cathedral."
The pair recognized the risk in deviating from the design competition's directive, but their gamble paid off. Their design, called "The Eye," won first place.
Kim and Wasson explained that they began their design process by thinking about the user experience first and letting that dictate the form of their bridge.
Image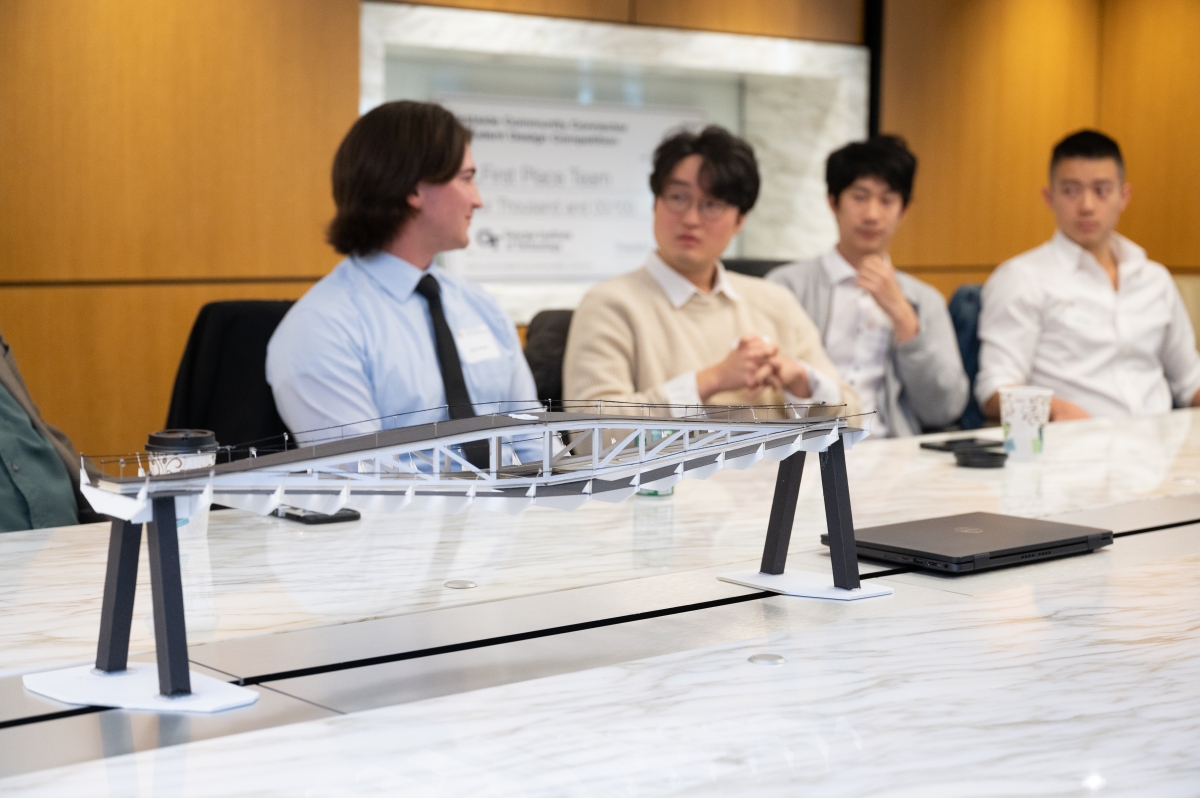 Wasson and Kim present their final bridge design to President Angel Cabrera on Jan. 20, 2023. Photo: Allison Carter
Blank Space (medium)
(text and background only visible when logged in)
Sparking Inspiration
The main span of their bridge design features a split bike path surrounding an elevated pedestrian path. From the side, this creates the shape of an eye: an oval tapering into points at either end. Their design uses trusses to support the structure from below, providing a clear view over the rail lines.
"The view we see is of the skyline and it will never be obstructed because nothing will be built on the train track," Kim said. "We had to exploit that opportunity, it was all about the view."
The team selected fiber reinforced polymer decking as the material to build their bridge. This lightweight material would require less steel for support and reduce the cost of construction and the project's carbon footprint.
In addition, much of the bridge could be prefabricated and shipped to the site for assembly, creating a faster timeline for construction.
Stewart said Kim and Wasson's design won because the judges found it to be an elegant concept from both an engineering and architectural standpoint.
"We loved that their creative solution allowed for unobstructed views for the pedestrians and clearly highlighted multiple modes of transportation," Stewart said. "In addition to being conceptually stunning, it was also the least expensive design."
Wasson and Kim said that working together during the course helped them to think more holistically. 
Image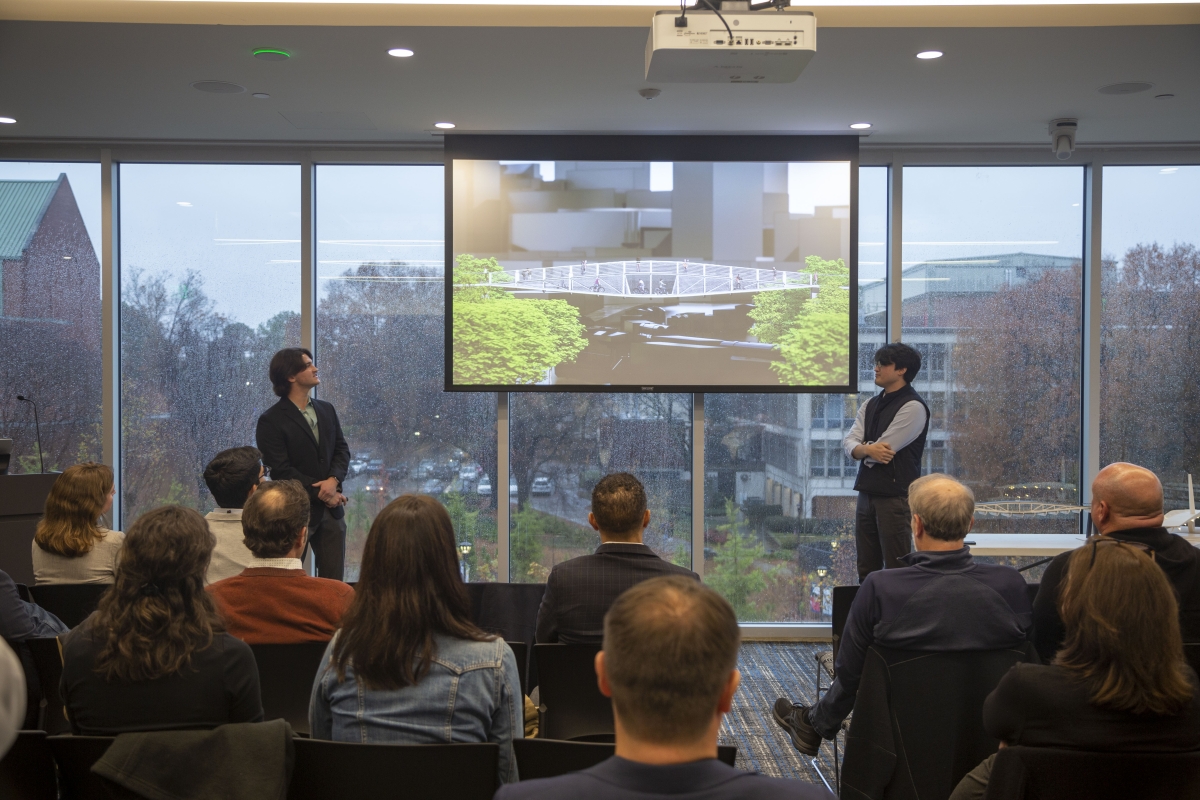 Wasson (left) and Kim show a rendering of their bridge concept during the final design competition on Dec. 5, 2022. Photo: Amelia Neumeister
For Wasson, the collaboration with Kim helped him to shift his thinking beyond the least expensive and best way to create a structure.
"In our education, it's often framed that there's one right way to do things," Wasson said. "Through Charles I saw there's a lot of different ways to approach things. Making a successful project is making something that people will like."
For Kim, working with Wasson helped him become more focused and confident in the feasibility of his designs.
"Working with Isaac made me more practical and professional," Kim said. "What's the point of making beautiful things if they can't be built?"
Blank Space (medium)
(text and background only visible when logged in)
This is a legitimate chance to leave our mark on campus. This was a really special, unique opportunity. It's such a cool thing that we got to be a part of.
The Shape of Progress
The Westside Connector bridge concept isn't the first time that Georgia Tech has looked to infrastructure as a way to breathe new life into a neighborhood just beyond its boundaries.  
In the late 1990s, Georgia Tech President Emeritus G. Wayne Clough began an effort to expand Georgia Tech's campus over the Downtown Connector into Midtown, which was then struggling with crime and blight.  
Connecting these two seemingly disparate pieces was a tough sell at first. But Georgia Tech's vision and investment paid off. Twenty years later, this area now known as Tech Square is thriving, thanks in part to the Fifth Street Bridge. The bridge over the interstate was expanded upon to provide green space, bike lanes, wide pedestrian walkways and a shading trellis to create an inviting pathway over the multilane interstate highway below.
Tech Square is now known as an innovation hub, with corporations vying to open outposts in the district to leverage Georgia Tech talent.
Campus officials hope to someday find similar success with a pedestrian bridge connecting the main portion of campus to Science Square. The name of this development is no accident: The hope is that Science Square will be to life sciences innovation what Tech Square has become to corporate innovation and tech startups.
Kim and Wasson said participating in the design competition was an honor and they hope to someday see their bridge concept brought to life.
"This is a legitimate chance to leave our mark on campus," Wasson said. "This was a really special, unique opportunity. It's such a cool thing that we got to be a part of."
Blank Space (large)
(text and background only visible when logged in)
Westside Community Connector Student Design Competition Finalists:
First Place
Charles Kim and Isaac Wasson
Second Place
Mark Chan and Korawat Sakpunpanom
Honorable mention
Shyam Samani and Hana Herndon

Mason Burrow and Priyank Godhat

Ji

a

yong Lu and Swetha Prabhakar
Blank Space (medium)
(text and background only visible when logged in)