Image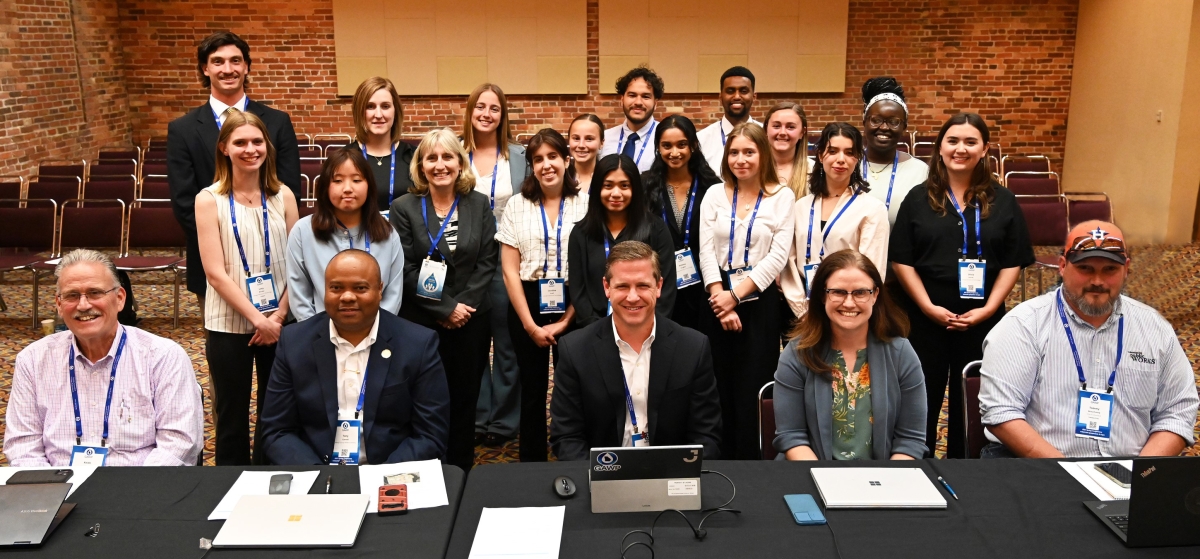 Environmental engineering students in the capstone design course were recognized for their work by industry professionals, winning first, second, and third place in a regional competition.
The Georgia Association of Water Professionals (GAWP) 2023 Student Design Competition promotes real-world design experience for students in the water and wastewater field. The student teams prepared both a written report and an oral presentation, which they delivered to a panel of judges during the 2023 GAWP Spring Conference on April 18 in Columbus, Ga. 
A team comprised of students Lucy Bricker, Makaela Edmonds, Isabella Hernandez, and Olivia Verret won first prize for their project, "Duluth Middle School Green Stormwater Infrastructure Retrofit." 
The team was awarded $5,500 to send the four students and their advisor, Professor of the Practice Sharon Just, to the Water Environment Federation Technical Exhibition and Conference (WEFTEC) international student design competition in Chicago this fall, where they will compete among 34 teams for additional prize money. 
Second place was awarded to the team comprised of Rachel Nichols, Catherine Rekos, Tiffany Sledge, and William McKinley Thompson presenting "Treatment Technologies Design for PFAS in Drinking Water."
Third place went to Janice Cherono, Jesus Gomez Prado, Shalini Moua, and Nathan Teklay for their project, "Stormwater Tannin Control for Mexico Beach, FL."
The team of Sophia Dimos, Radha Jagwani, Caroline Krall, and Athena Verghis conducted a field visit in South Carolina and presented "Modeling Long-Term Green Infrastructure Solutions for Water Quality and Coastal Flood Management Challenges."
Just, who advised all of the teams, said she was pleased that each team member spoke at the conference—meaning all 16 students had the experience of presenting their work.  
"I'm very proud of the four environmental capstone teams who presented at the conference," Just said. "This was an extra activity for these graduating seniors, including a separate paper, slides, and taking a Tuesday to travel to Columbus. They are all to be commended for the effort they put into preparing and representing Georgia Tech so well."