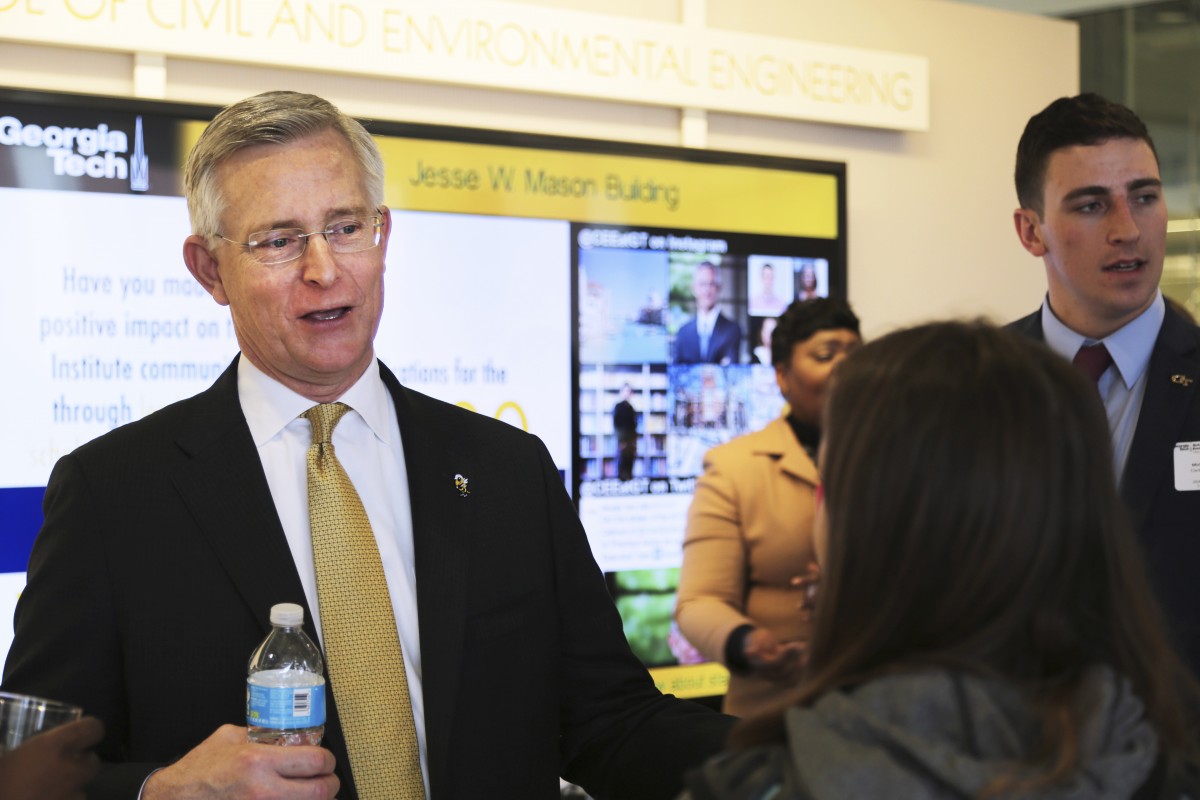 Bill Calhoun talks with students after his spring 2018 presentation for the Hyatt Distinguished Alumni Leadership Speaker Series. Calhoun, vice chairman and executive vice president of Clark Construction, talked about the five principles that guide how he leads people and his company. (Photo: Jess Hunt-Ralston)
Do the right thing. Be introspective when things don't go the way you want. Run right at your problems. Remember the people. Give back.
Those were some of the highlights of the presentation from Bill Calhoun Feb. 15 as part of the Hyatt Distinguished Alumni Leadership Speaker Series, drawn from Calhoun's three decades of experience and years as a leader of Clark Construction Group.
Calhoun, a 1981 civil engineering graduate from Georgia Tech, said he spent time on cross-country flights pouring out his personal priorities in two sessions of stream-of-consciousness writing. That raw material became five guiding principles for leadership and formed the basis of his spring 2018 Hyatt lecture.
"Think about who you want to be and what guides you," said Calhoun, vice chairman and executive vice president of Clark Construction. "I suggest that doing the right thing is what should guide you. Remember, it's always about the people and the process, not just the results. Think about empathy and get to win-win. Have fun. Make some friends along the way. And love what you do every day."
Calhoun's five principles:
Do the right thing.
Assume a position of accountability.
Develop relationships, teams and people.
Know the business behind your business.
Be social, get involved and give back.
Some of those lessons came through difficult projects and hard-won experience. Calhoun recalled a "flagship" project where he managed all of the interior construction. He recalled many tough conversations over changes, falling behind on the schedule, and people not doing what they were supposed to.
"I was the battle master. I won every argument — professionally, not ugly," he said.
But there was a cost: When the developer started to negotiate with Clark Construction for the next project, it was with the proviso that Calhoun wasn't involved. He realized later a better way to do business was not to win every battle, but to focus on what's best for the project.
"Part of doing the right thing, to me, is acting in the project's best interest, not your own self-interest," Calhoun said. "This was a growth for me."
He reasoned that if clients wanted to work with him again, that meant they wanted to work with his company: "Isn't that the right perspective? My perspective has changed ever since."
"You have to be introspective when you didn't get the outcome you want," Calhoun said. "You have to be strong enough to accept your weaknesses, seek counsel, listen to people, and get smarter. That is part of being accountable."

Bill Calhoun talks about accountability during the spring 2018 Hyatt Distinguished Alumni Leadership lecture. Accountability was one of five principles that he explored during his presentation to students, faculty, staff and alumni in the School of CIvil and Environmental Engineering. Calhoun graduated from the School in 1981 with a bachelor's in civil engineering. (Photo: Zonglin "Jack" Li)
 

"Run right at your problem.

It's not going to get better over time."

– Bill Calhoun, vice chairman and executive vice president, Clark Construction Group

 
 
On another big project — this time for the federal government — regulators put him on notice that they would be watching every detail of the company's labor practices and were "going to make a target out of you."
Calhoun said he spent a few days looking at labor regulations and understanding requirements. Then he called the regulator back and asked to work together to make the project an example of everything federal contractors could do right.
The company ended up winning an award for that effort.
"Run right at your problem," Calhoun said. "It's not going to get better over time."
Calhoun said he's also learned how important it is for leaders to understand the business of their business — and their clients' business, too.
"We're in business to make profit," he said. "That's not an ugly word. Profit enables us to reinvest in the company, in our people, develop our people, give back to the community."
For Calhoun, giving back has included service to professional organizations, getting involved at Georgia Tech, and volunteering with a Washington D.C. organization called So Others Might Eat. He said it started early in his career when a manager encouraged him to get involved with the Association of General Contractors.
"At the time, I didn't want to do it, I didn't have the time to do it — I had a young family, I was working six days a week — but I did it. And it pays dividends all the time."
"It's like putting money in the bank, in terms of compound interest growth."