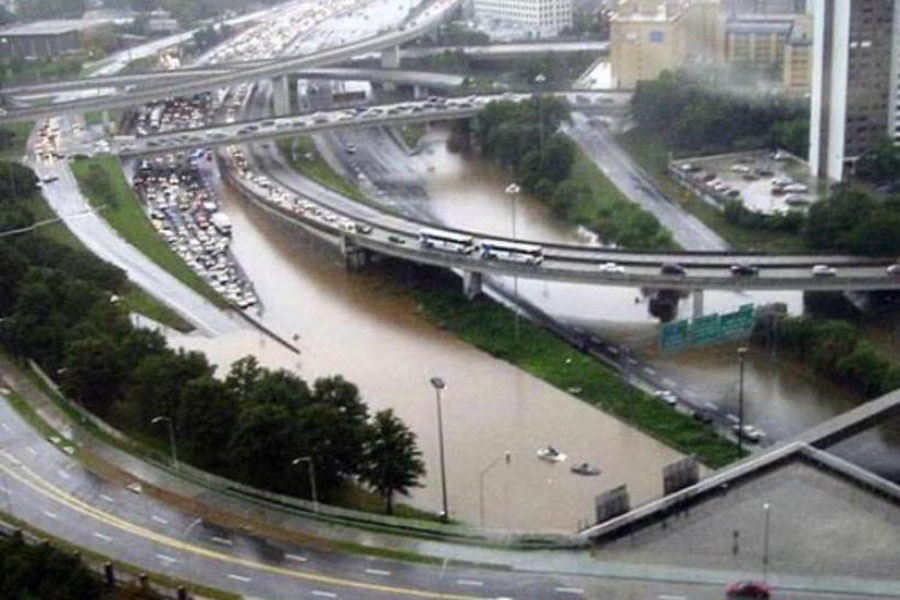 Traffic jam on Atlanta highways due to flooding. (Photo courtesy of the Atlanta Journal Constitution) 
Georgia Tech is one of five universities that has been selected to participate in AT&T's Climate Resiliency Community Challenge.
The company has awarded a team of researchers from the Institute $50,000 to study flood resilience in the Southeast using new climate data from the Argonne National Laboratory. The researchers will assess risks and help local governments with climate adaptation and resilience planning.
The multi-disciplinary team is comprised of Professor Adjo Amekudzi-Kennedy and Associate Professor Baabak Ashuri from the School of Civil and Environmental Engineering; Russell Clark, a senior research scientist in the School of Computer Science; Brian Woodall, a professor in the Sam Nunn School of International Affairs; undergraduate students Ty Parillo, Mandani Tennakoon, Derek Rizzi and Ashlee Bryant; Jenna Krieger, in the dual master's degree program in City Planning and Civil Engineering; and Prerna Singh, a PhD candidate in Civil Engineering's Transportation Systems Program who co-wrote the proposal with Amekudzi-Kennedy and the other faculty.
The researchers are working in partnership with the Atlanta Regional Commission, Metropolitan North Georgia Water Planning District, the City of Atlanta Department of Watershed Management, Georgia Tech's initiative on Smart Cities and Inclusive Innovation, and the Center for Serve-Learn-Sustain.
Over the course of the project, which concludes June 1, the team will evaluate the potential impacts of inland flooding on Metro Atlanta and other Georgia communities, focusing on the region's highways, public transit, rail, ports, schools, parks and other critical infrastructure.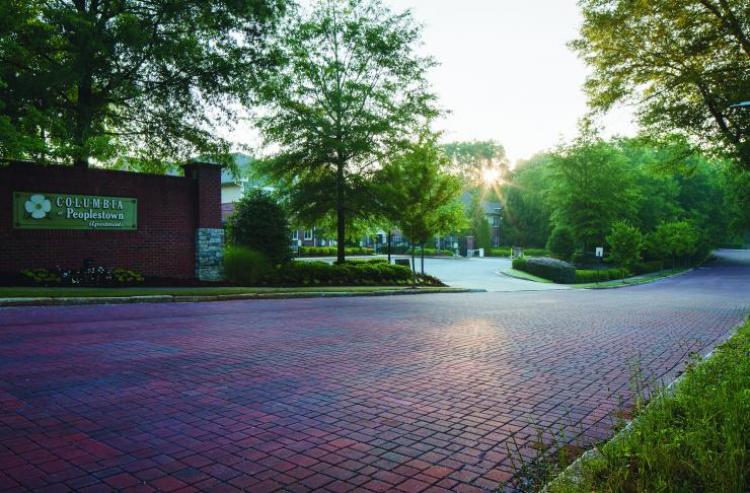 Interlocking concrete pavements, part of Atlanta's Green Infrastructure Initiative
Amekudzi-Kennedy believes it is crucial to develop system resilience in the face of more frequent and uncharted climate scenarios.Using massive new data sets, Amekudzi-Kennedy said the team will assess mid-century and end-of-century flood risk scenarios which are likely to include more frequent heavy precipitation and flooding. The team will explore ways to integrate traditional infrastructure—like pipes and drains to move water quickly— with green infrastructure, which uses soil, vegetation and permeable materials to mimic natural drainage. They are also exploring stronger government regulations and recommendations to make these flood resilience measures more cost-effective and equitable.
"This project will advance our understanding of integrated solutions – combining physical infrastructure with green and institutional capital," Amekudzi-Kennedy said. "It highlights the importance of combining data-driven insights with good communication and effective collaboration to inform and drive institutional and community changes for building resilience. We are grateful to AT&T for creating and supporting this timely initiative."
Related: