Tuesday, 03 December 2019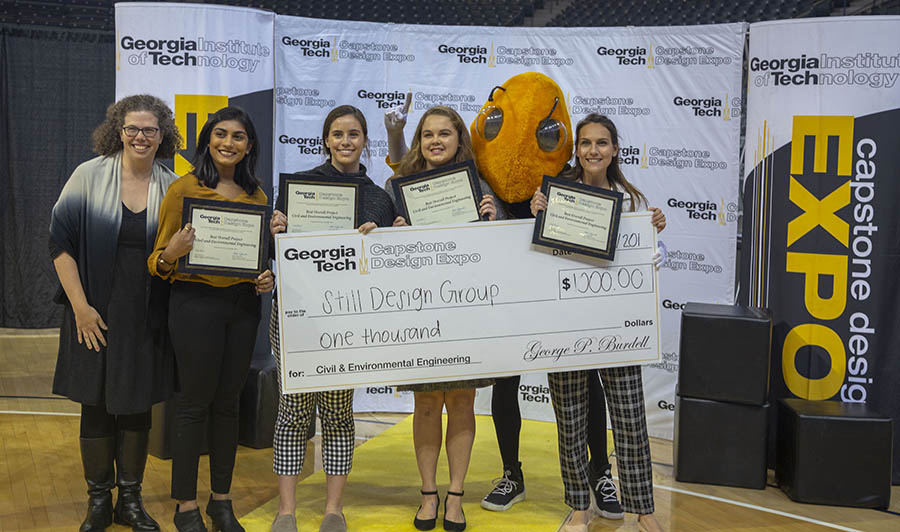 CEE's winning team members—Kimmie Hernandez, Danielle Kronowski, Poonam Patel and Rachel Still—pose with Buzz and faculty adviser Kari Watkins at the Capstone Design Expo Dec. 2. Photo: Amelia Neumeister

With a plan to redesign Ferst Drive to make the campus artery safer for pedestrians and cyclists, the Still Design Group team was selected as the School of Civil and Environmental Engineering winner at the Fall Capstone Design Expo.
The all-female team—comprised of Kimmie Hernandez, Danielle Kronowski, Poonam Patel and Rachel Still—was named the top civil and environmental engineering project among 15 other senior design teams from the School.
The Dec. 2 Capstone Design Expo featured 143 teams from seven schools and two colleges showcasing their senior projects and competing for prizes. The senior design teams set up their project displays throughout McCamish Pavilion, and shared their work with interested passers-by and Capstone Design Expo judges.
Still Design Group was sponsored by Georgia Tech's Office of Capital Planning and Space Management. The team worked with the campus officials to redesign the Ferst Drive corridor— from the Fifth Street Bridge to Regents Drive— to improve safety for cyclists and pedestrians.
The team did a lot of research to determine the best solution, surveying cyclists, analyzing crash data, and comparing multiple alternatives before making their recommendation.They suggested implementing a two-way buffered cycle track, which was the most popular option among polled cyclists because it provided a greater sense of safety. It was also the least expensive and the option with the shortest construction time.
In addition to bike lanes, the team also drafted plans to redesign several intersections and add some new features, including Dutch-style intersections to reduce speed and a more efficient crosswalk design at the intersection of Ferst and Techwood Drive. The team projected that their recommendations would cost $1.5 million and take about 80 days to implement.
All of the other CEE teams were sponsored by a mix of government agencies, non-profit organizations and engineering firms, and many focused on familiar locations in the Atlanta area, including MARTA's Five Points Station, Piedmont Park and Big Creek Water Reclamation Facility.
After several hours of judging, the winners from each participating school were announced, and the award for best overall project went to "Sky's the Limit," an Industrial and Systems Engineering team sponsored by Delta that examined the airline's warehousing methods. By combing through data and finding a way to improve Delta's warehousing system, the students came up with $750,000 in annual cost savings for the airline.
As the largest student design competition of its kind, Capstone attracted sponsors from all over Georgia, including the Atlanta Hawks, the CDC, Emory Hospital and the Georgia Department of Transportation as well as national brands including Cisco, General Motors, Lockheed Martin, the United States Air Force and Under Armour.
Each of these organizations was looking for students to take on a challenge and help them improve their operations, whether it was redesigning a smart medicine ball, maximizing traffic flow, or coming up with a better way to process bitter leaf for cooks in Africa.
The teams who did not pursue sponsored projects came up with their own problems to tackle, designing firefighting robots, an automated tamper-proof pill dispenser, a range of medical devices, and a device for turning any writing tool into a smart device.
In the end, Capstone competitors showed why Georgia Tech students are renowned for their ability to hit the ground running and solve problems, whether they're working on behalf of sponsors or pursuing passion projects for their own interest in the hopes of starting their own companies. 
Related Links