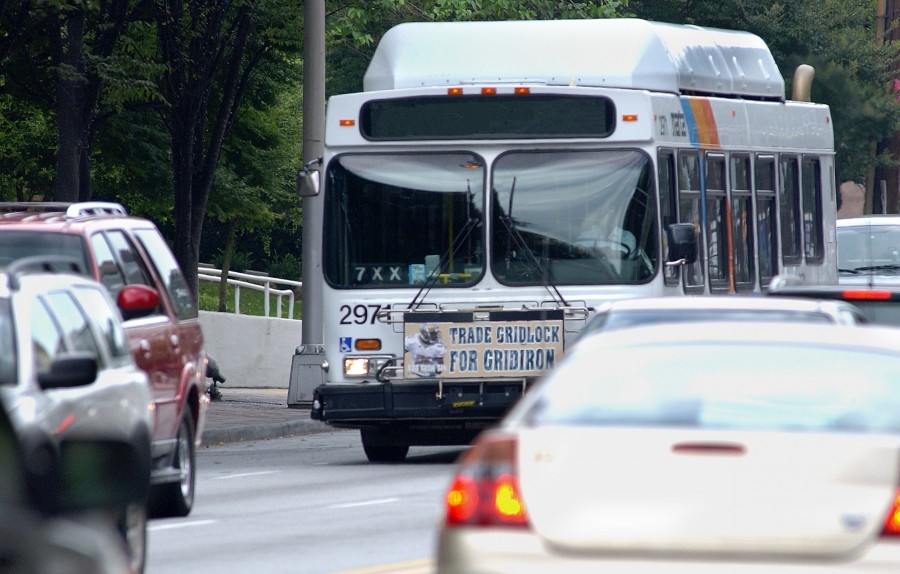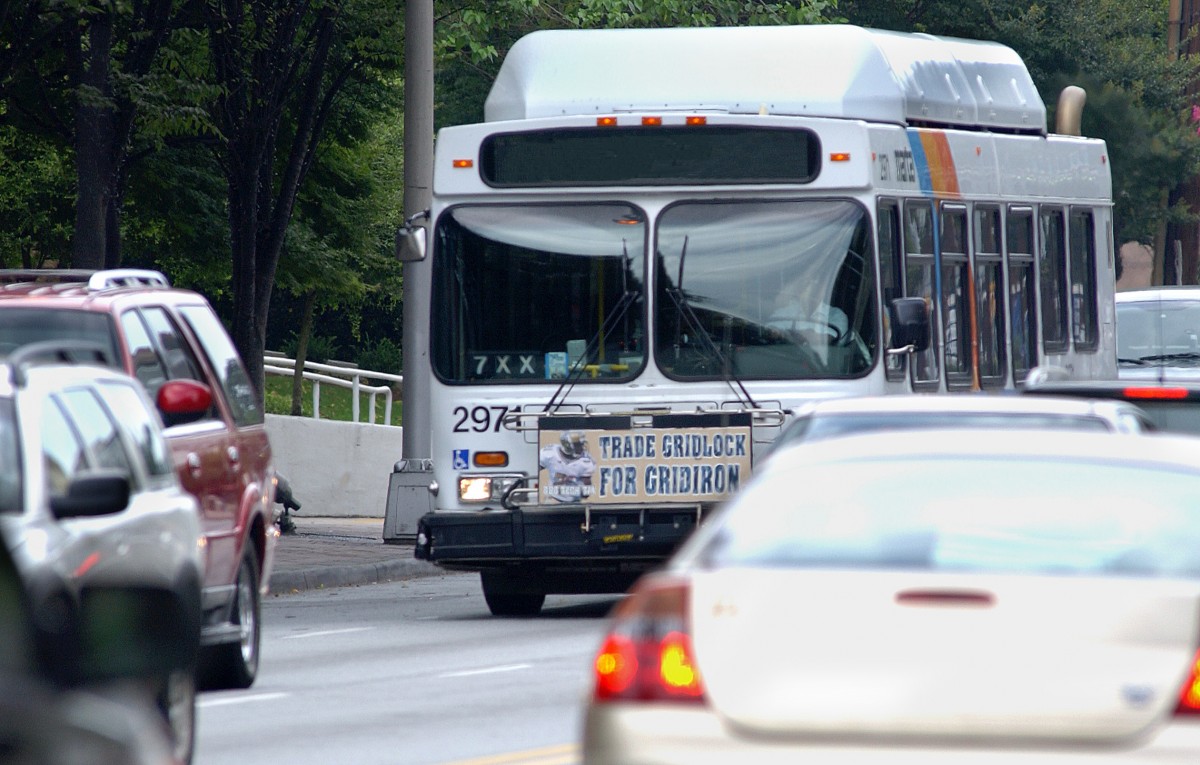 MARTA bus on street in Atlanta (Photo by Nicole Cappello)
By Michael Pearson
Ivan Allen College of Liberal Arts
Civil and Environmental Engineering Professor Adjo Amekudzi-Kennedy led the development of an article on Preprints.org that considers the infrastructure and sustainable development implications of the COVID-19 pandemic, along with colleagues from Georgia Tech, Purdue University and Arizona State University.
"COVID-19 offers many lessons on sustainable development, if we are willing to learn," wrote the authors, who include CEE's Amekudzi-Kennedy and Ph.D. student Prerna Singh, Brian Woodall of Tech's Sam Nunn School of International Affairs, Samuel Labi of Purdue and Mikhail Chester of Arizona State.
Among those lessons, according to the article which is under review by a peer-reviewed journal:
Think long term. COVID-19's rapid spread helped reveal how critical threats can pose risks to sustainable development. For instance, mass transit is facing what could be the largest economic crisis in decades as many riders have been forced to stay home while others nervous about close human contact have stayed away from buses and trains. "Once touted as a most sustainable form of transportation — that is, from the standpoint of per capita energy consumption and carbon emissions, it is clearer to many today that mass transit may itself become a critical risk to sustainable development."
We need multiple modes of transportation to be most resilient. "COVID-19 is teaching us that perhaps it is not so much about one mode versus another, or which transportation mode is best from only one perspective (e.g., environmental) or a limited set of perspectives; but rather there is wisdom in planning for and investing in a robust multimodal transportation system that offers multiple convenient and cost effective choices."
Sticking close to home is one way to increase resiliency. "The movement of the nation at large to teleworking and tele-schooling during the COVID-19 pandemic is causing many to ask questions about how essential it is to travel back and forth on a daily basis for work and school."
Economic capital is key. The authors cite the more than $2 trillion U.S. coronavirus relief package passed by federal lawmakers as evidence of the need for economic resiliency in the face of critical threats to sustainability. "Communities at all scales (i.e. municipalities, nations, regions and others) that possess robust economic capital and thus are economically resilient can afford to make such financial infusions to curb economic risks while efforts continue to manage the pandemic and find a vaccine and/or cure."
Social capital is just as crucial. "The collaborations and partnerships that have been formed, some very rapidly, to fight COVID-19 must signify to all that it is possible for the global community to come together quickly and with resolve to seek, find and implement solutions to common sustainable development challenges — particularly when these challenges are existential in nature and are playing out rapidly."
The article, "Reflections on Pandemics, Civil Infrastructure and Sustainable Development: Five Lessons from COVID-19 through the Lens of Transportation," was posted to Preprints.org on April 6. It already has been downloaded more than 800 times and viewed more than 1,700 times.
Related: