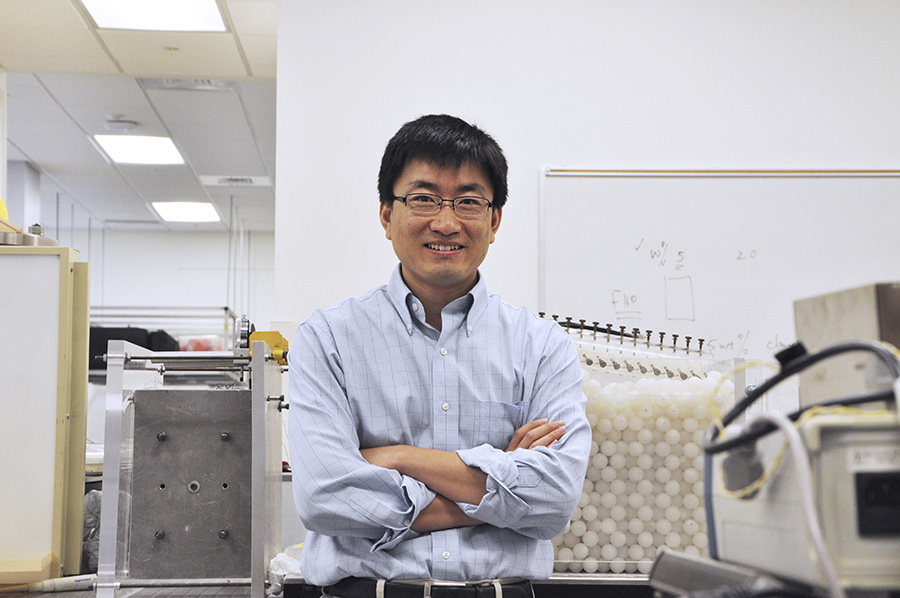 Sheng Dai (Photo by Jess Hunt-Ralston)

Assistant Professor Sheng Dai has won a 2020 Faculty Early Career Development (CAREER) Award from the National Science Foundation.
The CAREER Award is the National Science Foundation's most prestigious award for early-career faculty, recognizing those who have the potential to serve as role models in research and education and to lead advances in their fields.
Beginning May 1, Dai will receive $540,362 over five years for his proposal, "Transforming Multiphase Flow in Porous Media from Passive Pore Fluids to Active Suspensions of Motile Bacteria."
"It's an honor and a recognition of the potential of this idea to transform the way we think about flow in porous materials," Dai said. "It gives us tremendous flexibility and resources to explore this topic with lots of potential applications relevant to energy and environmental issues."
To put it simply, Dai's research will focus on the use of active particles, like motile bacteria, to alter the flow of fluids through porous media, like soils and rocks.
The active particles Dai will be using in the lab are benign strains of E.coli bacteria. Dai says that altering the motility of the bacteria in water has the potential to change its natural flow patterns.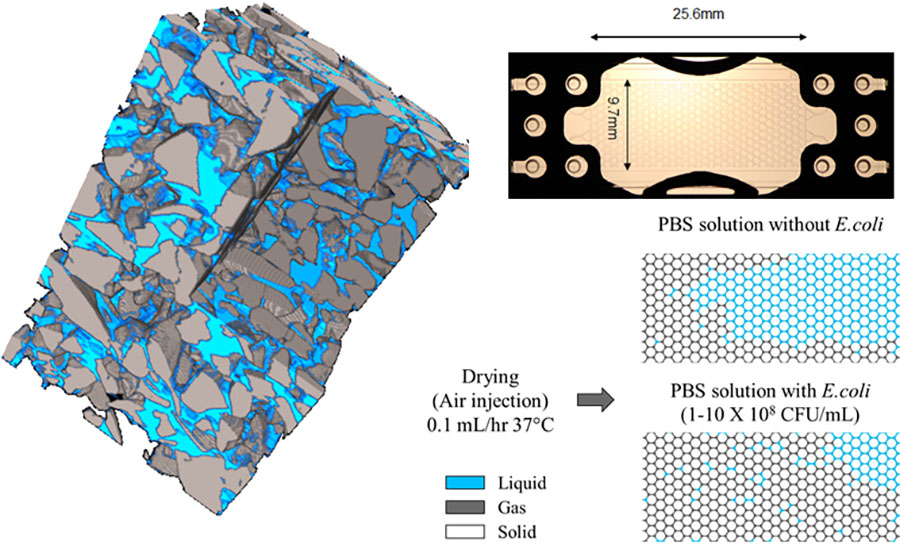 The flow of active fluids in 2D microfluidic chips and 3D porous media (Photo courtesy of Sheng Dai)
The active particles can also be used to achieve what's known as stable displacement. Take for example oil that is lodged underground. Because it is heavy and viscous, the oil industry often injects a large amount of water into the ground to force the oil out. However, this process has low efficiency and also creates polluted water.
By using active particles, Dai says a process known as stable displacement could be achieved. This would require less water to force the oil out at an even rate, despite water being much lighter than oil.
While Dai's research will focus on the fundamental fluid mechanics of these processes, other potential applications include energy and resource recovery, contaminant treatment and medical science.
As part of the NSF CAREER Award, Dai is also developing an educational component related to his research. He will create teaching materials for high school students and teachers to learn about flow processes, porous media, subsurface energy and minerals. He will also create an app to allow users to visualize and contrast flow of various fluids in different porous materials.
Dai has been an assistant professor in geosystems engineering at Georgia Tech since 2015. He earned his bachelor's and master's degrees in civil engineering at Tongji University in China, as well as a master's degree and PhD in civil engineering at Georgia Tech. After graduation, he worked in the Predictive Geosciences Division at the National Energy Technology Laboratory of the U.S. Department of Energy before returning to Georgia Tech to join the faculty.
Related