Thursday, 07 October 2021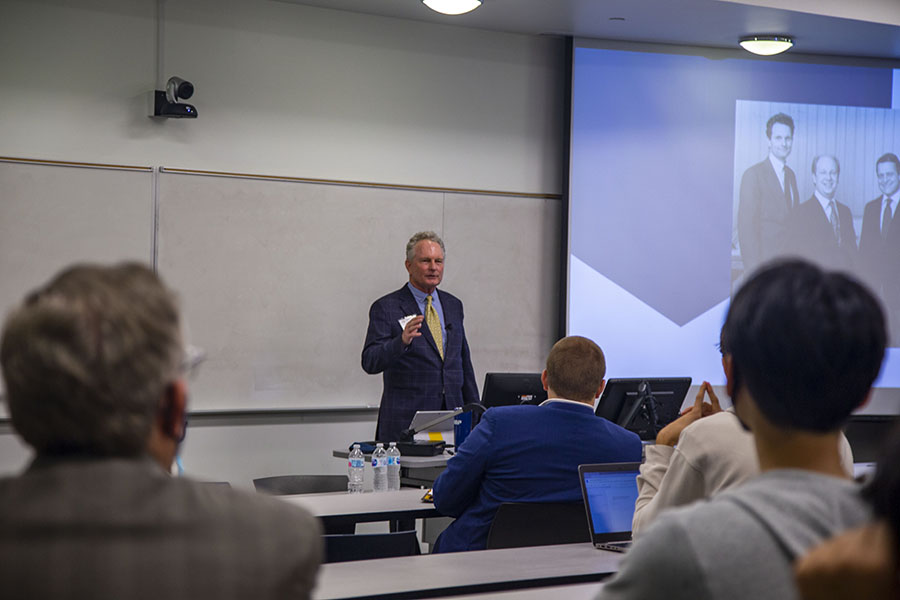 Blake Peck, MS CE 78, spoke about values-based leadership as the Fall 2021 speaker for the Kenneth Hyatt Distinguished Speaker Series. Photo: Amelia Neumeister

By Melissa Fralick
More than 30 years after founding construction management firm MBP, Blake Peck, MS CE 78, is confident that its success is thanks to the strong values he and his team have lived by over the years.
Peck, who delivered the Fall 2021 Lecture for the Kenneth Hyatt Distinguished Leadership Speaker Series on Oct. 5, told the audience that those values are deeply ingrained. He was born into a family that modeled inclusion, community, innovation and team work through their unique educational and professional lives.
Peck's mother was an engineer at a time when it was rare to find women in the field. She was the first woman to earn an engineering degree from Vanderbilt University and the first to earn a master's degree and PhD in chemical engineering from the University of Florida. She worked with U.S. Marine Corps and developed rocket propulsion fuels for the space program before becoming the University System of Florida's first female president in higher education.
Peck's grandfather, Blake Van Leer, was the president of Georgia Tech during the 1940s and 50s. Georgia Tech began admitting women during his tenure, and Van Leer famously stood up to Georgia's governor, who didn't want Tech to play against a racially integrated football team in the 1956 Sugar Bowl.
Peck absorbed these models of inclusion when it came time for him to start his own business. In 1989, when Peck and his business partners Charlie Bolyard and Frank McDonough decided to start their own company, they began with their values.
"The overriding theme was we wanted to do things the right way and build a company that we would want to work for, even if we didn't own it," Peck said.
MBP – which stands for the initials of the three partners – was created on the back of a napkin in a Virginia bar with a goal of employing 4-5 people and doing $450,000 in business in its first year. Today, after more than 30 years in business, MBP is a Top 50 firm that employs more than 300 people at 15 locations around the country.
Peck attributes this success to the company's relentless commitment to its values.  With multiple offices around the country, MBP maintains its consistency by prioritizing values with everyone who joins the team, Peck said.
Peck shared MBP's six value statements with the audience: we are one team, we deliver quality, we act with integrity, we are driven to succeed, we are innovative, and we care about our community.
Peck said the value that informs all others is that MBP is one team. No matter your job title, or rank, or location, the success of the company depends on everyone doing their part. The person answering the phone touches more clients than any engineer—so their success is key to the success of the entire company.
"It requires everyone doing their job," Peck said.
Reputation, Peck said, is paramount. Producing high-quality, honest work is what results in repeat business. That doesn't mean never making a mistake, he clarified: It means taking responsibility when things go wrong. By being upfront and honest, you can avoid the perception of impropriety.
"Sometimes perception can be just as bad as reality. The way you fight that is by never giving it a chance," Peck said.
In the quickly evolving construction industry, Peck said being innovative is crucial to survival.
In the 1970s, the answer to problems in construction was to put more people on the job. Now, labor is double the cost of materials, and sometimes more. In addition, technology continues to change at a rapid pace. Earlier in his career, Peck recalled buying the Virginia Department of Transportation its first fax machine. Now, he has people in MBP who do nothing but fly drones.
"Every 3-5 years, the speed of change has doubled," Peck said.
Internally, the makeup of MBP has also changed. Peck said the company is more diverse than it was when it was founded in the late 80s. This happened organically, he said, by giving people opportunities and pathways to advance.
"The chair of our board is a woman who started at 19 as an intern for us," Peck said.
Peck stepped down as CEO earlier this year following a successful ownership transition, though he is still with the company.
"We completed the dream," Peck said of the vision he and his co-founders shared when they set out to create MBP, "that even if we didn't own this company we'd still want to work for it."
Related: