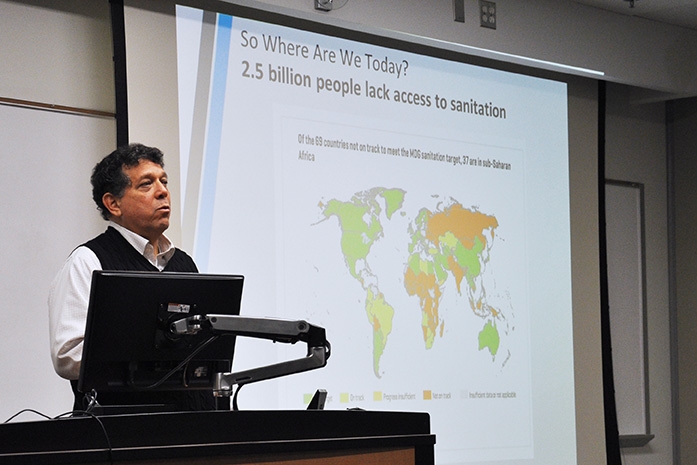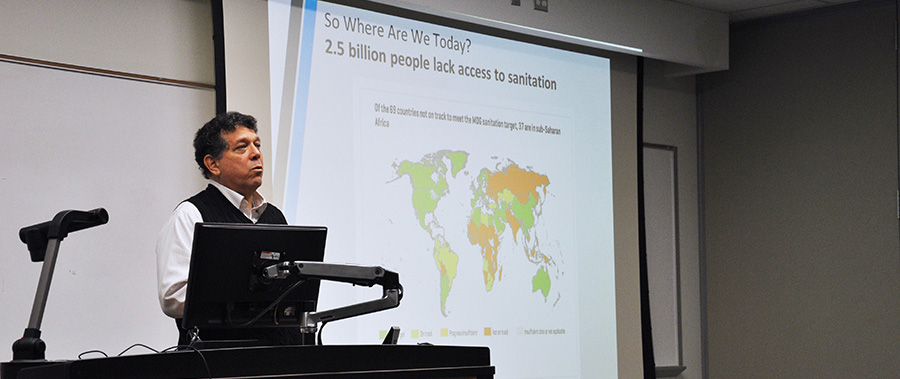 (Photo by Jess Hunt.)
For the global community to make universal access to sanitation services a reality in the next 15 years, Eddy Perez says we'll have to flip our traditional approach.
That is, instead of building sewers and water treatment plants in more affluent communities — the "low-hanging fruit" that makes a big impact quickly — development efforts will have to focus on poor communities, where progress will be slower and the improvements smaller, Perez says.
So, no sewer systems; these poor, rural communities need basic latrines just to start separating people from their waste and stop them from defecating in the open.
Perez should know what will work: he's the just-retired lead sanitation specialist with the World Bank and an internationally recognized expert on the issues. He's also leading a working group figuring out how the world will approach sanitation through 2030 through the United Nations' Sustainable Development Goals (SDGs), the follow-up effort to the Millennium Development Goals (MDGs) world leaders created to meet the needs of the world's poorest people.
Perez talked about the new set of goals and the approach they'll take to global sanitation challenges with a group of School of Civil and Environmental Engineering students February 26, returning to his alma mater for the first time in four decades (he graduated from the School in 1974).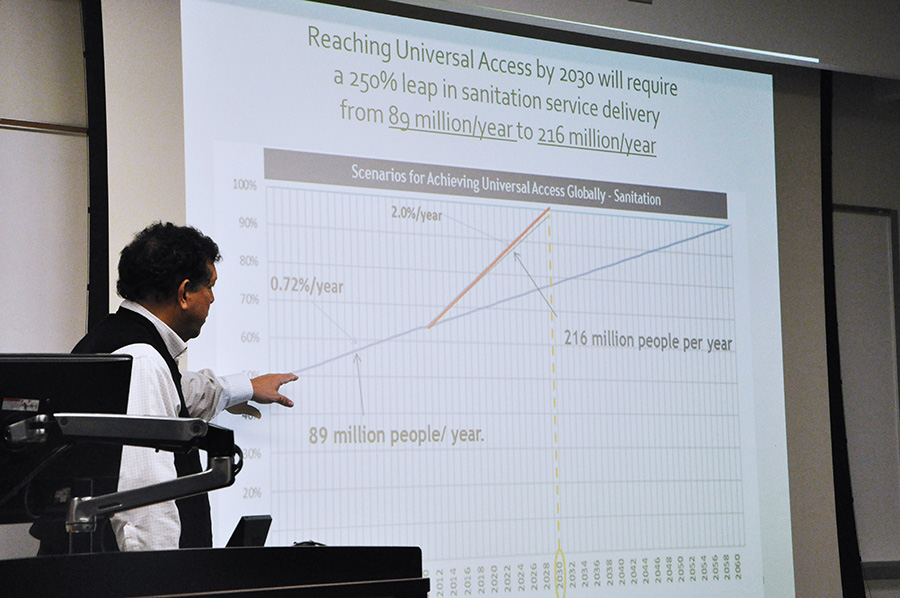 Eddy Perez, B.S. 1974, returned to his alma mater February 26 to talk to current students about the next generation of global development goals under consideration at the United Nations. Perez leads a working group coming up with new sanitation goals for poor countries. Perez says those goals need to push for universal access to some sort of improved sanitation services around the world. (Photo by Belal Elnaggar.)
"The good news is that a lot of progress was made during the last 15 years in sanitation," Perez told the students. "But unfortunately, the progress barely kept up with population growth in these countries. In the beginning of the MDG era, there were 2.7 billion people without access to sanitation, and today, as we launch the SDG era, there are 2.5 billion people without sanitation. It's sort of running in place.
"And, most of those gains have benefited the richest 40 percent."
Perez said the Millennium goals didn't account for equity in measuring the improvement in access to sanitation. That means the gap in access between the richest 40 percent of the population and the poorest 40 percent has actually grown, even in countries where progress has been made.
That's why the new Sustainable Development Goals will focus on universal access to sanitation and progressive reduction in the inequality of access, Perez said.
"They are radically different," he said. "It reflects, I think, a much stronger understanding of the challenges and the problems."
Perez said the new goals will be ambitious, not aiming solely for access to basic sanitation by 2030 but moving toward more advanced sanitation services for everyone on the planet.
To put "ambitious" in perspective, consider this: Perez said global efforts have increased access to sanitation services for 89 million people per year since 1990. To meet the universal access goal, 216 million people each year must gain access to services, almost triple the historical rate.
| | |
| --- | --- |
|   | Students listen during a seminar by Eddy Perez, former lead sanitation specialist at the World Bank. Perez, a 1974 CEE graduate, is helping develop new global development goals for sanitation. (Photo by Belal Elnaggar.) |
Some other highlights of Perez's presentation:
Affordability is a major issue in improving sanitation.
"In many countries, household sanitation is considered a private good, so households have to pay for it. If you are the 1 billion people defecating in the open who live in rural areas making $1.15 a day, the cost [of some sort of improved latrine] becomes a real issue."
Perez said these households spend almost all of their money on food, fuel and transportation, so if they spend even 5 percent of their income on a latrine, they have to spend less on something else.
Changing behavior and social norms is important, too.
A recent survey of 32,000 rural households in India found 43 percent had a working latrine, but in almost half of those homes, at least one member of the family simply wasn't using it. They were still defecating in the open.
"Demand creation and behaviors are critical," Perez said. "Even sound technology and sanitation solutions will not improve health if they're not used."
The UN will decide on the Sustainable Development Goals in September. Perez said there's no guarantee they'll include the sanitation and health goals his working group is developing, but he thinks they will.
Learn more about the Millennium Development Goals and the effort to develop new post-2015 goals.