Thursday, 30 October 2014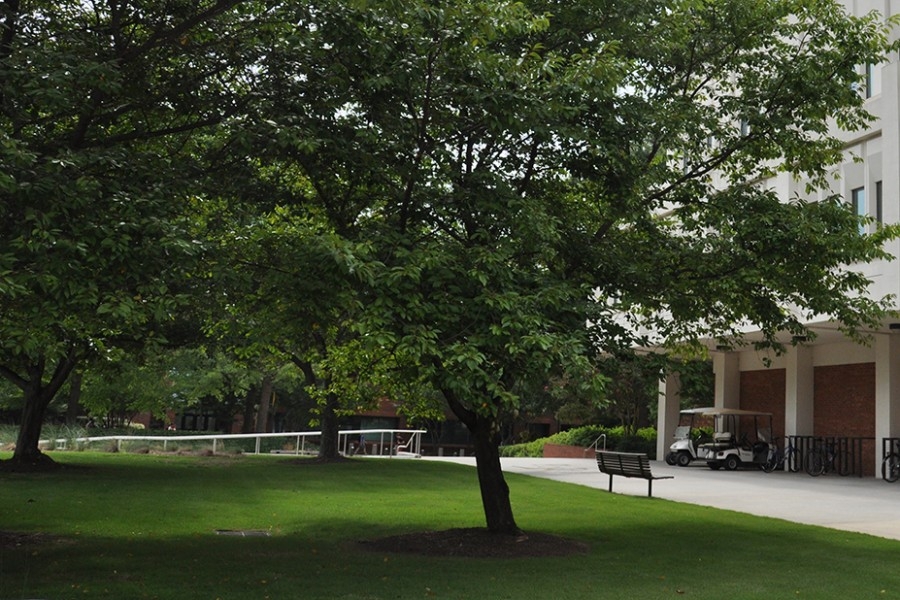 First-year environmental engineering student Grace Brosofsky wants Georgia Tech to use only natural herbicides to control weeds on campus. This is one of Brosofsky's experimental plots as part of a Google Science Fair project she developed. A mixture of vinegar and d-Limonene was applied to the section on the right. No treatment was used on the area to the left. (Photo Courtesy of Grace Brosofsky.)
If first-year Georgia Tech student Grace Brosofsky has her way, all of the landscaping across the Tech campus will be maintained without using any chemical herbicides in the coming years.
And the whole idea grew out of a conflict between her parents over how to best keep their north Georgia lawn weed-free (more on that in a minute).
 

Grace Brosofsky is a "freshman" studying environmental engineering in the School of Civil and Environmental Engineering.

"Freshman" is in those quotation marks because, even though it's her first semester on campus, Brosofsky brought enough credits from dual-enrollment courses at the University of‹ North Georgia to be considered a sophomore already.

She won a President's Scholarship from Tech, which cemented her decision to become a Yellow Jacket instead of going to Cornell University.

"I like Georgia Tech's focus on doing real things, and I felt like it had more of that focus than a lot of other colleges," Brosofsky said.

"I liked the campus — all the green space. I like the general attitude and all the different opportunities. I feel like there's always something you can be doing that's meaningful at Tech," she said. "At the same time, they have a lot of nice resources for my major, environmental engineering, and a lot of the professors seem like they're doing interesting research."

Brosofsky hopes to use her engineering degree as a stepping stone into law school and a career in environmental law, where she hopes to work on everything from animal rights to deforestation.

"You can apply the environmental engineering knowledge in environmental law because you have to have the approach of looking at whole systems," she said. "A lot of times, there are unintended consequences to [laws that are passed], so you have to be able to understand everything to see that what [law] you're passing is really correct."
Brosofsky, an environmental engineering major, has been working on a project for the last few years figuring out the best way to control weeds using natural solutions of vinegar, clove oil and a substance called d-Limonene (that's the bulk of the oil that's squeeze out of the skins of citrus fruits when they're juiced).
Now, with the help of the Georgia Tech chapter of Engineers for a Sustainable World, Brosofsky is planning to test her ideas on campus, and she already has initial support from the Institute's Landscape Services Department.
"Part of what we're doing right now is an experiment to test different ratios of vinegar and d-Limonene," Brosofsky said. "What we're hoping to do is conduct a small plot study or a field study to experiment with these things and get better results about what combination's right. Then we'll have more confirmed results we can use to implement [a broader plan]."
Brosofsky said her earlier work found that a mixture of concentrated vinegar and d-Limonene did a great job killing weeds after they grew. Now it's just a question of the best mix, and whether adding something like lemon juice (citric acid) could boost the solution's weed-killing power.
While that part of her work is going on, she's also going to be looking at what vegetation grows on campus and how other adjustments can be made to the landscaped ecosystems to favor the growth of desirable plants over weeds. She hopes to build off the Institute's existing sustainable strategies, such as the inclusion of native species. Those plants are more likely to out-compete weeds for space and resources, reducing the amount of herbicide the facilities folks would need in the first place.
"A lot of it is optimizing soil for the growth of plants you want, not weeds," Brosofsky said. "Combining natural herbicides with an overall sustainable landscape plan can supplant our need for chemical weed control."
This whole idea for natural weed control grew out of a tug-of-war between Brosofsky's parents about maintaining their north Georgia yard: Mom says "no" to using environmentally harmful chemicals to kill weeds; Dad complains the yard looks terrible if he can't control them.
When it came time to do a science project for the Google Science Fair, Brosofsky saw a chance to solve the issue — and perhaps have a broader impact. She set up test plots outside the family's home and experimented. That's how she came to her mix of acetic acid (vinegar) and d-Limonene.
Brosofsky's Engineers for a Sustainable World project team — including Jamie Curtis, Francis Nguyen, Lindsey Tracey and Andrew Vidovich — is getting guidance from a couple of School of Civil and Environmental Engineering professors: Marc Stieglitz and Ching-Hua Huang.
They're also using the experiences of Northern Arizona University, which stopped using chemical herbicides altogether earlier this year. Other campuses have made the switch, too, including Florida State University, Harvard University and Seattle University.
"If you look at things other schools have done, [you have to start] with plots that are visible — but of course not exactly in the center of campus — so students can see a sign that says 'chemical herbicide free,'" Brosofsky said. "Part of making an impact is demonstrating that [the approach] is effective. A lot of it is changing the mindset that we need to rely on a lot of chemicals to have a lawn that looks decent."