Tuesday, 16 February 2016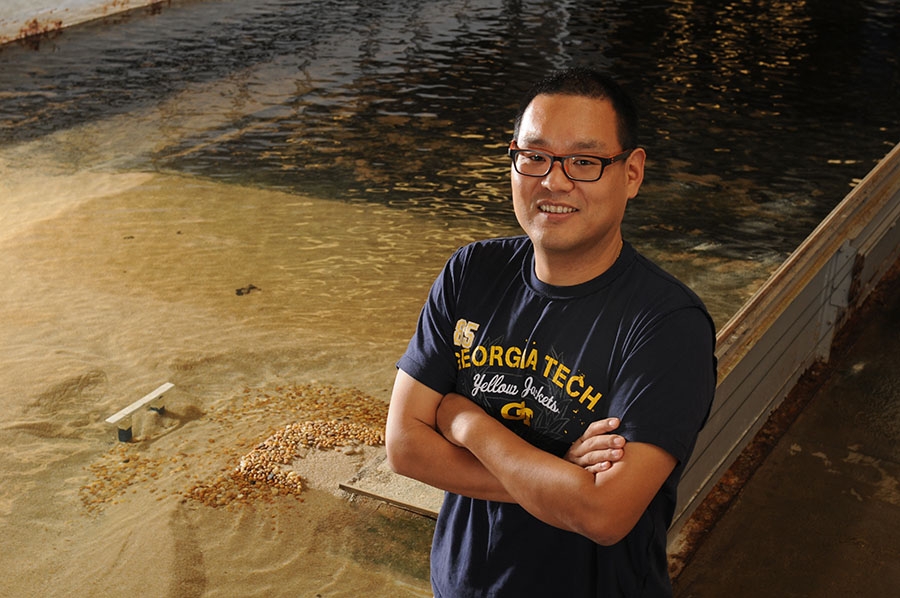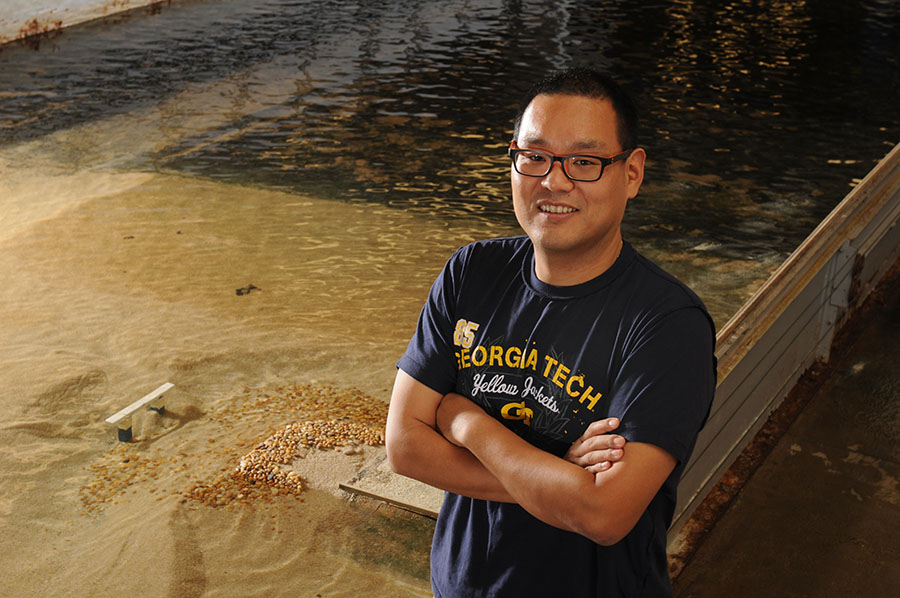 Post-doctoral researcher Seung Ho Hong with the 24-meter long, 4.3-meter wide flume he and Professor Terry Sturm used for their Hilgard Prize-winning paper on erosion around bridge supports during floods, "Clear Water Abutment Scour in a Compound Channel for Extreme Hydrologic Events." They were able to extend a method of predicting the erosion, known as bridge scour, to situations where the bridge opening is submerged and where floodwaters wash over the bridge. Hong is now an assistant professor at West Virginia University. (Photo: Gary Meek)

Oklahoma's Washita River washes over the Highway 377 bridge in June 2015. Terry Sturm and Seung Ho Hong studied the erosion around a bridge's abutments in this kind of flood situation as well as in situations where the bridge opening is submerged but water does not overtop the bridge. (Photo: Army Corps of Engineers)
Professor Terry Sturm and former Ph.D. student Seung Ho Hong have received a top research award for hydraulic engineering from the American Society of Civil Engineers.
The Karl Emil Hilgard Prize recognizes a superior paper that deals with a problem of flowing water, according to the organization. Sturm and Hong won for a study on predicting the amount of erosion, or scour, around bridge supports during floods.
Along with Cardiff University's Thorsten Stoesser, they published the paper last year in the Journal of Hydraulic Engineering.
"Currently, no formula for abutment scour is widely applicable, nor has the term itself been distinctly defined, because of difficulties in understanding the complex flow and scouring mechanisms that occur near bridge abutments in compound channels," the authors wrote.
Their experiment offered "new insights into the turbulence … around an abutment and suggests a framework for evaluating the scour potential of scour-critical bridges," they wrote. The researchers found they could extend a prediction method used in free-flowing water to situations where floodwaters completely submerge the bridge opening and where they wash over bridges altogether.
Hong is now an assistant professor at West Virginia University after completing his doctorate in 2013 and a post-doctoral researcher position in the School of Civil and Environmental Engineering last year. Stoesser was a faculty member and researcher in the School before he moved to Cardiff.
Hong, Stoesser and Sturm will receive their award in May at the annual meeting of ASCE's Environmental and Water Resources Institute.