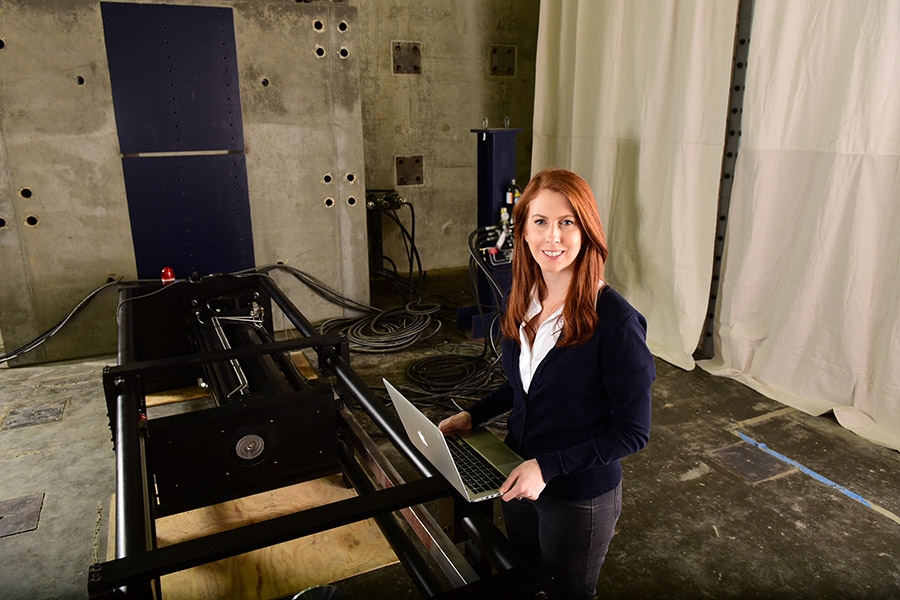 Like many people, Lauren Stewart will spend some of her summer at the beach.
The difference is she'll be working on research at Eglin Air Force Base in Ft. Walton Beach, Florida, to better understand how military components react when they strike a "hardened target."
Stewart has received a summer faculty fellowship from the Air Force Research Lab. She'll spend eight weeks working in U.S. Air Force research facilities at Eglin along with one of her Ph.D. students, Marc Sanborn.
"There aren't too many opportunities for faculty to officially go in under a fellow title and work in one of the Defense Department labs," said Stewart, whose research focuses on simulating explosions and other high-speed impacts in the lab.
"When you have these large munitions or blast loads, it is hard to get instrumentation to survive to get data. Also, if you try to do a live fire or a live drop test, it is really expensive," Stewart said. "We are trying to find ways to replicate these in a lab."
Her specific project this summer will look at the fuzes for munitions. The military wants the "brains" of their weapons to survive so those weapons can detonate after they've penetrated the defenses. Stewart said these devices are connected using threaded interfaces — similar to bolts and nuts.
"We don't understand how the [impact] shock wave propagates through these interfaces," she said. "For the most part, we know how the shockwave works in [the rest of the structure], but at the connection level, we don't truly understand what happens."
Stewart said the work will have broader reach, too, helping engineers understand shocks on any kind of steel structure with bolted connections and more reliably predict structural behavior or collapse. Dentists could also benefit: dental implants are threaded and drilled into the jawbone. Those implants are subject to near constant small shocks.
Stewart plans to take undergraduate researcher Aine Mangan to help with the project. The team will work with Air Force scientists Jacob Dodson and Janet Wolfson.
Stewart has been working with the Air Force's Munitions Directorate for some time, but she said this fellowship will give her valuable ideas for extending that partnership.
"You get to see the up-and-coming areas that the Air Force is working on," she said. "It can be a good way to see what they plan on doing in the future so you can see where there could be possible collaboration."