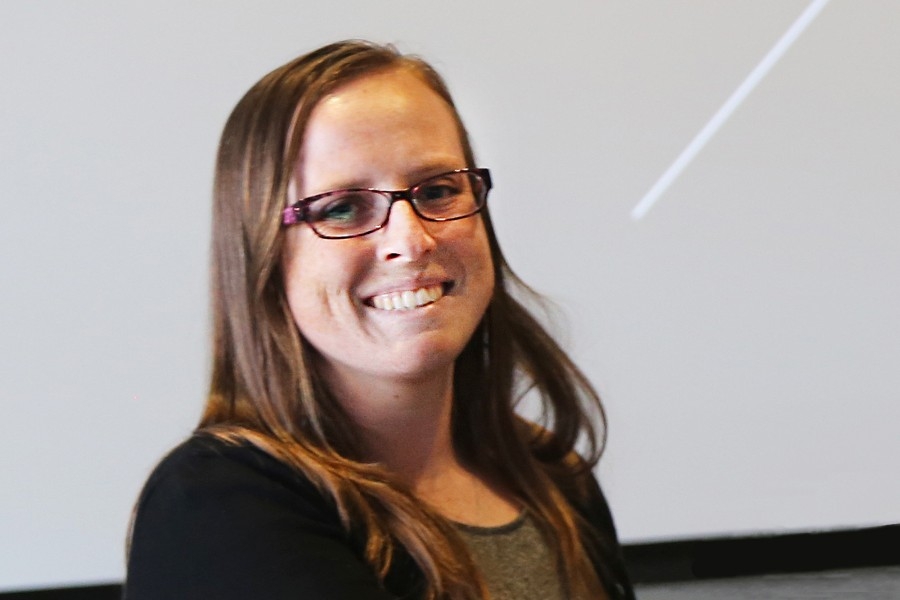 Senior April Gadsby has won one of Georgia Tech's highest honors for undergraduate researchers, the Sigma Xi Best Undergraduate Research Award.
Gadsby, who will start on her master's degree in May through the BS/MS program, has been working with James Tsai on intelligent and sustainable infrastructure asset management, including co-authoring a paper on a new method of preserving pavement.
"I went into civil engineering because I wanted to make a difference, and civil engineering touches people's lives constantly," Gadsby said. "A huge amount of our time and space is devoted to transportation, and personally, I hate driving. [Departments of transportation] have very limited funding, and reducing the amount they have to spend on something frees them up to improve other parts of the system."
Gadsby looked at Georgia's process for removing worn out asphalt and replacing it. Currently, the state uses a long-lasting surface called SMA and then a thin, porous top layer that helps remove water. That thin layer wears out much more quickly, so Gadsby and Tsai studied the idea of removing and replacing only the thin top layer through a process called micro-milling and thin overlay.
"Conventional milling removes both layers, despite the SMA layer still being structurally sound," she said. "Micro-milling can remove just the porous layer and could save Georgia almost $500 million dollars over 10 years if it were used across the [state's] interstate system. "
Gadsby has also worked on projects with other researchers, including a new pavement design method, using data to identify and predict which concrete slabs on roads will need replacement and when, and a new project using smartphone accelerometers to measure pavement conditions.
"Given the vast array of great work being done by our undergraduates, this [award] is a real testament to the great work April did," said Ted Russell, chair of the School's awards committee.
Sigma Xi will honor Gadsby and the other award winners in April at an awards ceremony and banquet. Gadsby is one of two School of Civil and Environmental Engineering winners: Alumna Brittany Bruder won the best dissertation award for her Ph.D. work this year.
"I want to acknowledge all of the support I've received, especially from Dr. Tsai, Yi-Ching Wu, and the rest of the lab group. Without them pushing me to improve and guiding me, I wouldn't be where I am now," Gadsby said. "Coming here, I never would've thought that the School of Civil and Environmental Engineering would be one of my favorite communities on campus, but I'd definitely list it as one of the reasons Tech feels like home."