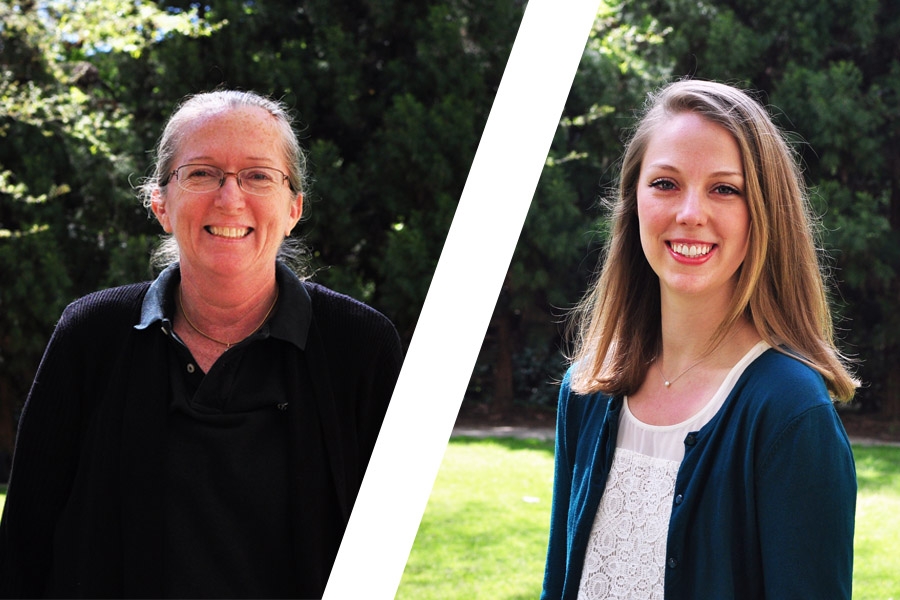 Geary
Two School of Civil and Environmental Engineering Ph.D. students have secured National Science Foundation fellowships, some of the most competitive and prestigious funding for the nation's graduate students.
Georgene Geary and Laura Mast join a long list of the brightest and most promising of the School's students to win the funding. This year, NSF chose to support fewer than one in eight applicants. And, perhaps unfortunately, they notified the recipients just before April 1, April Fools' Day.
"I knew I had an unusual story — going back to school after retiring with over 30 years service at [the Georgia Department of Transportation] — and that the research work I would be involved in with Dr. James Tsai is cutting edge, so the combination was a plus," Geary said. "But I was still stunned and surprised to be selected. I spent all Friday afraid that I was going to get an April Fools' email taking it away."
"This fellowship, in particular, opens a lot of doors, not just because it's prestigious, but because of the programs NSF offers to its fellows," Mast said.
"It's a project where I wake up in the morning and can remind myself that I'm working on something big, that can improve a lot of people's lives."

Laura Mast, Ph.D. student and new NSF Graduate Research Fellow
"There's one program called the Graduate Research Opportunities Worldwide program, which supports international research collaboration project. There are some big players in my field in other countries, and having the opportunity to work with them with funding would make a big difference for me."
Recapturing rare earth metals
Mast's work focuses on extracting so-called rare earth metals from the fly ash left over from burning coal, which could be an important source for the in-demand materials that are essential in many "green" technologies.
"These rare earth elements are important for clean energy tech and for high tech manufacturing," Mast said. "The go-to example is neodymium, which is a major component in electric car batteries."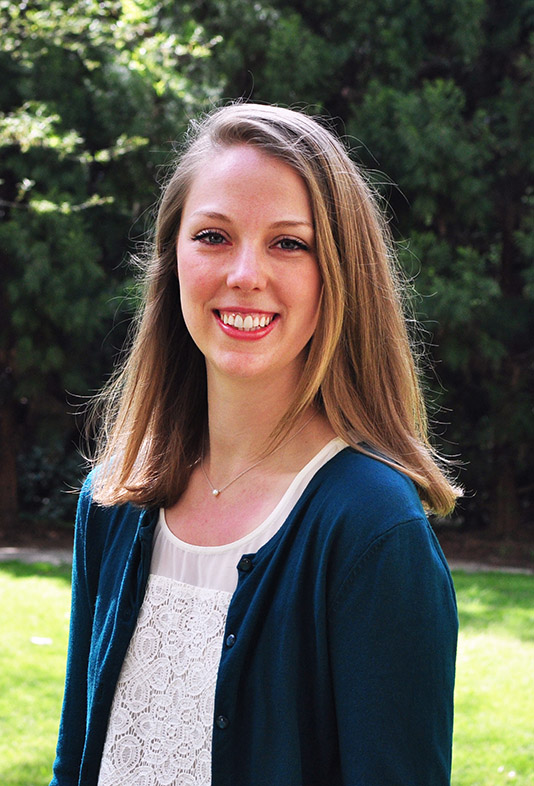 Mast
Mast said these rare elements aren't actually all that rare, but nearly all the world's supply comes from mines in China.
"That's pretty significant when you're talking about the keystone part of green tech, and many nations, including the U.S., have dubbed rare earth elements 'critical materials' due to this scarcity issue," Mast said.
"It's a project where I wake up in the morning and can remind myself that I'm working on something big, that can improve a lot of people's lives."
"Laura's research will lead to the development of an innovative extraction strategy to recover [rare earth elements], critical for many new technologies," said Ching-Hua Huang, Mast's faculty adviser. "Laura is energetic, passionate in learning, and eager to help others. The NSF graduate fellowship is a deserved honor for Laura and will provide her excellent financial support to succeed in her goals."
Concrete maintenance in 3-D
Geary's research uses emerging 3-D technology to help transportation planners optimize the maintenance and rehabilitation of concrete pavements.
"Pavements are a major part of our roadway infrastructure," she said. "Currently, we lack the ability to efficiently collect and use information on the vast network of pavements to properly manage the condition and serviceability of these major assets."
Using advances in data collection spearheaded by her adviser, James Tsai, Geary is developing ways to turn mountains of detailed data about the condition of pavement over time into a tool that can help DOTs predict the future.
"My approach is to model temporal and spatial changes in pavement distresses — combined with other factors such as traffic, climate and pavement structure — to predict future behavior," she said. "The models will provide needed tools to optimize the maintenance and rehabilitation of pavement assets in the U.S."
"Georgene's 30 years of experience with pavements and materials give her unique abilities to understand the needs of sustainable infrastructure systems," said James Tsai, Geary's Ph.D. adviser. "Her knowledge of and technical expertise with the computer and imagery components involved in my research will lead us, no doubt, to intelligent and innovative breakthroughs in efficiently managing pavement assets."