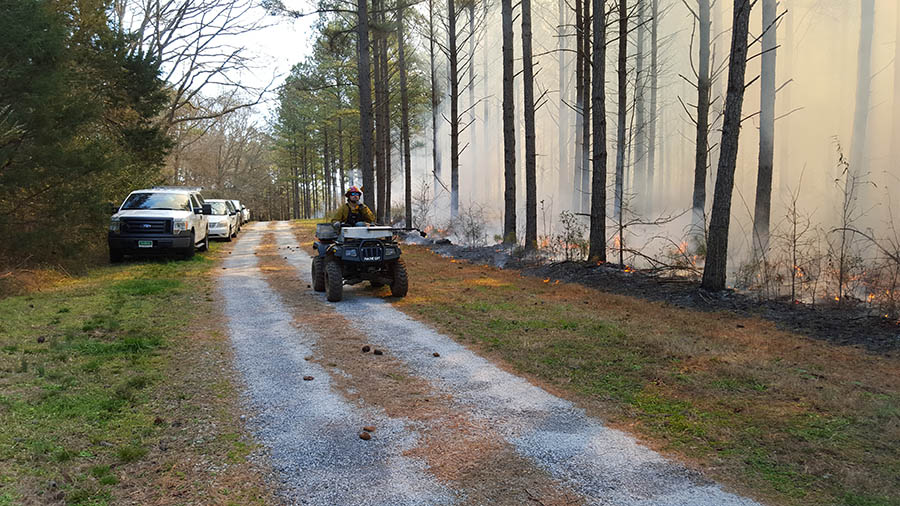 A firefighter monitors a prescribed burn near Griffin, Georgia. School of Civil and Environmental Engineering researcher Talat Odman is working on a project to collect data about such burns from 13 states in the southeastern United States and compile it in a unified data system. (Photo: Talat Odman)
When land managers in Florida or South Carolina or Georgia approve outdoor burns in their states, the resulting smoke doesn't float to the state line and stop.
Yet there's no unified way to track all of this burning across the Southeast and account for the resulting impacts on air quality and residents' health. It's especially an issue for a region where prescribed burns are the top source of fine particulate matter in the air.
School of Civil and Environmental Engineering researcher Talat Odman has just secured funding to help address the problem, bringing together all of the prescribed burn data from a region stretching from Texas to Virginia.
With support from the federal Joint Fire Science Program, the U.S. Forest Service, Georgia Tech and North Carolina State University, Odman and his team will marry the burn data with air quality data and cutting-edge computer modeling to understand the full impact of prescribed burns on air pollution and people's health.
It's a system Odman says will help land managers better plan prescribed burns and public health organizations better protect populations vulnerable to particulate matter in the air, such as the elderly, the very young, and people with existing respiratory problems.
"We want to optimize burns — which have higher demand than supply — and air quality at the same time," Odman said.
In Georgia, for example, any open burning requires a permit from the Georgia Forestry Commission, and most burning is banned from May through September in the state's most-populated areas. The burns are important to maintaining healthy ecosystems and preventing out-of-control wildfires, but Odman said the commission can't keep up with requests.
"There's so much demand in Georgia to burn, they cannot respond to all of it. Applications come in [to burn] 2 million acres a year, and last year they issued permits for slightly over 1 million acres," he said. "So they could easily double the capacity.
"We're looking at new windows of opportunity. If we had the regional forecast [we're developing], we could do dynamic management."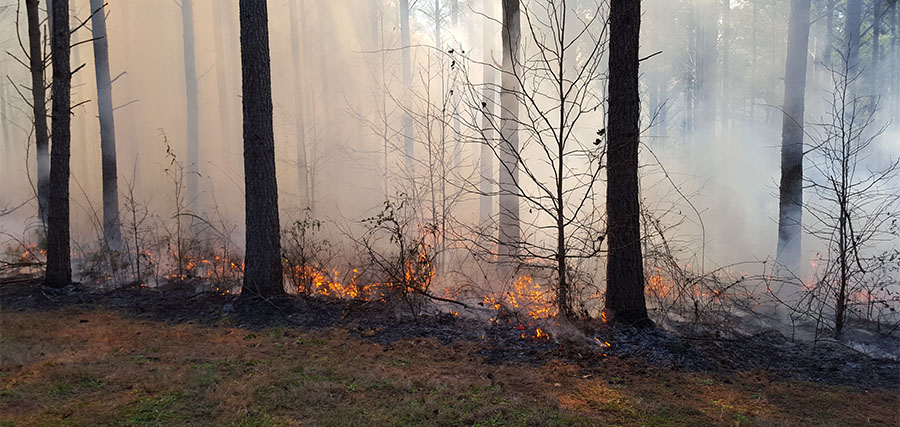 A prescribed burn near Griffin, Georgia. (Photo: Talat Odman)
The first hurdle for the two-year, $400,000 project will be to pull together data in 13 southern states that all have different systems for outdoor burning, Odman said. Plus, state applications may only account for private landowners, not federal lands owned by the military or the U.S. Forest Service.
"The burn information is in different places, so pulling it together is going to be a challenge, even in Georgia, where we have been working for some time," Odman said. "With other states, we don't even know [what we're facing]."
So far, Odman's group, which includes Fernando Garcia Menendez at North Carolina State University and Cassandra Johnson with the U.S. Forest Service, has commitments from Georgia, North Carolina and South Carolina to participate. Initially, they plan to gather data from 2010 to 2015, adding 2016 and 2017 burns as the information becomes available.
"We hope that we establish a dynamic way of updating the data every year," Odman said. "Whoever our collaborators are in each state, they just upload their data and it's all updated in a central location."
Odman said he hopes at the end of the two years, foresters, industry, and health officials see enough value in the centralized data and forecasting models to help pay for the system's continued operations.
"We hope that it stays alive for the future and it's not just one period in time that we studied."