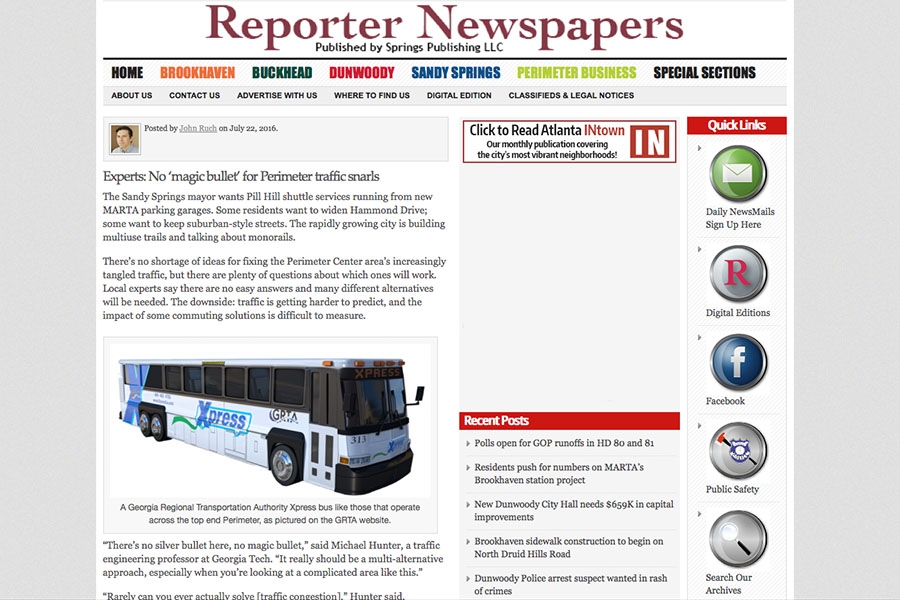 No single solution will be able to untangle one of metro Atlanta's worst areas for traffic, the Perimeter Center at the top end of Interstate 285.
Rather, Associate Professor Michael Hunter suggested to the Sandy Springs Reporter, the area needs a combination of approaches, from public transit and corporate shuttles to multi-use trails and telecommuting.
"It really should be a multi-alternative approach, especially when you're looking at a complicated area like this," Hunter told the Reporter July 22.
"Rarely can you ever actually solve [traffic congestion]," he said, suggesting something more akin to problem-management than permanent solutions. "Usually, it does end up being a collection of different [solutions]. … Putting in a shuttle may make sense in one area and make absolutely no sense in another area."
Hunter, director of the Georgia Transportation Institute and the National Center for Transportation Systems Productivity and Management, explained how engineers look at a problematic area like Sandy Springs and begin to develop solutions:
"The first thing you need to do is, you need to figure out what's going on," which may not be what average drivers expect or assume.

A curveball in traffic studies, Hunter said, are commuting apps like Waze and Uber-type private taxi services. Such technology makes traffic more unpredictable, and while some people believe technology like driverless cars could solve everything, they're full of potential for "unintended consequences," he said.

"Is there anything innovative I can do?" Hunter said is a question engineers ask. One such innovation is the "diverging diamond" interchange that speeds up intersection flow by allowing traffic to swap sides of the street. A diverging diamond is already installed on Ashford-Dunwoody Road at I-285 in Dunwoody, and another is coming to Sandy Springs' Abernathy Road at Ga. 400.

Capacity is also about trade-offs, Hunter said, noting it's possible to build a giant road to handle rush-hour traffic that is empty concrete the rest of the time. "Where do you want to live? How do you want the area to look?" he asked, saying residents might answer, "I can live with more congestion a few hours a day if it means we get fewer lanes, more green space, more bike lanes."

That's not a pure engineering choice, but a "societal choice, a political choice," Hunter said. "Make it an active choice instead of something that just happens as we go along."