Wednesday, 10 August 2016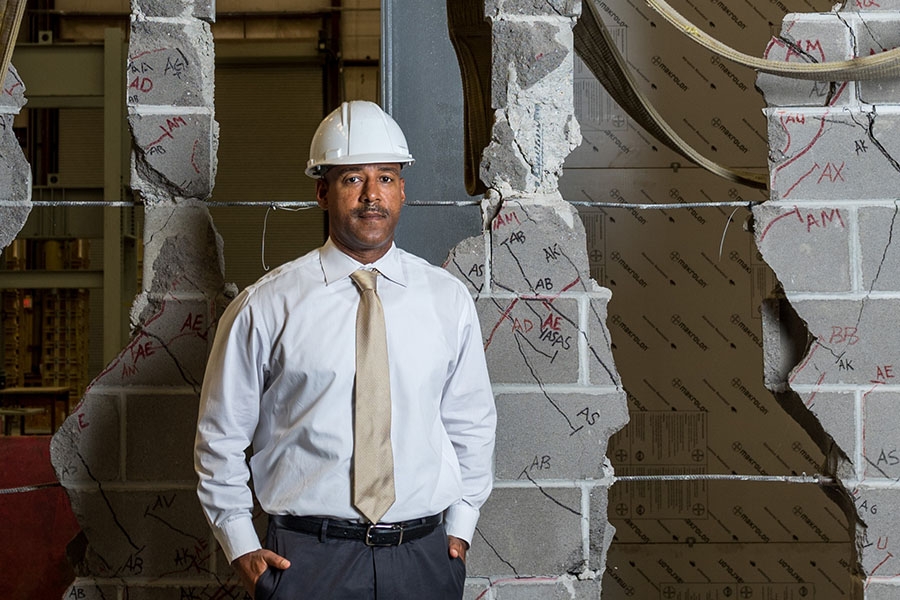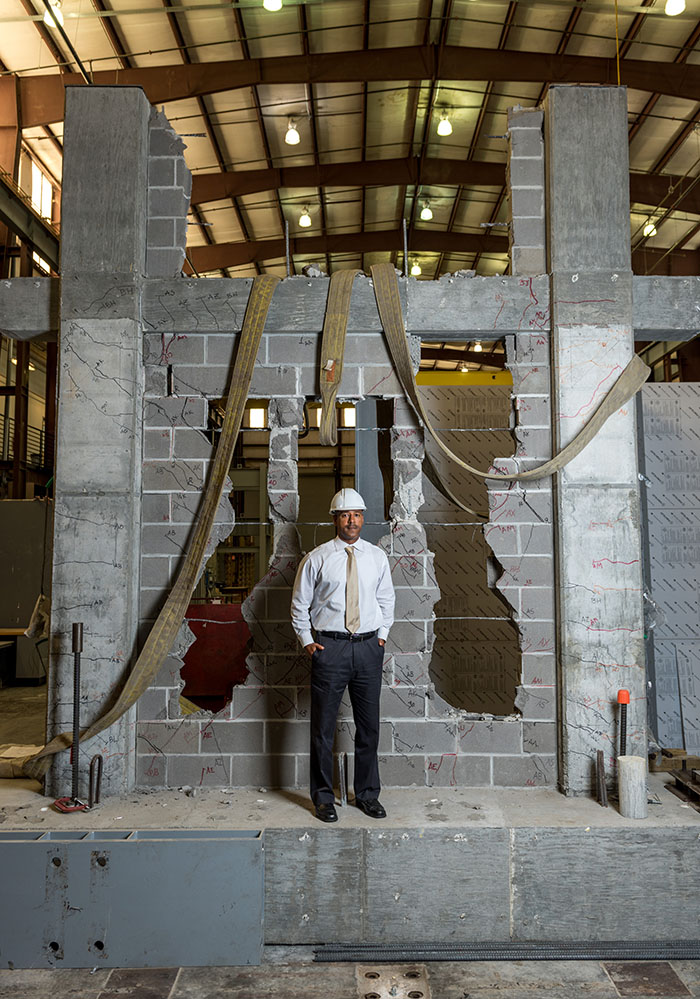 Reginald DesRoches stands with the ruptured cinder block wall one of his Ph.D. students destroyed while testing different kinds of masonry infill designed to strengthen similar structures in the Caribbean. DesRoches will draw on decades of earthquake research like this for the University of California, Davis, College of Engineering distinguished lecture he'll deliver in September. (Photo: Rob Felt)
The University of California, Davis, College of Engineering has invited Karen and John Huff School Chair Reginald DesRoches to deliver the college's distinguished lecture this fall.
In his speech, "From Haiti to California: Challenges and Opportunities for Reducing Earthquake Risks," DesRoches will draw on decades of research and experience after earthquakes and in earthquake-prone regions to talk about how engineers are working to minimize the impact from the temblors.
World-renowned earthquake expert Reginald DesRoches will visit UC Davis this fall to discuss a problem we have yet to solve: how to prevent earthquakes from causing mass destruction to communities around the world.

DesRoches will speak on the UC Davis Campus Wednesday, September 28 at 4 p.m. at the Student Community Center in the Multipurpose Room.

DesRoches is the Karen and John Huff School Chair and Professor of Civil and Environmental Engineering at the Georgia Institute of Technology. DesRoches was born in Port-au-Prince, Haiti, and will talk about the 2010 Haiti earthquake, which was one of the most devastating natural disasters in modern times. Officials estimate the earthquake killed and injured more than 600,000 people. DesRoches served as the key technical leader in the US response to the Haiti earthquake and led a team of engineers, architects, city planners, and social scientists to analyze its aftermath.

Beyond Haiti, urban areas around the world face similar risks. As cities with aging infrastructures become more overcrowded earthquakes can cause even more damage and financial devastation. In the United States, nearly half of Americans live in earthquake-prone regions. DesRoches will discuss how his body of research, and experience with the Haiti earthquake, can be applied to seismic threats in California and abroad.

DesRoches will outline how engineers are using improved computational methods, coupled with new "smart" materials and structural systems, to minimize the impact of earthquakes.