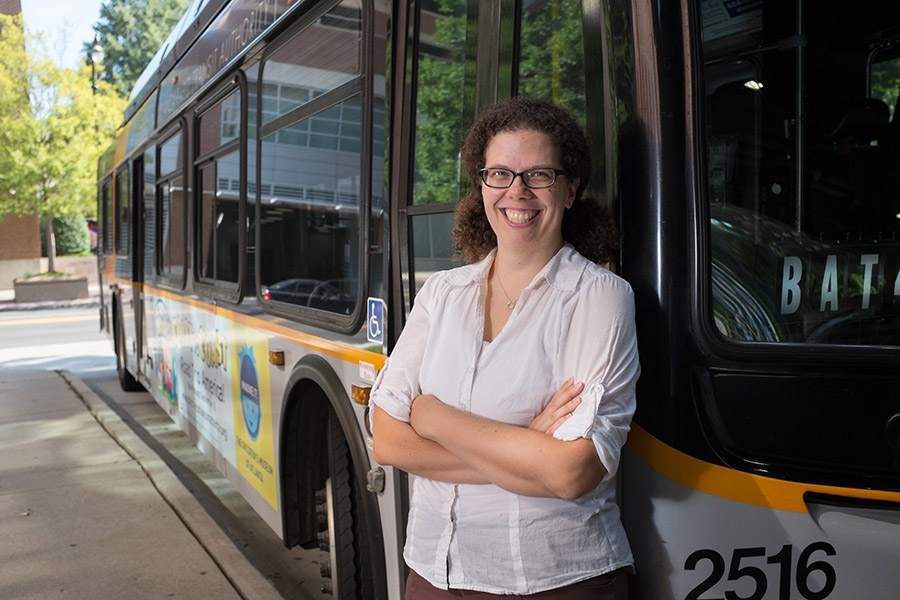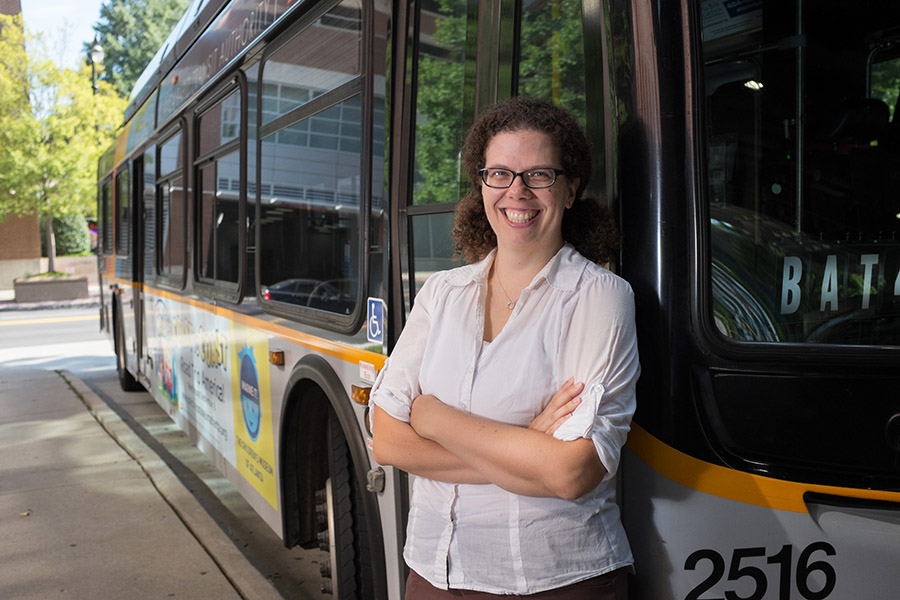 Assistant Professor Kari Watkins added the title of Frederick L. Olmsted Junior Faculty Professor this summer, becoming the first faculty member to occupy the newly created position. Watkins studies multi-modal and sustainable transportation as well as using technology to improve transportation systems. (Photo: Rob Felt)
Kari Watkins has a new platform and new resources to use in pushing her vision of sustainable transportation for our communities.
Watkins, a well-known face around Atlanta and an assistant professor in the School of Civil and Environmental Engineering, has been named to a new endowed position, the Frederick L. Olmsted Junior Faculty Professorship.
"Kari is a rising star in the transportation arena and brings a unique combination of creativity and practical experience to her research and the classroom," said Reginald DesRoches, the Karen and John Huff School Chair. "I have no doubt she will excel as our first Frederick L. Olmsted Junior Professor in CEE."
"[Olmsted] was a visionary, an activist, and an organizer. I see this professorship as a way to continue in his footsteps," Watkins said, "establishing a vision for the use of public space and working to organize the community around creating that vision."
Perhaps best known in transportation circles for her work on the Cycle Atlanta and OneBusAway smartphone apps, Watkins studies multi-modal transportation planning and using technology to improve transportation systems.

Mike and Jenny Messner. (Photo: Gary Meek)
"Olmsted believed in design for relaxation, a principle that has led to the livable communities concept upon which I base much of my research and teaching," she said. "I believe that if Olmsted were alive today, he would be actively involved in the connection between physical design and public health and would stand beside me as I advocate for infrastructure that encourages us to mitigate our increasingly sedentary lifestyles that have made obesity an epidemic."
Alumnus Mike Messner, BSCE 1976, created the Olmsted Junior Faculty Professorship along with his wife, Jenny. It's one of three endowed positions in the School dedicated to advancing Olmsted's ideals in the 21st century.
"Mike and Jenny Messner have been very supportive of my efforts in sustainable transportation over the years," Watkins said "It is an honor to be the first junior Olmsted professor and be trusted to carry on Olmsted's legacy, something that I know is very important to the Messners."
The professorship comes with prestige as well as flexible and dedicated funding for Watkins to use to advance her collaborative and research efforts. She said she's thinking about using those resources to organize a yearly symposium on infrastructure design that would incorporate water resources, public health, policy and transportation. The meeting would combine invited lectures with community roundtables to turn ideas into working plans of action.
Watkins said she also wants to fund small, student-led projects to test ideas that could improve communities. It's an approach called "tactical urbanism."
"These small pilot projects can help resolve conflicting goals between engineers, urban planners, politicians, business owners, and the general public by installing a temporary small-scale version and assessing the impact," she said.
Watkins earned her bachelor's degree in civil engineering from Georgia Tech and worked as professional transportation engineer for a decade before earning her graduate degrees at the University of Washington. She returned to Tech as a faculty member in 2011.