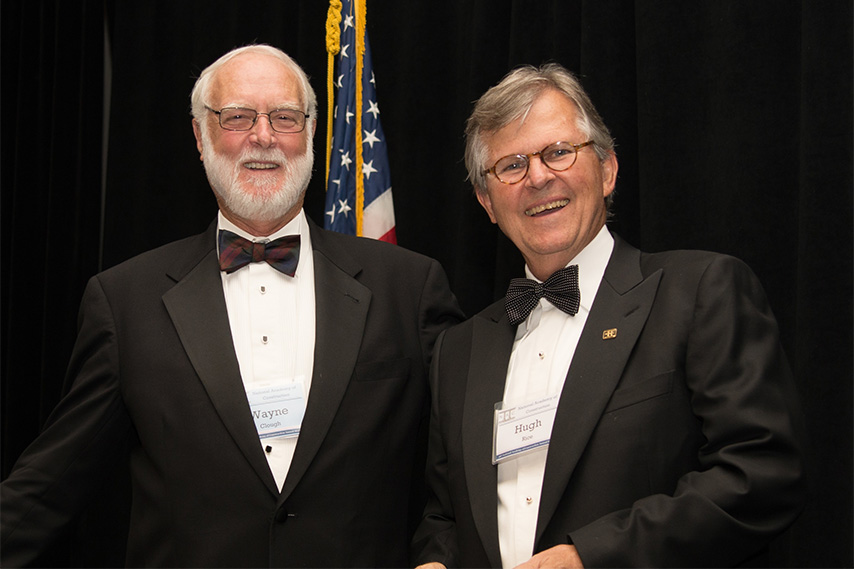 G. Wayne Clough with National Academy of Construction President Hugh Rice. Clough was inducted into the academy's 2016 class of new members Oct. 20. (Photo Courtesy: National Academy of Construction)
Georgia Tech President Emeritus G. Wayne Clough has a new accolade to add to his long list of honors: member of the National Academy of Construction.
The organization of construction industry leaders inducted Clough as part of its 2016 class of new member Oct. 20. The academy considered 300 people and ultimately selected 30 for membership.
"The new members of the National Academy of Construction represent the best of the best of those who have distinguished themselves through stellar careers and contributions to the engineering and construction industry," said Wayne Crew, general secretary of NAC.  "Our mission is to recognize these leaders and to share the academy's reservoir of expertise in all facets of the built environment in service to our nation."
More details from an academy news release:
Clough's illustrious academic career includes positions at Duke, Stanford, Virginia Tech, the University of Washington, and Georgia Tech. He also is past Secretary of the Smithsonian Institution. He is a nationally and internationally recognized authority on the geotechnical side of heavy and underground construction and has played a pivotal role in advancing several means and methods commonly in use today. He has served on numerous boards of well-known construction projects, including those at the Port of New York and the Port of Seattle, and the Central Artery and Tunnel in Boston. He established the highly rated construction engineering and management program at Virginia Tech.

Honored numerous times, Clough holds honorary doctorate degrees from both Northeastern University and Georgia Tech. The Smithsonian awarded him its James Smithson Medal. As Secretary of the Smithsonian, he delivered the keynote address to celebrate the 75th Anniversary of the Golden Gate Bridge. He earned bachelor and master's degrees in civil engineering from Georgia Tech and a PhD from the University of California-Berkeley.