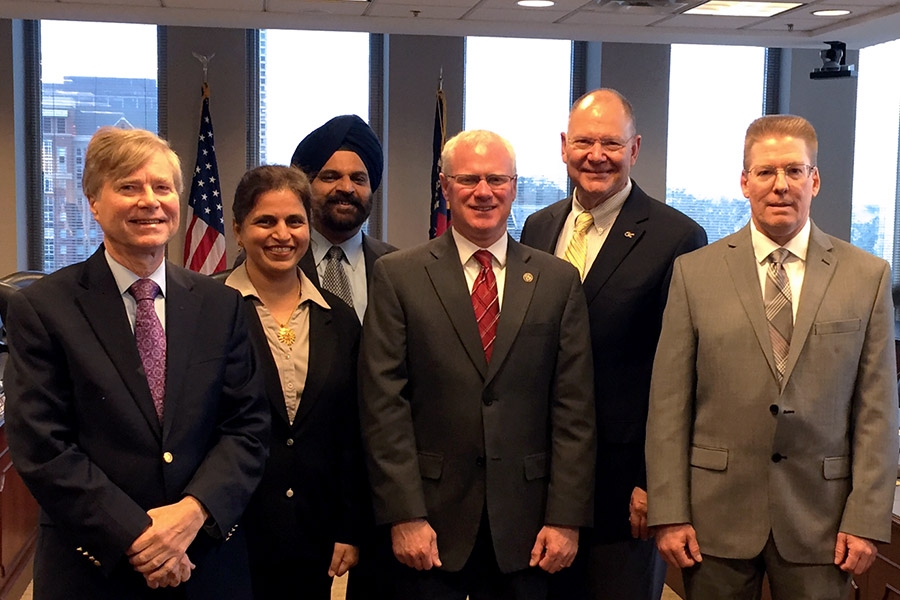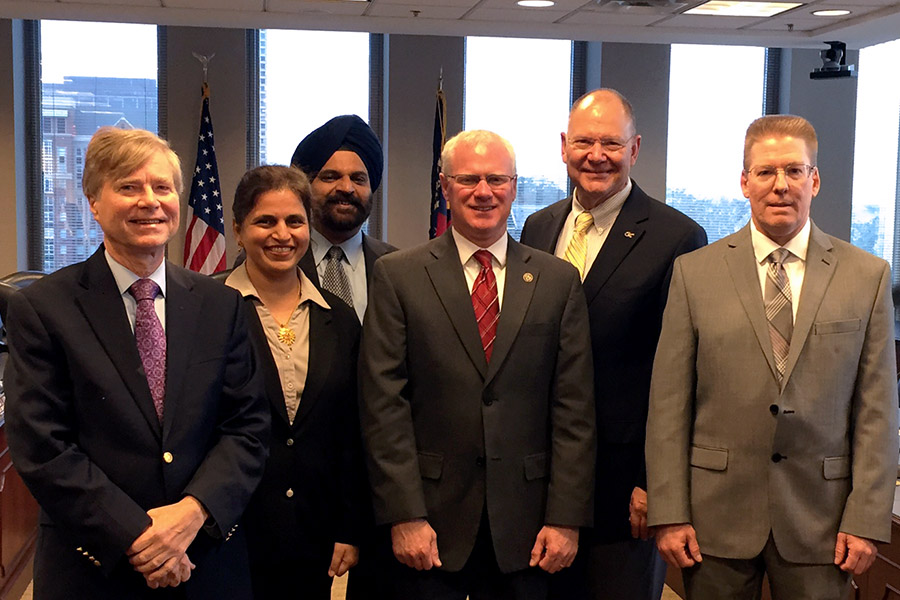 A group of Georgia Tech and Georgia Department of Transportation researchers after they received an AASHTO Sweet Sixteen award from DOT Commissioner Russell McMurry Dec. 8. Their work on corrosion-resistant concrete piles for marine environments has been used on bridges in Georgia and is being tested for use in nearby states. Pictured, left to right, are Paul Liles, BCE 1970, retired Georgia DOT state bridge engineer; Supriya Kamatkar, GDOT research program manager; Preet Singh, a professor in Tech's School of Materials Science and Engineering; GDOT Commissioner Russell McMurry; Lawrence Kahn, a School of Civil and Environmental Engineering professor emeritus; and Bill DuVall, BCE 1990, MSCE 1991, current GDOT state bridge engineer.
A leading standards-setting transportation organization has named a project by Georgia Tech and Georgia Department of Transportation researchers one of the year's most valuable.
The work developed a new steel to reinforce concrete bridge piles in marine environments that withstands corrosion and lasts well beyond the expected 100-year lifespan of the structures. The American Association of State Highway and Transportation Officials, or AASHTO, named it one of the group's 2016 Sweet Sixteen high-value research projects.
"The new goal of the Federal Highway Administration and Georgia DOT is to have a design life for bridges of 100 years or more. Current steel reinforcing in piles in marine environments totally corrodes in less than 40 years," said School of Civil and Environmental Engineering Professor Emeritus Lawrence Kahn, who led the effort along with Professor Kimberly Kurtis and School of Materials Science and Engineering Professor Preet Singh.
"Georgia DOT wanted a reinforcing material that would last 100-plus years and could be used to construct prestressed concrete piles using conventional construction techniques."
After testing six stainless steel alloys, conventional alloys and polymer materials, the group settled on a new type of stainless steel reinforcement, Kahn said, "the first-ever high-strength stainless steel prestressing strand made of a duplex stainless alloy."
The new concrete piles with the stainless steel reinforcement did so well in tests in the Savannah River and at the School's Structural Engineering and Materials Lab that Georgia DOT has used them on two bridges and expects to use them on other coastal bridges in the coming year. Engineers in Virginia and Florida also have tested the new stainless steel reinforcement for use in those states.
"Tests to failure demonstrated that the stainless steel reinforced piles had strengths the same or greater than those of conventionally reinforced [piles] and that current AASHTO bridge design standards may be used for design and construction of stainless steel reinforced piles," Kahn said.
Plus: "Environmental exposure and corrosion testing indicated that the stainless steel prestressing strands will last much longer than the 100 year requirement."
Georgia DOT Commissioner Russell McMurry presented the Sweet Sixteen award to the research team Dec. 8.