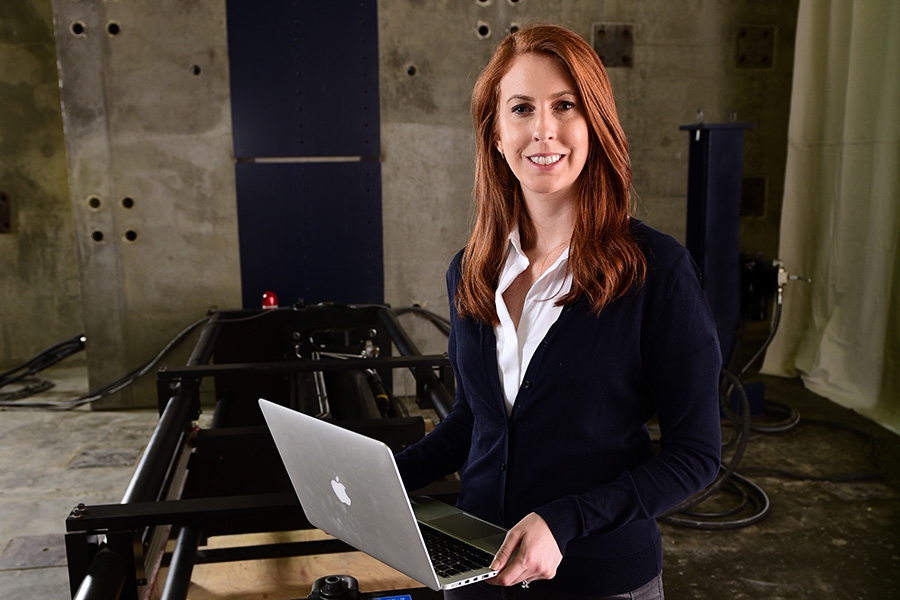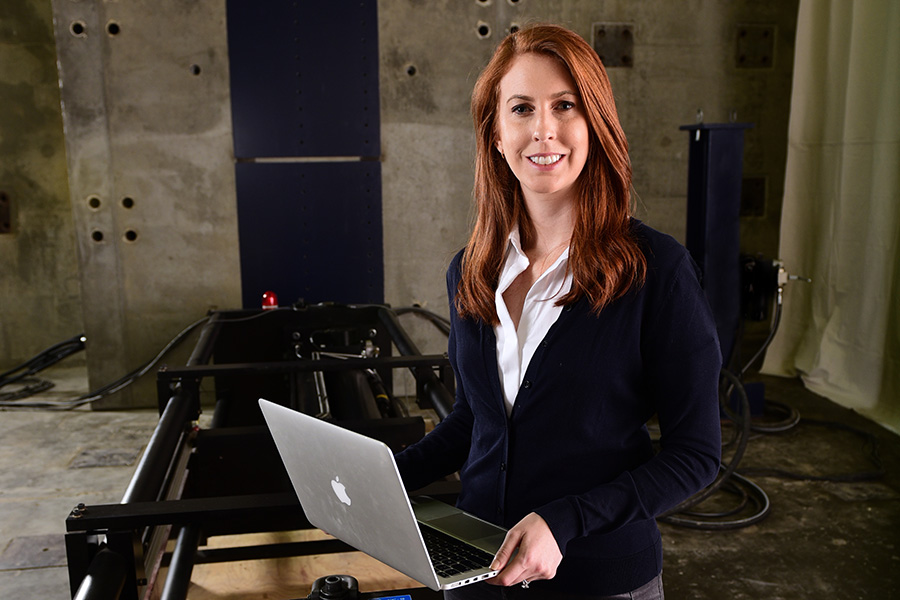 Civil + Structural Engineer magazine has named Lauren Stewart one of the industry's rising stars for 2017. She's the only full-time faculty member among the list's 29 professionals under 40 years old. (Photo: Gary Meek)
Civil + Structural Engineer magazine has named Lauren Stewart one of the industry's rising stars.
The list of 29 professionals, out this month, recognizes "exceptional technical capability, leadership ability, effective teaching or research, or public service benefiting the civil and structural engineering profession … and society," editors wrote.
All of the individuals on the list are younger than 40, and Stewart is the only full-time faculty member included.
"It's an honor to be selected for this award by C+S Engineer," said Stewart, an assistant professor in the School of Civil and Environmental Engineering. "As the only academic selected this year, I am proud that my research and professional contributions are recognized by others in the field as having an impact."
Stewart studies extreme loading of structures, such as earthquakes, blasts, shocks and other impact hazards. She has developed unique experimental methods for simulating those kinds of events in the laboratory.
Civil + Structural Engineer praised Stewart's work as the leading expert in her techniques:
Her research record in the area of blast design of structures has earned her the titles of National Defense Science and Engineering Graduate Fellow and Air Force Summer Faculty Fellow. The program she developed at Georgia Tech builds on her expertise in creating and employing novel hydraulic and computer-controlled laboratory techniques to simulate extreme environments on full-scale structural materials, components, and systems. These methods are then further used to characterize materials, develop computational models, and create design strategies, thus improving the safety of structures. She is considered the world's leading expert in these types of experimental methods and her research has led to a variety of innovative designs of structural systems for extreme environment loading. Stewart is developing a program to enhance the civil engineering education experience with a global leadership component by taking 35 undergraduate students to the UK to learn about historic structures and structural engineering concepts.