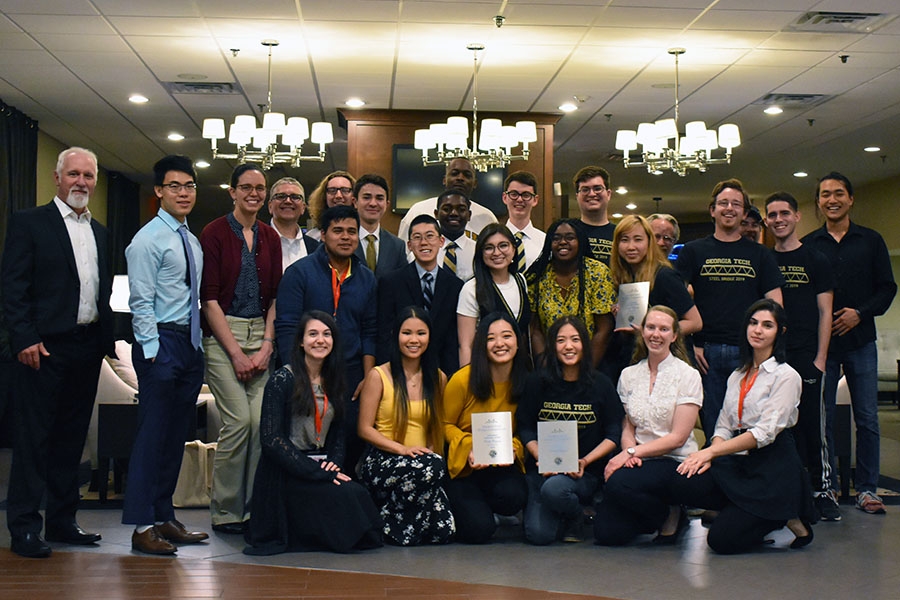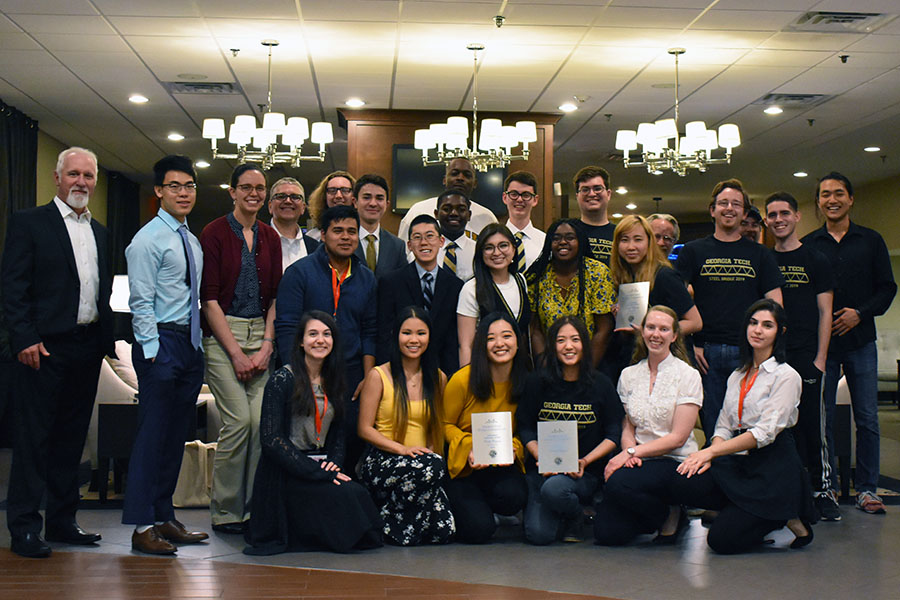 Georgia Tech's American Society of Civil Engineers chapter won second place overall at the 2019 Carolinas Regional Conference, including top finishes in the paper competition as well as the structural tower load efficiency, steel bridge weight, and steel bridge aesthetics categories. (Photo Courtesy: David Scott)
It was another banner weekend for the Georgia Tech chapter of the American Society of Civil Engineers at the annual Carolinas Regional Conference April 4-6.
Chapter member Jessica Kissel won the Daniel W. Mead paper competition, and teams took second place in the innovation and structural tower contests. Together with a third-place showing in the steel bridge competition, that added up to a second-place overall win for the chapter.
"The academic rigor of Georgia Tech has given us the tools we need to problem solve and think swiftly in high pressure situations," said Mia Pendergast, the chair for this year's conference team. "Throughout conference, unexpected problems arose, and our students offered novel and innovative solutions. Our embodiment of a true engineer's mentality is what led us to success."
The results continue a run of success for the Tech chapter over the last few years at the Carolinas Conference, a regional meeting of college-level ASCE groups. Students gather for a business meeting, technical presentations, competitions, and social activities.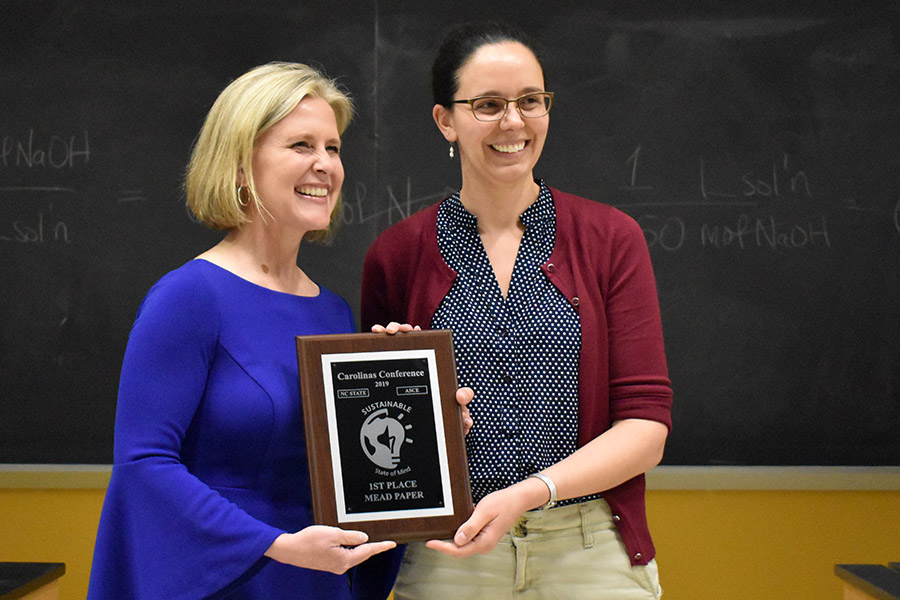 Jessica Kissel, right, accepts her first-place award in the Daniel W. Mead Paper competition. Kissel wrote about the importance of diversity in civil engineering. (Photo Courtesy: David Scott)
Pendergast, now a veteran of the regional conferences, said the chapter has created a culture that allows new leaders to build on the work of past members.
"Each year, more members emerge to take on leadership positions for the competitions. We work hard as a team, which motivates our individual members to challenge themselves to reach new highs," she said.
Kissel's first-place paper focused on the value of diversity in civil engineering. She praised the ASCE national organization for explicitly including in its code of ethics that engineers must treat all people fairly. She also argued that individuals must promote diversity to affect substantive change.
"The benefits of a diverse workforce are numerous, including more profits, more innovation, and more influential research," Kissel wrote. "In addition, a more inclusive environment ensures employees will be more productive, talented younger workers will feel welcome, and skilled professionals will choose to stay. The benefits of diversity will guarantee that the civil engineering profession is well-equipped to handle the challenges we face as laid out in the Vision for Civil Engineering in 2025 and the UN's Sustainable Development Goals."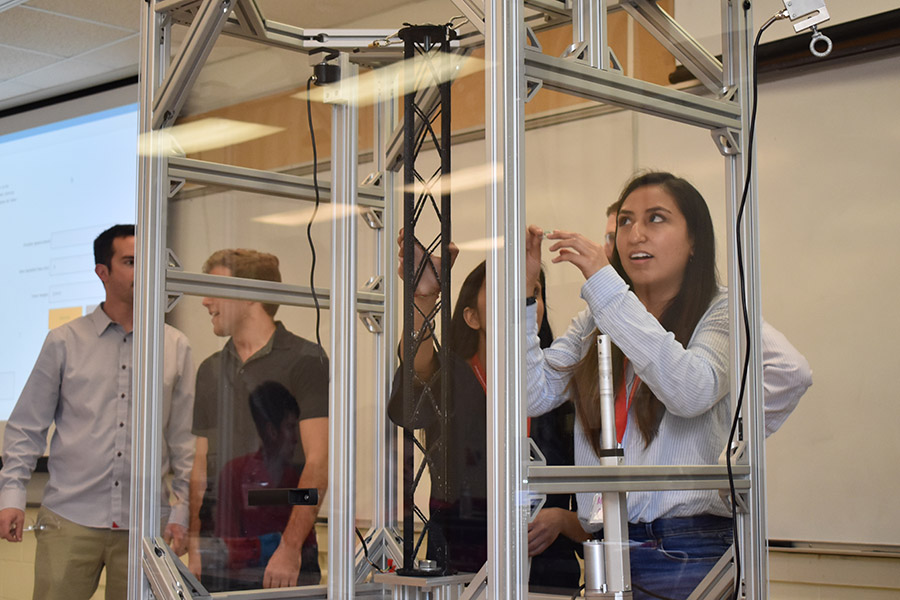 Margaret Ortiz, right, and Ronak Lakhani prepare their structural tower for testing at the ASCE Carolinas Conference. Their structure had the competition's best load efficiency and placed second overall. (Photo Courtesy: David Scott)
In other competitions, Tech's structural tower design had the best load efficiency on its way to the second-place overall finish. The chapter's steel bridge placed first in the weight and aesthetics subcategories before finishing third overall.
"A personal highlight for me this weekend was cheering on our teams that have dedicated so much of their time and effort to their competitions," Pendergast said. "It became clear to me very quickly that the theme this weekend was undeniable team support."
Georgia Tech's ASCE chapter has been on a tear in recent years, winning the top chapter award last year, advancing to the national steel bridge competition in 2017, and winning the national Daniel W. Mead paper competition in 2016.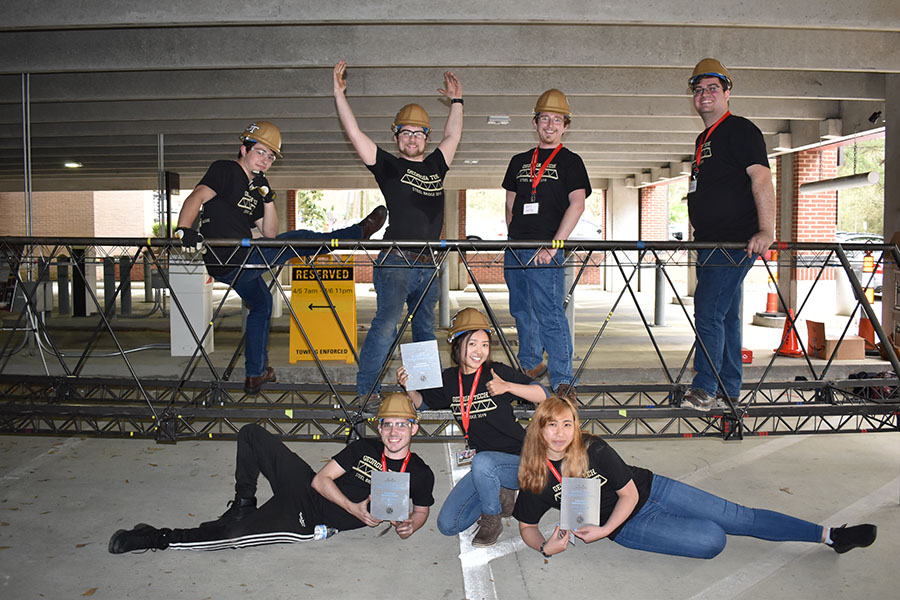 The 2019 steel bridge team poses atop their entry, which one first place in weight and aesthetics and third place overall at the ASCE Carolinas Regional Conference. (Photo Courtesy: David Scott)  
Related