Travel behavior expert, Professor Laurie Garrow, offers tips on how to plan for this holiday season amid the pandemic and supply chain issues.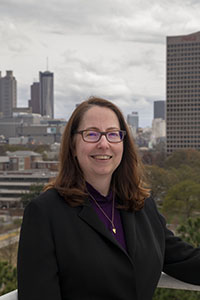 Garrow
The world continues to experience the day-to-day impact of supply chain issues. Laurie Garrow, professor and co-director of the Center for Urban and Regional Air Mobility at Georgia Tech, offers insight into what consumers can expect this holiday season in terms of air travel demand, airline operations, and tips for consumer travel planning.
How will travel plans be affected by supply chain disruptions?
Supply chain issues affect air travel in many ways. Most significantly, airlines are now focused on realigning their workforce. During the pandemic, many airlines laid off flight crews, and ramping back up to meet increasing demand is not a quick or simple process. This process includes meeting regulatory requirements in place to get pilots ready to operate aircraft and get back on flight schedules. Garrow urges travelers to plan their trips early, noting that "airlines are working hard to meet demand."
Airlines continue to see the impacts of Covid-19.
Covid-19 has greatly affected the way consumers plan for travel. "Before the pandemic, scheduling was slightly more predictable, with most people booking flights four to six weeks in advance," Garrow explained. "Travelers are now booking flights much closer to their departure date to account for travel restrictions and monitoring Covid-19 trends." This gives airlines less time to plan and react to unexpected demand patterns. Demand uncertainty makes it difficult for carriers to align their supply chain and can lead to an increase in flight cancellations.
Tips for travelers this season: expect higher fares and plan your flights early. 
Labor shortages and staffing issues can also affect travel this season — particularly the day-of experiences. Many airports have closed their long-term parking lots, car rentals are much more limited and expensive, and TSA wait times will likely be longer during this holiday season. It is important that consumers plan ahead and arrive at the airport early.
Professor Laurie Garrow is co-director of the Center for Urban and Regional Air Mobility at Georgia Tech. She is an expert in aviation, travel behavior, data analytics, and discrete choice modeling. In Fall 2020, she was elected to a second term as president of the Airline Group of the International Federation of Operational Research Societies.
Related: