Thursday, 16 December 2021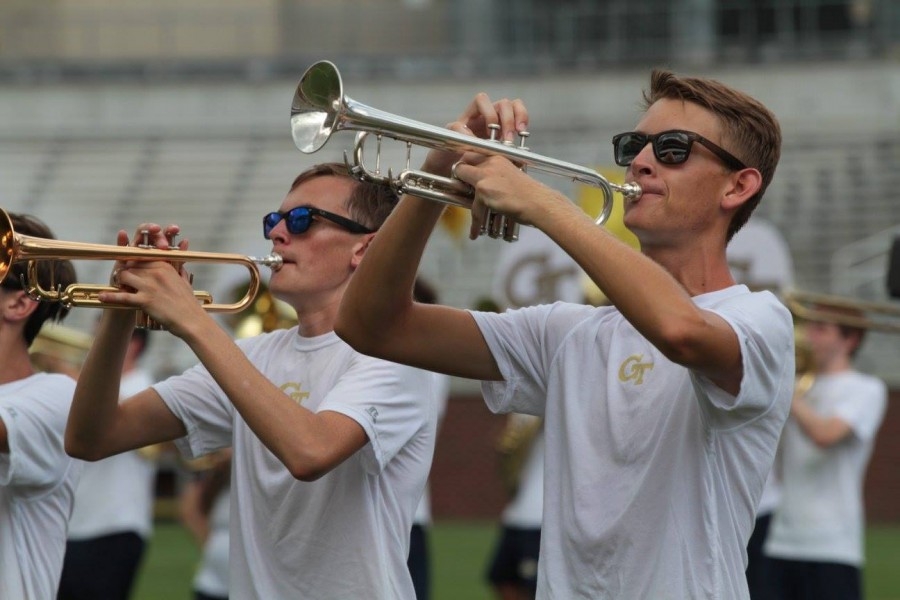 By Stacy Braukman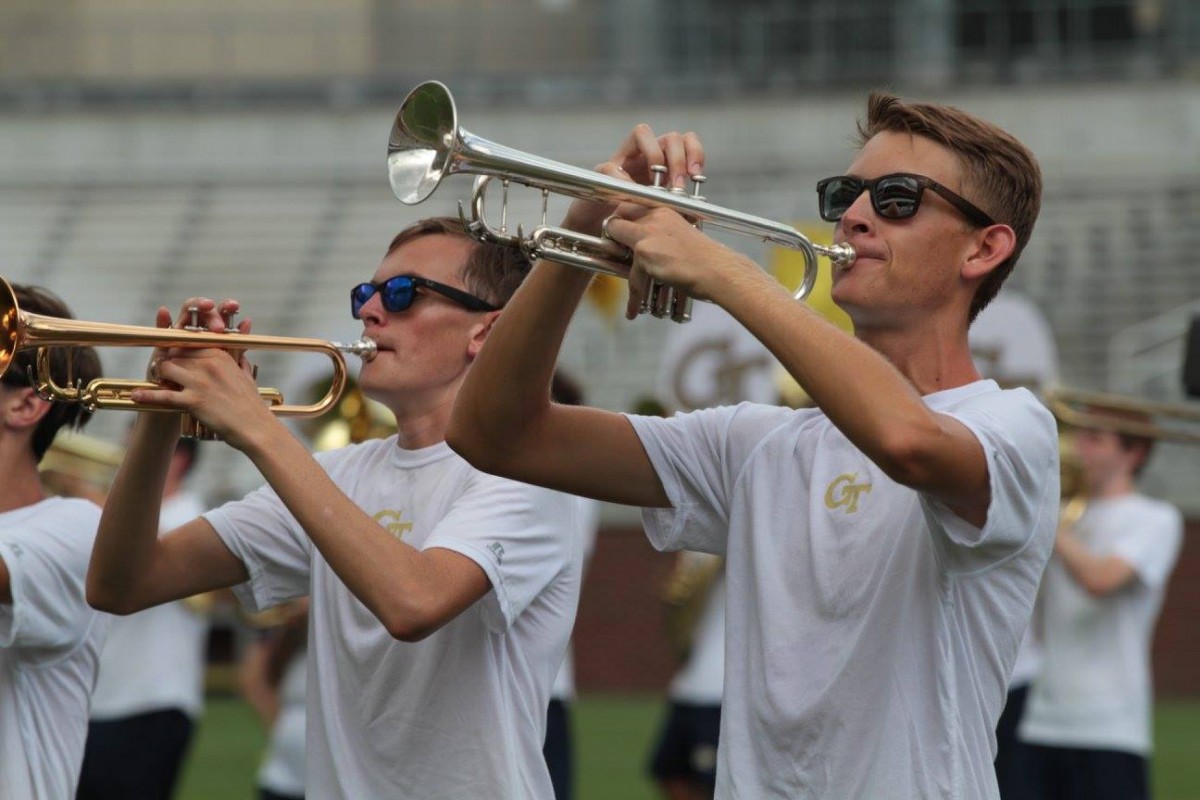 Joshua Garrett in the Yellow Jacket Marching Band
"Embrace every opportunity that comes your way." As Joshua Garrett, CE 2020, M.S. CE 2021, prepares to cross the Commencement stage for the second, and most likely final, time, he is speaking from experience.
Since he was first introduced to Georgia Tech through a distance learning math program as a high school senior, the Cumming, Georgia, native has done it all — from decorating his RAT cap and running in the Freshman Cake Race to leaving change for Sideways before exams and playing trumpet in the Yellow Jacket Marching Band.
The latter was his favorite part of attending Tech. "The band keeps up with so many traditions that made me feel more connected to Tech's history," he said. Even more importantly, it was where he met his wife, Kailee Garrett, CE 2019, M.S. CE 2020, who played piccolo, flute, and oboe. They married in May 2021 and celebrated with a post-nuptial ride in the Ramblin' Wreck.
He also appreciated "all the opportunities there are for study abroad at Georgia Tech." Garrett participated in the School of Civil and Environmental Engineering's London program, which included studying iconic structures in London, Paris, and Edinburgh, and which "shaped my path to becoming a structural engineer."
In fact, his full-time career began last summer, while he worked on his master's degree. He became a structural engineer at PM&A, a national provider of engineering, technical, and consulting services in the construction industry whose headquarters are in Atlanta. In the coming years, he plans to continue working for the firm and to pursue his structural engineering license.
For most Tech graduates over the past 22 months, the coronavirus pandemic affected their academic careers in profound and unforgettable ways. For his part, Garrett found a silver lining. "Moving all the classes online was actually very helpful for me," he said. "It meant I could still work full-time and watch my classes and do homework before or after my normal workday. It also meant I had flexibility when I had to travel for site visits for work, because I could take a test or complete homework in my hotel room instead of having to make it up at another time." And though there were challenges, he credits his instructors with doing "a fantastic job transitioning to online classes.
He has also used this time to take up marathon running — a far cry from the frenzied sprint up Freshman Hill — and he looks forward to continuing his newfound passion.
Engineering, music, and beloved Tech traditions all wove their way through his years as a Yellow Jacket. And though Garrett is excited about this second graduation, and the prospect of attending events as a spectator rather than a participant, he urges current students not to rush to get out.
Above all, he reminds them to be grateful — for the opportunities and the memories, for the fun and the hard work, and for the help of others along the way. "Thank you," he says, "to my family, friends, and amazing wife for supporting me throughout my time at Georgia Tech.
Joshua Garrett and his wife, Kailee, leave their wedding in the Ramblin' Wreck
Joshua Garrett with his wife and fellow Tech graduate Kailee