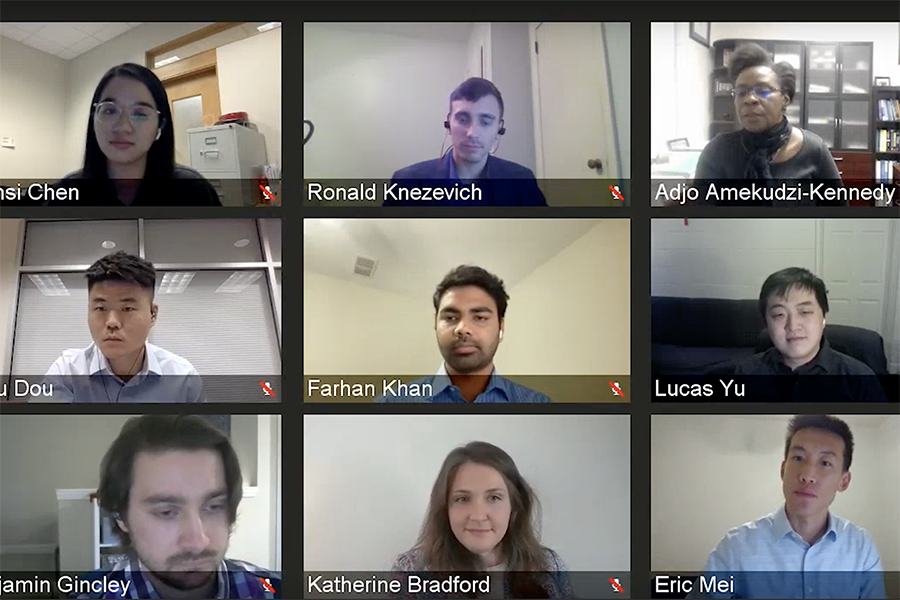 Contestants answer questions from the audience during the Entrepreneurial Impact Competition on Jan. 28

By Melissa Fralick 
At the second annual Entrepreneurship Innovation Competition, two teams of CEE students wowed a panel of judges and walked away with $5,000 to take their inventions to the next level.  
With their ideas to improve road safety and track harmful algae growth, the winning teams demonstrated the breadth and capacity that civil and environmental engineers possess to improve the human condition. 
Following an open call for submissions in the Fall 2021 semester, four finalists were selected to participate in the competition held virtually on Jan. 28.
During the competition, each of the finalists gave a five-minute verbal pitch of their projects to a panel of expert judges and a live audience, followed by 10 minutes of questions from the judges. After all the presentations, the judges deliberated and selected the top proposals to win the Higginbotham Entrepreneurship Award and the Zeitlin Innovation Award, worth $5,000 each.
PhycoSight, a team comprised of environmental engineering PhD students Benjamin Gincley and Farhan Khan, was selected to win the Higginbotham Entrepreneurship Award. The Higginbotham award recognizes teams with more developed ideas that have been tailored to specific end-users with an emphasis on bringing their concept to market.
Gincley and Khan developed PhycoSight as a low-cost, rapid, accurate and automated device to monitor water quality and combat the rapid proliferation of toxin-producing algae. Harmful algal blooms—caused by excessive nutrient discharge into water and warming temperatures due to climate change— kill fish and cause toxic discoloration and odor in drinking water supplies.
PhycoSight would provide continuous and autonomous monitoring to enable observation of the start of an algal bloom, providing the opportunity for decisive and strategic mitigative action. By providing early warning of an algal bloom upstream, PhycoSight would give drinking water utilities the ability to quickly take proactive measures to ensure safe drinking water to their communities.
"This award provides concept and strategy validation for our team in that the judges see merit in our prior work and future plans," Gincley said. "The great ideas presented by the teams in our competition cohort have provided inspiration to both our team and the attendees. Big civil and environmental challenges are being tackled in creative and frugal ways, reducing barriers and improving access to cutting-edge technologies that will benefit society, whether they're commercialized this year or serve as prototypes for critical technologies in 10 years' time."
Multi-disciplinary team SECurE was selected to win this year's Zeitlin Innovation Award. The Zeitlin award recognizes the creativity, innovation and potential of a project at any stage of development.
The SECurE team is comprised of CEE graduate students Ron Knezevich, Ariel Steele, Zhongyu Yang and Lucas Yu, along with electrical and computer engineering student Marius Francois-Marchal. 
The team identified the danger that driving around curves poses for motorists: Curves account for just 5 percent of all highway miles, but curve-related crashes make up approximately a quarter of all roadway fatalities. Curve warning signs are among the best safety measures to decrease injury crashes, however it can be difficult for transportation agencies to identify where these signs are needed and keep track of those that already exist on thousands of miles of roadway.
SECurE is a low-cost solution that uses a smartphone as a data collection device. By mounting a smartphone on a vehicle, users can passively collect data during routine travel. Automated processing will accurately extract curve data that can be used to design curve warning signs to make roads safer.
"Winning this competition is confirmation that people think that our vision to improve curve safety is valuable, and that the "brainchild" of our group has the potential impact to be explored further," Yu said. 
So what's next for the winning teams?
Yu says the SECurE team will likely put their award winnings toward continued testing of their concept. 
"Since our approach involves using mobile devices to collect crowdsourcing data, having this prize would certainly be helpful if we need to pay for people to help collect testing data or purchase different types of mobile devices to further test and refine our computation method," Yu said. 
For PhycoSight, Gincley and Khan plan to put their prize money toward bringing their invention to market.
"Our team is grateful for the opportunity to present our concept," Gincley said. "We have been fortunate to have prior funding for prototype development, so these funds will be put towards extending our reach through both creating a web presence and later accessing industry trade shows and conferences to reach a broader audience." 
Related: