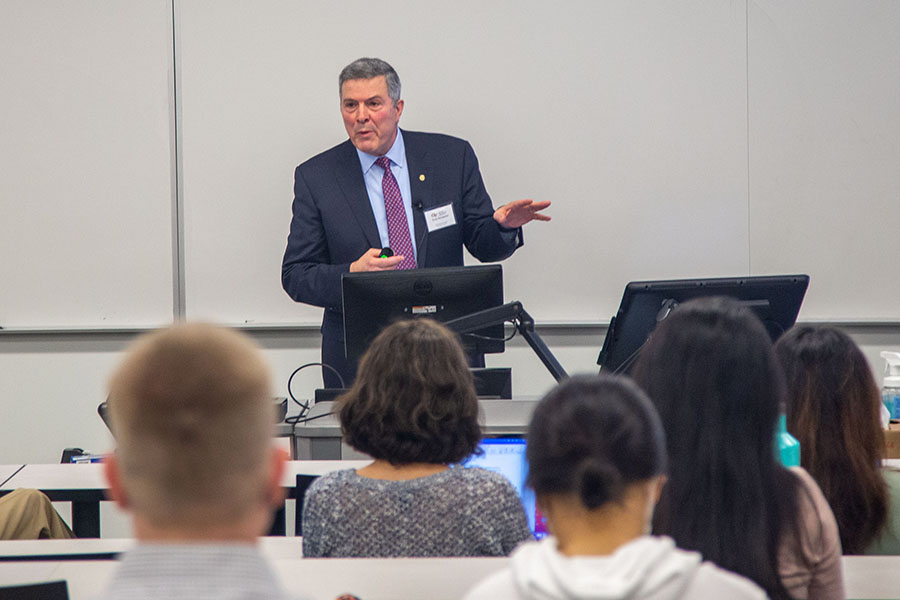 Rudy Bonaparte delivered the spring semester Hyatt lecture on Feb. 17.

Rudy Bonaparte knows one thing for sure: Earth's atmosphere is warming, and civil and environmental engineers will lead the way toward mitigating the damage and adapting our infrastructure to the effects of climate change.
Bonaparte shared his wisdom from decades of engineering experience as the Spring 2022 speaker for the Kenneth Hyatt Distinguished Leadership Speaker Series on Feb. 17. Bonaparte is the co-founder and chairman of Geosyntec Consultants and a professor of the practice in the School of Civil and Environmental Engineering. From his years leading Geosyntec and teaching students about global engineering leadership, Bonaparte knows what it means to be a leader in business, academia and climate change solutions.
A warmer Earth has led to changing climate patterns with adverse effects at all levels. Recent weather events in the U.S. illustrate these changes, which are projected to increase over time: water depletion and drought in the West, more intense gulf and East Coast hurricanes, and more extreme precipitation events.
Models from the Intergovernmental Panel on Climate Change project that continued carbon dioxide emissions will create a temperature increase of 2 degrees Celsius by the end of the century.
"Let's say you're going to graduate in 2022 and have a 40-year career," Bonaparte said. "Your career will span the period when mankind's actions will determine the ultimate severity of climate change impacts on the world. You're going to be in the thick of it."
As future civil and environmental engineers, Bonaparte told students they have a responsibility to be leaders in abating the climate change crisis by building awareness, advocating for policy change, participating in professional organizations, and encouraging their employers to implement low carbon and sustainable practices.
Over the course of their careers, civil and environmental engineers will be involved in two parts of the solution, Bonaparte explained: mitigation and adaptation.
Climate change can be mitigated through efforts to reduce greenhouse gas emissions or capture emissions so they don't enter the atmosphere. Bonaparte focused on three of the areas where civil and environmental engineers are likely to contribute: increasing the use of renewable energy, improving the nation's energy transmission and distribution grid, and reducing current carbon emissions.
Bonaparte next shared a list of areas in infrastructure or the environmental sector that will require adaptation measures: Sea level rise adaptation in coastal cities through storm surge protection, transportation infrastructure, and responding to diminishing and less reliable water supplies through stormwater capture, wastewater treatment, and new reservoirs.
"Go through this list and you'll realize it touches on just about every aspect of society and the environment. Almost nothing is immune to the impacts of climate change and the need for adaptation," Bonaparte said. "There are many, many ways that civil and environmental engineers can contribute to this aspect of climate change adaptation."
Climate change mitigation and adaptation efforts will spur countless projects that will need civil and environmental engineering contributions and leadership. These projects will create exciting career opportunities for many Georgia Tech CEE graduates, Bonaparte said.
"This is a wonderful time to be a civil and environmental engineer. You'll get to use so many of the wonderful skills you're learning here and in doing so, you get to make the world a better place," Bonaparte said. "You can make a real difference for good. As civil and environmental engineering leaders, you have a responsibility to do so, and I hope you will during your careers."
The Kenneth Hyatt Distinguished Leadership Speaker Series brings a distinguished leader to campus each fall and spring who can share wisdom and insight with the School's students and the wider Georgia Tech community. It is made possible by the generous support of Kenneth Hyatt, CE 62, MS IM 66.
Related: