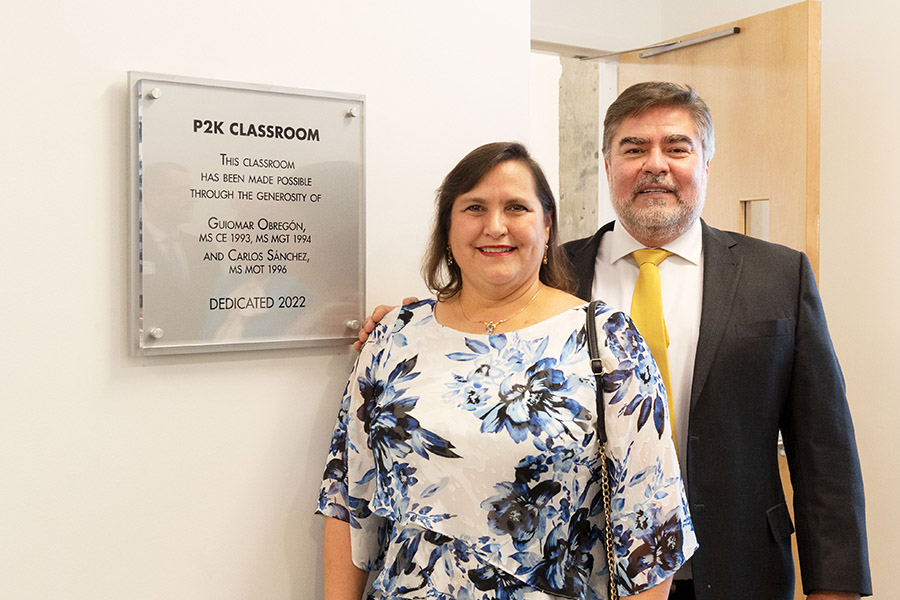 Guiomar Obregón, MS CE 93, and Carlos Sánchez, MS MoT 96

The School of Civil and Environmental Engineering welcomed alumna Guiomar Obregón, MS CE 93, back to the Mason Building on April 11 for a dedication ceremony to celebrate the naming of the P2K Classroom. 
Obregón is the CEO of P2K, an Atlanta civil engineering firm she co-founded with her husband and fellow Georgia Tech alumnus Carlos Sánchez, MS MoT 96. 
Through their philanthropy, Obregón and Sánchez put their business name on the third-floor classroom and established a scholarship aimed at Latin American women pursuing degrees in civil and environmental engineering. 
"We want to give back to our community," Obregón said. "We want to encourage other women and other Hispanics to get their education and start businesses." 
Karen and John Huff School Chair Don Webster said that the classroom is a symbol of progress for the School, which is now more than 50 percent women. 
"This classroom not only reflects the growing diversity of our programs but symbolizes the achievements that are possible for our students," Webster said. 
College of Engineering Dean Raheem Beyah thanked Obregón and Sánchez for their generosity, which provides much needed resources for Georgia Tech. 
"The only way to attract the absolute best students and faculty is through philanthropy," Beyah said. "We just cannot do what we do without donor philanthropy." 
Obregón said pursuing an education at Georgia Tech with Sánchez was pivotal to shaping their future. 
"Yes, we got a great education. But we learned to overcome challenges, we learned to be resilient, we learned to solve problems," Obregon said. "It made us the people we are today."