The Entrepreneurial Impact Competition was established in 2021 as a way to help instill an entrepreneurial mindset and encourage students to think creatively.
Following two years of competition, it's clear that the event has achieved its goal. Many of the past finalists and winners have continued to develop their innovative concepts, which have the potential to create positive change and improve the human condition.
Here's how the competition works: Individuals or teams of students apply by submitting their concept for an entrepreneurial venture. After assessing all submissions, a panel of judges selects four finalists to participate in a live competition. During the competition, each finalist presents their idea to the panel of judges, who select the top two proposals to win a $5,000 prize.
The third annual Entrepreneurial Impact Competition will be held on Jan. 27, 2023. Applications will be open until Dec. 16, 2022.
In advance of the next round of competition, we caught up with a few past participants who have continued their entrepreneurial journeys at Georgia Tech and beyond.
VoltaPure
Nissim Gore-Datar, Mourin Jarin and Jianfeng Zhou
2021 Zeitlin Innovation Award Winner
Image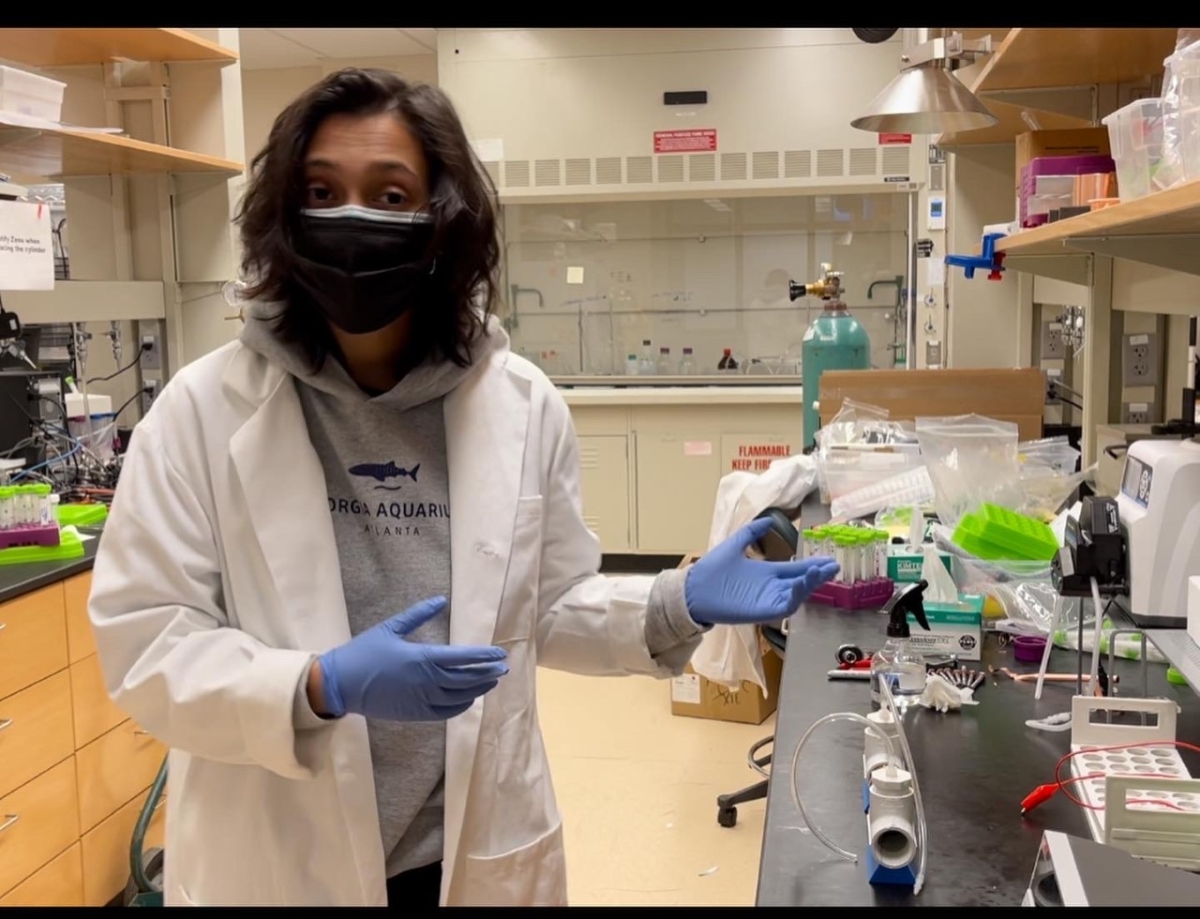 Synopsis: VoltaPure's technology offers an alternative to chemical water disinfection with the potential to provide access to safe drinking water for more people worldwide. A co-axial electrode copper ionization cell disinfects water while producing a very low and safe effluent copper concentration. The underlying mechanism behind the center electrode is locally enhanced electric field treatment, which exploits the lighting rod effect by distributing a low voltage to the modified electrode surface, significantly enhancing electric field exposure to pathogens.
Update: PhD student Mo Jarin has continued to find success with the VoltaPure concept.
She was awarded a $50,000 grant through the National Science Foundation's Innovation-Corps program to participate in a seven-week bootcamp focused on experiential education to gain insight into her startup's industry.
Jarin also won the Career, Research, and Innovation Development Conference's Innovation Competition for the VoltaPure water disinfection technology, earning a $1,000 cash prize for her efforts. The annual event is sponsored by VentureLab, which helps Georgia Tech researchers explore market opportunities and create startups based on their work.
Jarin also participated in Georgia Tech's inaugural Female Founders program and audited the CREATE-X Startup Launch program.
PhycoSight
Benjamin Gincley and Farhan Khan
2022 Higginbotham Entrepreneurship Award Winner
Image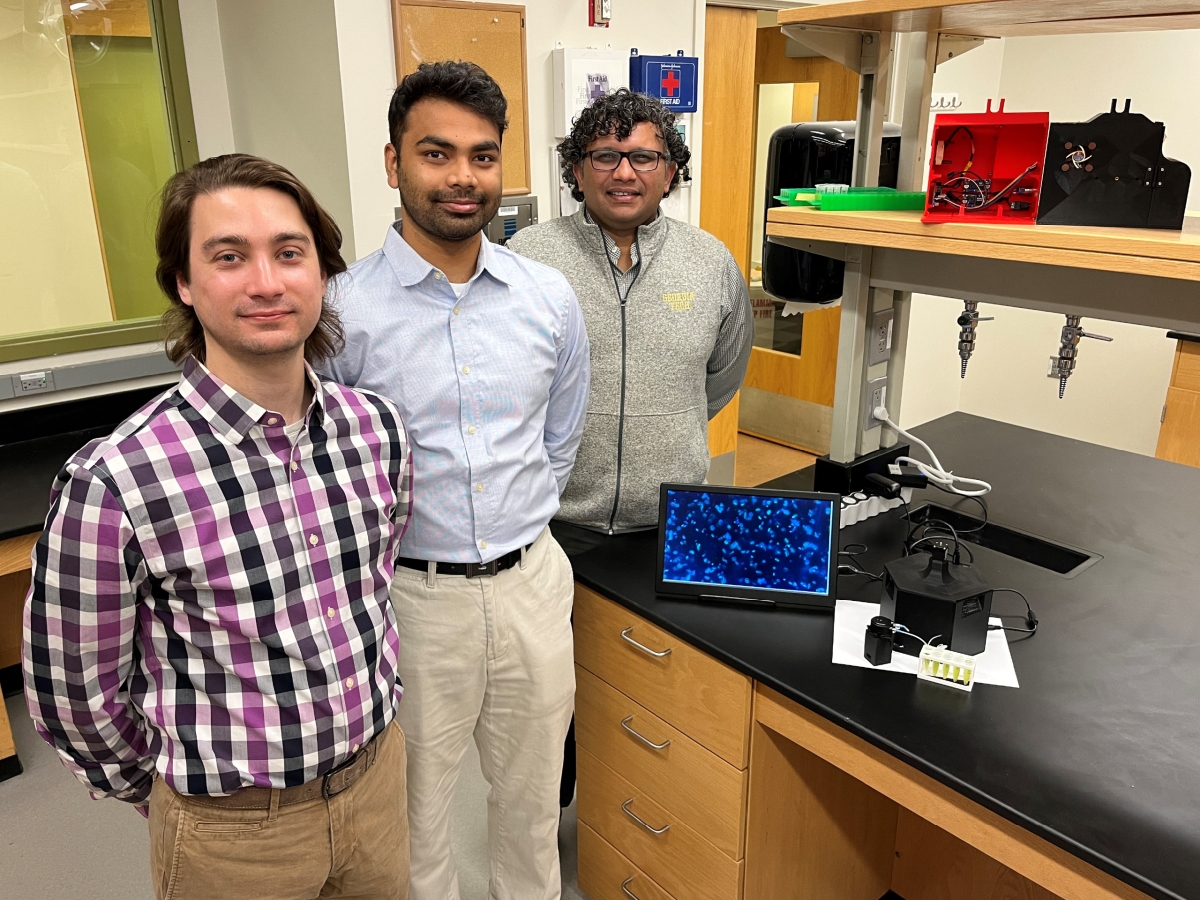 Synopsis: PhycoSight is a low-cost, rapid, accurate and automated device to monitor water quality and combat the rapid proliferation of toxin-producing algae. Harmful algal blooms—caused by excessive nutrient discharge into water and warming temperatures due to climate change— kill fish and cause toxic discoloration and odor in drinking water supplies.
PhycoSight would provide continuous and autonomous monitoring to enable observation of the start of an algal bloom, providing the opportunity for decisive and strategic mitigative action. By providing early warning of an algal bloom upstream, PhycoSight would give drinking water utilities the ability to quickly take proactive measures to ensure safe drinking water to their communities.
Update: In April, the PhycoSight team was selected as one of 15 finalists for the U.S. Department of Energy's AlgaePrize Competition. During the 2023 competition, PhycoSight will demonstrate their ideas for innovative and novel solutions in algae production, processing, and new product development.
The team has also been building momentum through conferences and meetings with industry professionals. They presented at the International Conference on Toxic Cyanobacteria and the virtual Algae Biomass Organization Summit.
Gincley and Khan are preparing a manuscript to publish results from a year-long study using their technology to characterize microalgal community dynamics at a full-scale wastewater treatment plant in Wisconsin. Plant operators have been using data from PhycoSight algae identification software to assess the health of their algae and make process control decisions as a field demonstration of the technology. The team hopes to have one of their instruments installed onsite for year-round monitoring within the next year.
VirusTrack
Wensi Chen, Zeou Dou, and Eric Mei
2022 Entrepreneurial Impact Competition Finalist
Image
Synopsis: The VirusTrack team developed a novel viral storage device designed to hold viruses collected from wastewater with the goal of enabling a large-scale monitoring network. Their unique, small storage vials use a pre-filled, nano-designed substrate to store, filter, and trap viruses, which allows for stable, non-refrigerated transportation to public health testing sites.
Update: Two members of the VirusTrack team, PhD graduates Wensi Chen and Zeou Dou, have continued to develop the VirusTrack technology as entrepreneurs since participating in the Entrepreneurial Impact Competition earlier this year. 
In spring 2022, VirusTrack was named the winner of the Georgia Tech Convergence Innovation Competition (CIC). The CIC is dedicated to helping students create and showcase innovative and viable products and experiences with the support of campus and industry resources and guidance.
As the winning team, VirusTrack gained entry into Georgia Tech's CREATE-X program and participated in the "CREATE-X LAUNCH" phase of the program. The startup launch program provides teams with $5,000 in seed funding and $30,000 worth of in-kind services, including legal and accounting services, coaching, space, mentorship, visibility and IP protection.
Chen is now a postdoctoral researcher at Yale, and Dou holds a postdoctoral research position Georgia Tech's Woodruff School of Mechanical Engineering. They continue to work on their startup part-time. Their PhD advisor, Assistant Professor Xing Xie, is collaborating with public health labs for on-site pilot testing.
Their journal article on the technology, "Self-Driven Pretreatment and Room-Temperature Storage of Water Samples for Virus Detection Using Enhanced Porous Superabsorbent Polymer Beads," was recently selected as one of Environmental Science & Technology's best papers of 2021.  
Blank Space (small)
(text and background only visible when logged in)