Wednesday, 30 January 2019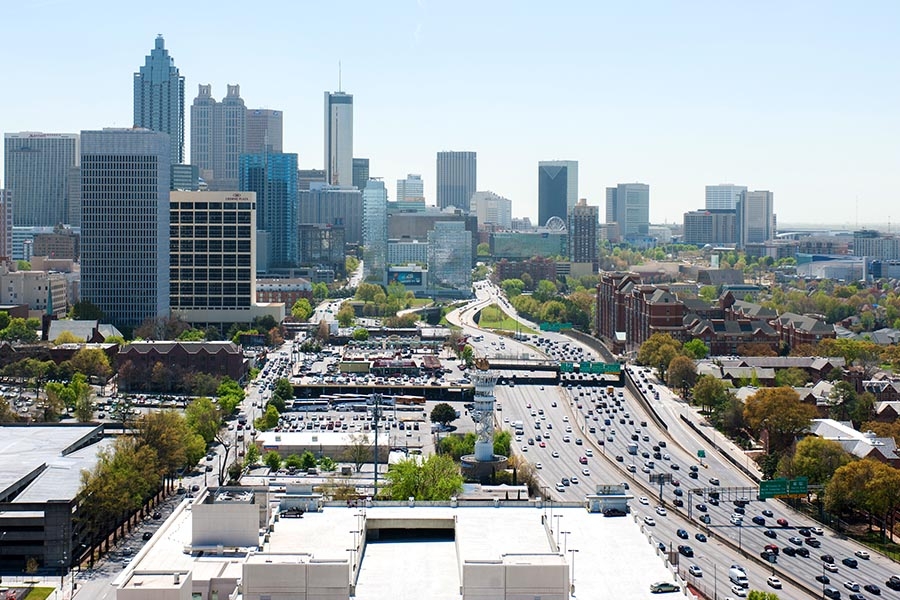 The American Society of Civil Engineers released its assessment of Georgia's infrastructure Jan. 23, and the word of the day might very well have been "momentum."
The volunteer-led evaluation of the state's critical systems rated Georgia's infrastructure a cumulative C+ — it's highest grade so far and the first time the grade improved. Still, a C indicates roads, bridges, dams, schools, water systems, parks, waste treatment and other infrastructure need attention, according to ASCE's grading scale.
"We have made progress; we must continue to make more progress," was how School of Civil and Environmental Engineering Professor Adjo Amekudzi-Kennedy put it, rather succinctly. Amekudzi-Kennedy served as chair of the 2019 Georgia Infrastructure Report Card advisory board, a group of outside experts who review the grades assigned by the report card's authors.
"The report cards make a difference by focusing the public's and lawmakers' attention on what the critical issues are in the particular season when they are released. The passage of laws supporting dedicated sources of funding is one of the first steps for addressing deficiencies, and we have seen this happen over the past several years. We must build on this momentum to continue to improve the quality of infrastructure in the state."
Amekudzi-Kennedy has been part of the panel of experts who review the report since its inception in 2004. Volunteer engineers from across Georgia help assess the state's infrastructure every five years.
In 2019, that assessment reported improvement in nine of 14 categories of infrastructure and deterioration in two — solid waste and wastewater systems. The three remaining categories held steady. The report also praised "significant progress" over the last five years, including:
the Savannah harbor deepening, now about half finished.
$1 billion in new funding for transportation authorized by the Georgia General Assembly.
a more than doubling of staff for Georgia Safe Dams, increasing inspections and emergency action plans to protect downstream communities.
legislation creating a new umbrella public transit agency for metro Atlanta, the ATL.
new stormwater utilities and more dedicated funding for stormwater systems.

Amekudzi-Kennedy

Huang

Sturm

Tsai

Watkins
Still, challenges remain, according to the report card: capitalizing on the landmark new transit agency, providing more funding to water utilities — drinking water, wastewater, stormwater — and ensuring the state's truck and rail freight networks are ready for the larger ships that will call on the deeper Savannah harbor.
"From a bigger picture perspective, Georgia's population is growing and becoming more urban," Amekudzi-Kennedy said, noting forecasts from Georgia Tech's Center for Quality Growth and Regional Development have projected a 51 percent increase in people along the coast between 2000 and 2030.
"The growth in coastal populations and the changing climate mean we must think about system resilience.  We must work on adapting technologies to make our state's infrastructure smarter, more resilient, and more supportive of healthy communities."
The 2019 report card was Amekudzi-Kennedy's third as chair of the advisory panel, a group that included four other experts from the School — Ching-Hua Huang, Terry Sturm, James Tsai and Kari Watkins — plus consultants, practitioners and faculty members from other disciplines at Georgia Tech and several of the state's other universities.
"I hope the infrastructure report card allows us to pause and look at what we have accomplished over the past five years, appreciate where investments have reflected notable gains, and where there is clearly need for more work," Amekudzi-Kennedy said. "Hopefully, the infrastructure report card will make us ask: What are the best investments we can make in Georgia's infrastructure in the short term and the long term?"
Related