Thursday, 07 September 2017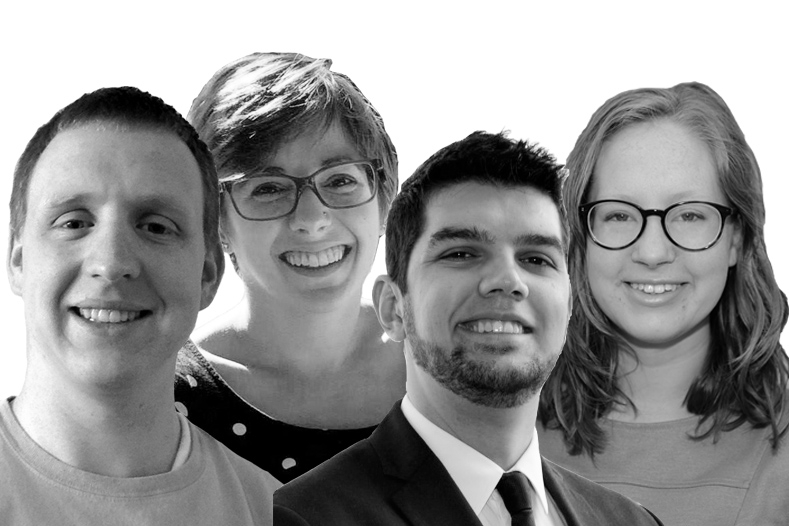 | | |
| --- | --- |
| Broesicke | Clark |
| Skipper | Wirth |
Four School of Civil and Environmental Engineering Ph.D. students have received new scholarships for 2017 from the Achievement Rewards for College Scientists Foundation.
Osvaldo Broesicke, Calvin Clark, Anna Skipper and Xenia Wirth were four of last year's record five ARCS recipients. They've each earned more funding to support their studies and open up opportunities to advance their research.
"Ph.D. life can be hard, and you can sometimes lose motivation. Having the support of friends, family, and even those who don't know you that well really helps propel us Ph.D. students forward," Broesicke said. "Last year, my ARCS award was sponsored by the Ray C. Anderson Foundation. While I don't know my current sponsors, I would like to extend my gratitude to both past and current sponsors for encouraging me to continue and believing in the impact of my work."
Broesicke is in his third year of Ph.D. work with John Crittenden looking at the interactions of nutrient, energy, water and transportation infrastructure systems. He wants to "combine technology, policy, or strategy to optimize the results," he said — for instance, reducing carbon footprints or water use, improving social equality, or maximizing cost-to-benefit ratios for these systems.
The ARCS scholarships recognize doctoral students "who have a record of past achievement and who show exceptional promise of making a significant contribution to the worldwide advancement of science and technology," according to award materials. A Georgia Tech committee selects winners to be supported by the ARCS Foundation Atlanta.
In addition to Broesicke's work on infrastructure systems, this year's recipients are involved in everything from improving bicycle transportation — that's Calvin Clark's research with Kari Watkins — to fluid mechanics and ash.
"I'm so thankful for the continuing support," said Wirth, who studies beneficial reuse of coal and biomass ash with Susan Burns. "I've had my eye on a couple international conferences on ash, and support like the ARCS foundation is perfect for pursuing those opportunities."
Wirth focuses on the geotechnical properties of coal fly ash and how it interacts with water in storage ponds. It's important to understand, she said, if we're going to extract ash from these ponds and reuse it.
Skipper, who now has won three ARCS scholarships, said the program has given her financial peace of mind: "[The scholarship gives me] the confidence to apply to conferences where travel might be more expensive, knowing if I can't get funding through the conference or through [adviser Donald Webster], I always have ARCS to rely on."
Skipper studies the biomechanics of zooplankton called daphniids and sensory mechanics of a few different species to understand how the animals sense fluid mechanical clues in the ocean.