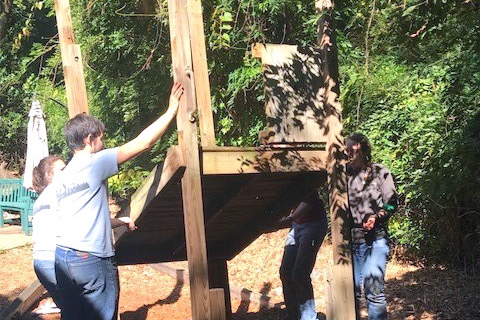 A group of leaders from the Georgia Tech chapter of the American Society of Civil Engineers spent a few hours recently helping the International Women's House in Decatur, Georgia, get new playground equipment for its young clients.
The shelter — which provides services and a safe have to women and children who are the victims of family violence, sexual abuse, and human trafficking — was ready to install new play equipment, but the old playground had to be demolished first. The shelter had difficulty finding help on the project — until shelter leaders contacted ASCE.
Sam Dennard, Perry Smith, Alesa Stallman, Caroline Stanton and Michael Waters took on the job and in a few hours, had the playground ready for installation. Executive Director Anna Blau called them "future stars," and praised their professionalism and determination.