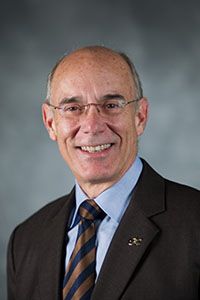 Rafael Bras
Professor Rafael L. Bras has been selected to deliver the 2020 Walter Langbein Lecture for the American Geophysical Union (AGU).
The annual lecture takes place on Dec. 8 during the AGU Fall Meeting. Bras's lecture is entitled, "So Much Data and So Few Ways to Use It: The Era of Data Rich Hydrology."
The honor of delivering the lecture recognizes the lifetime contributions of a senior scientist to the science of hydrology or unselfish cooperation in hydrologic research. The award is named to honor the life and work of hydrologist Walter B. Langbein.The Langbein Lecture is also a part of the Bowie Lecture Series, established in 1989 to commemorate the 50th presentation of the William Bowie medal, AGU's highest honor.
Bras is the former provost and executive vice president for Academic Affairs at Georgia Tech and the first faculty member to hold the K. Harrison Brown Family Chair. He currently serves as a professor in the School of Civil and Environmental Engineering and the School of Earth and Atmospheric Sciences.