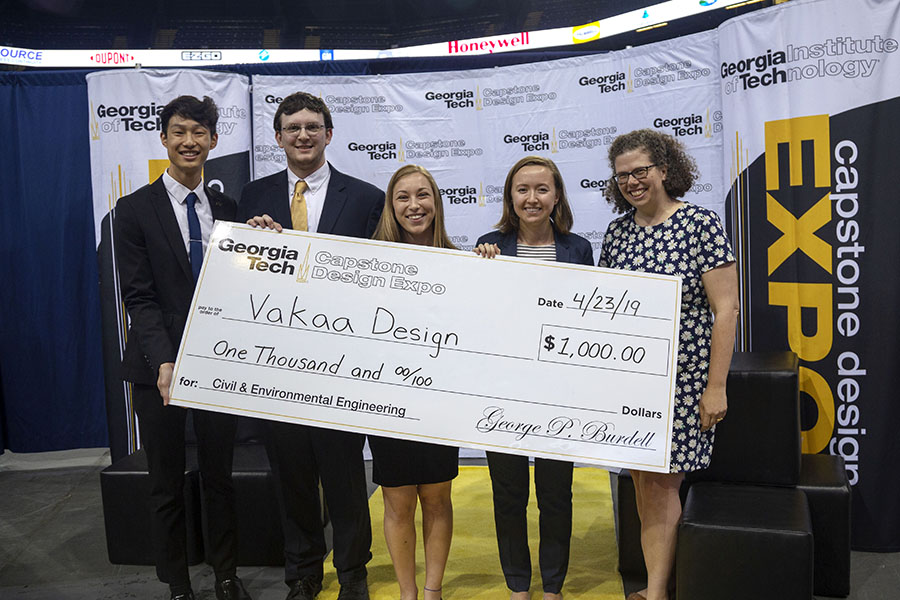 Vakaa Design — a team comprising, left to right, Justin Liu, Chris Folsom, Kailee Unangst and Hannah Davis — accepts the first-place check for civil and environmental engineering at the spring 2019 Capstone Design Expo alongside Associate Professor Kari Watkins. The team had to design the alignment of new express lanes along Interstate 285 in northwest Atlanta, including the structural elements to supported the elevated lanes. (Photo: Amelia Neumeister)
Express lanes for the top end of Atlanta's Interstate 285 are coming. Some of the ideas of Georgia Tech students could help make them a reality.
Team Vakaa Design combined transportation and structural engineering to create a possible route for the lanes for a crucial stretch of highway where I-285 and I-75 meet in Cobb County. Their project won top prize among the 16 senior design projects from the School of Civil and Environmental Engineering at the spring 2019 Capstone Design Expo April 23.
"We just hope that our analysis provided some insights [for project sponsor Jacobs Engineering] for when they do design this themselves," said Hannah Davis, a senior in civil engineering who's continuing her studies at Tech through the BS/MS program. "This project is going to impact so many people. So, to be able to look back on this, when this is built in the next 10 years, and be able to say, 'Hey, we participated in that,' that's really cool."
"The project has structural aspects, but it also combined other parts of civil engineering," said Kailee Unangst, another member of the team that also included Chris Folsom and Justin Liu. "We really got to use so much of our expertise that we've gathered over the last four years."
Other projects created trail designs, stormwater management plans, or site designs for various businesses. One studied road crashes involving pedestrians in Cobb County to find ways to make walkers safer on the county's smaller roads and around schools. Another refined a fuel and emissions calculator to help the Port of Los Angeles understand the impact of switching their fleet of 100,000 diesel trucks to battery-electric or plug-in hybrid trucks.
"This was something that could actually be used. I mean, we didn't want to design something and then it just sit on someone's desk," said civil engineering senior Caroline Seuss. "We'll actually probably end up publishing our work this summer, so we know that it's actually going to be put to use. [The fuel and emissions calculator] is going to be improved based on some of the recommendations we made."
Suess worked with Will Crimmins, Alex D'Amico, Temi Olugbenga and Evie Tripolitis on the project. Their analysis found that the port would eventually save so much money on electricity and maintenance that the high initial investment in the trucks would be offset. It's information that's also of interest to ports in Savannah, Georgia, and Houston.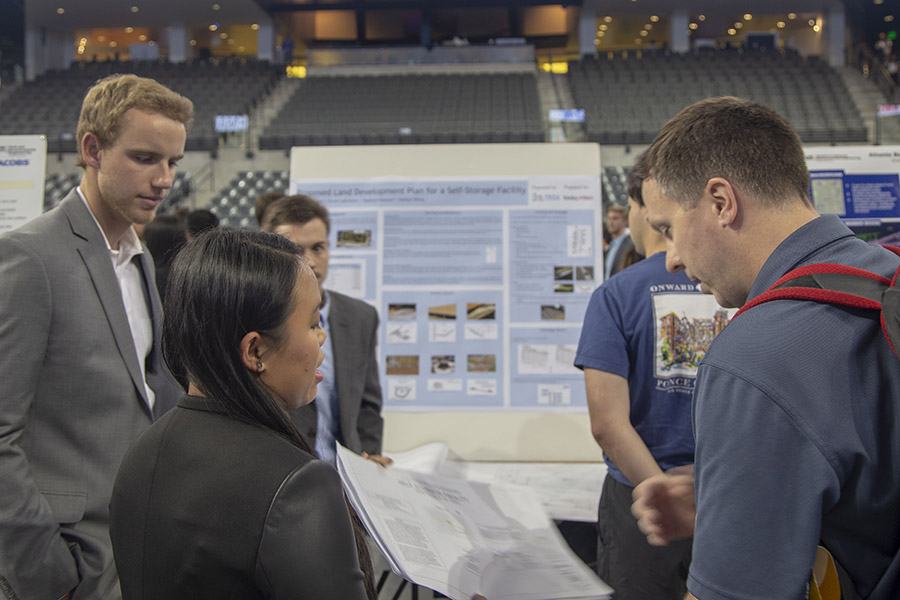 Kaitlyn Wong explains TEZA Building Solutions' plans for an undeveloped parcel in Fayetteville, Georgia, at the spring 2019 Capstone Design Expo. (Photo: Amelia Neumeister)
The Savannah port figured in another team's project, too. The U.S. Army Corps of Engineers asked team Saguaro Solutions to develop ways to reuse the material dredged from the shipping channel in the Savannah River.
None had really explored coastal engineering in their time at Tech, so the team said the project stretched them in unexpected ways. They ended up offering the Corps three options: create new marshland habitat, create nesting islands for birds, or create oyster habitat.
"It brought us outside of just civil engineering itself, because there are these other elements that we had to bring in in order to try to come up with a valid solution," said Brita McAuliffe, one of the civil engineering seniors on the team along with Naz Akkurt, Monica Martelly and Giuliana Stovall.
"We look at problems in classes, for example, that feel kind of rigid; they're well planned out for us to solve. There's already the best solution already found," Martelly said. "This project really threw us into the real world and said, this is an actual problem that needs to be done. There's all this dirt that needs to be placed somewhere. What's the best way to do that?"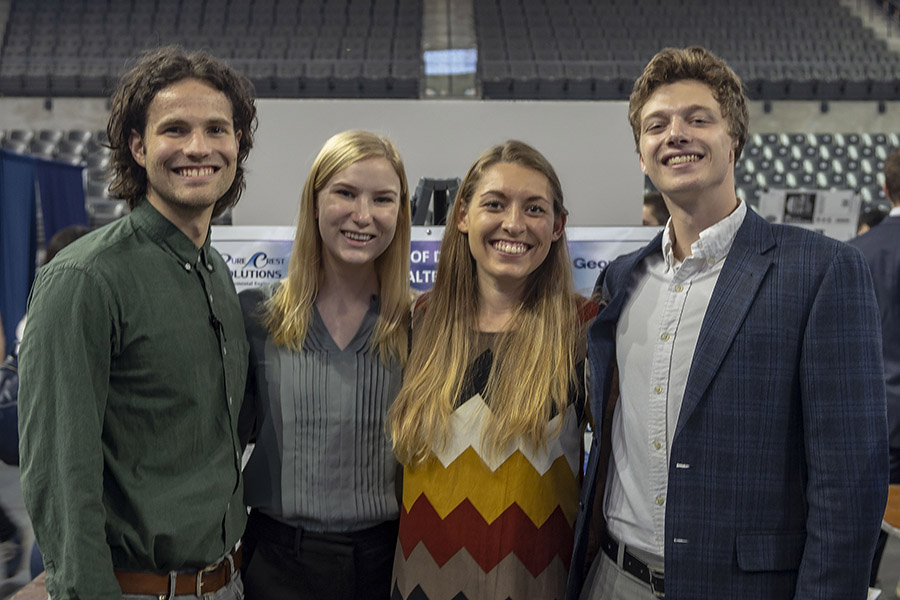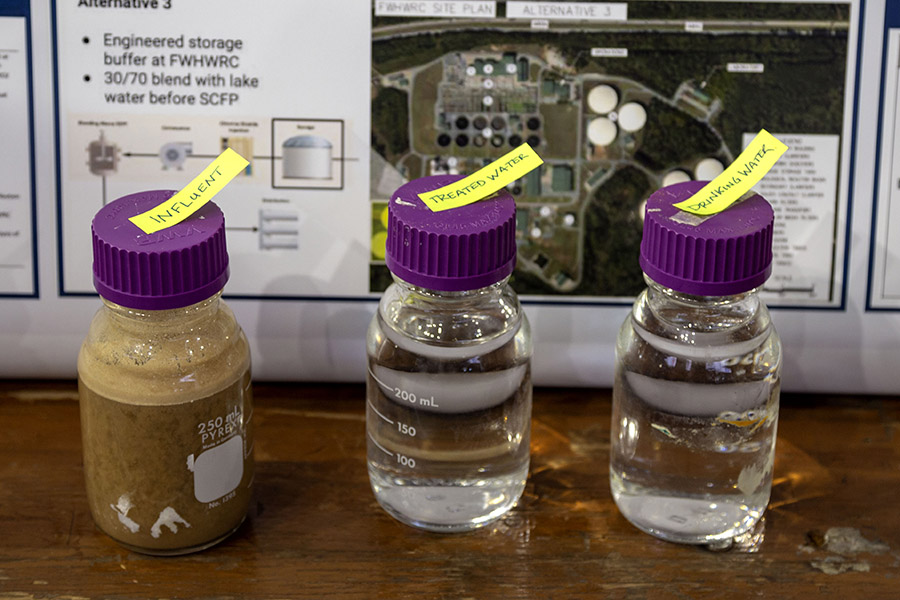 Top: From left, environmental engineering seniors Blake Lindner, Claire Anderson and Eleanor Thomas, and civil engineering senior Samuel Boyce at the spring 2019 Capstone Design Expo. Calling themselves PureCrest Solutions, they studied the feasibility of turning wastewater into potable drinking water at Gwinnett County's F. Wayne Hill Water Resources Center.   Bottom: Mock representations of raw wastewater, water treated to be released back into Lake Lanier, and drinking water. (Photos: Amelia Neumeister)
Working with engineering firm Black & Veatch, team PureCrest Solutions studied how Gwinnett County could turn wastewater into drinking water for the growing community rather than continuing to solely draw water from Lake Lanier. They settled on adding a denitrification step into the county's water treatment plant and then mixing that clean water with a stream of water from Lanier as it flows to the city's drinking water treatment system.
Environmental engineering senior Eleanor Thomas said the team understands the public perception issues around turning wastewater into drinking water. But she said advanced technology makes it possible — and it's key to capitalize on such options as growing populations strain water supplies.
"This is one way of diversifying the water portfolio," Thomas said. "People can understand that, hey, Lake Lanier serves all of Gwinnett County's water needs. So just having the option to have different sources of water, I think people can understand that."
Thomas and her teammates — Claire Anderson, Samuel Boyce and Blake Lindner — are moving all across the country after they graduate in a few days. But they'll gather in the fall to present their project again at the WEFTEC annual conference and compete with students across the country. They'll be the first team from Georgia to compete.
Related