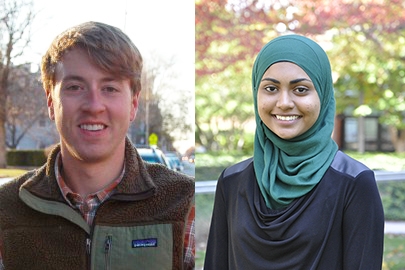 | | |
| --- | --- |
| Cebe | Shaw |
Two School of Civil and Environmental Engineering graduate students are headed to Washington D.C. in June for a week of leadership development and meetings with transportation leaders.
The Eno Center for Transportation selected Jack Cebe and Atiyya Shaw for its 2016 class of Eno Fellows. That's a group of 20 graduate students who attend the center's Future Leaders Development Conference, where they hear from transportation advocates, government policymakers and members of Congress.
The idea is to expose students to the entire process of creating, debating and approving transportation policy so they'll be well prepared for a career in the industry.
"A critical dimension of my work lies in the implementation of applicable transportation research to benefit the safety and mobility of all transportation systems' users," said Shaw, a second-year Ph.D. student, who received the Alumni Award for the highest-rated applicant of all the students invited to the conference.
"The Eno Leadership Development Conference will allow me to develop a deeper understanding of transportation policy development and implementation processes and to leverage this knowledge to inform and influence research-based transportation policy decisions at the local and national levels," she said.
"I hope this experience will provide me with invaluable insights on the policies and processes that drive our transportation system and connect me with existing and emerging leaders in the field," said Cebe, who has worked as a transportation consultant and is now pursuing dual master's degrees in civil engineering and city and regional planning. "I'm looking forward to learning from and networking with current and future transportation leaders from across the U.S."
The Eno Fellowship is the latest accolade for the pair. Cebe won an Eisenhower Transportation Fellowship from the Federal Highway Administration in August. Shaw received a National Science Foundation Graduate Research Fellowship in early 2015.
Shaw and Cebe join a growing group of the School's transportation engineering students who have attended the Future Leaders Development Conference as Eno Fellows, among them: Alice Grossman in 2015, Jamie Fischer in 2014, Margaret-Avis Akofio-Sowah in 2013, and Josie Kressner in 2012.