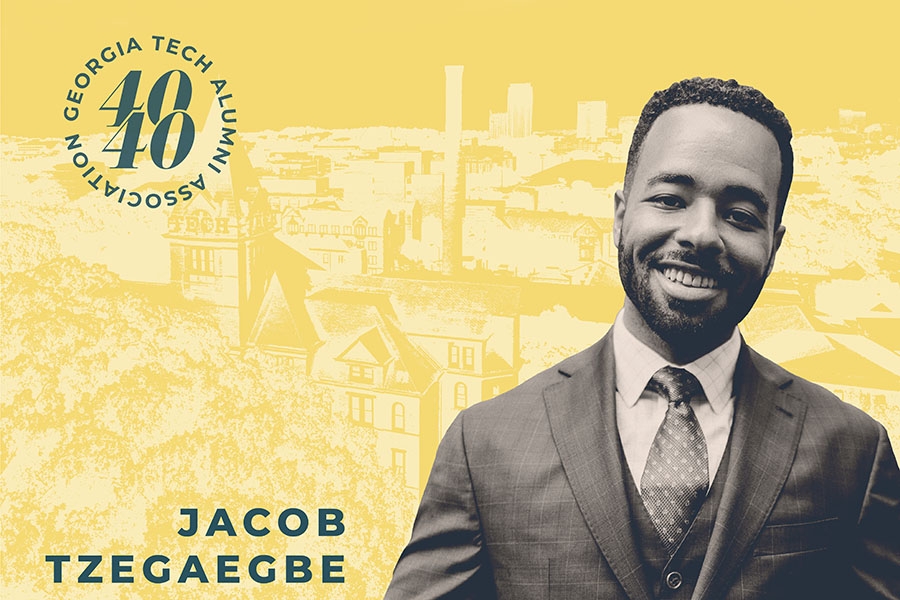 Jacob Tzegaegbe, CE 11, MS CE 13, was selected to be part of the Georgia Tech Alumni Association's first 40 Under 40 list. The honorees were selected from more than 250 individuals were nominated by colleagues, peers, and Georgia Tech faculty this April.
A committee of 26 faculty, staff, and volunteer leaders, who collectively represented all Georgia Tech colleges, scored each nominee using a 25-point rubric. Honorees were selected for the impact they've had in their professions or communities, spanning all industries and sectors, before the age of 40.
As senior transportation policy advisor for the city of Atlanta, Tzegaegbe is working to address Atlanta's infrastructure needs and streamlining the city's transportation divisions.
While a student, Tzegaegbe was aptly named Mr. Georgia Tech. Not only was he given the title his senior year by his peers, but Tzegaegbe's service at Tech and after graduation has embodied what it means to be a Yellow Jacket. While at Tech, he stayed busy competing on the swimming and diving team, serving as senior class president as well as president/CEO of the Student Foundation Board of Trustees and president of his fraternity.
Read more about Tzegaegbe and the other 40 Under 40 honorees
Related: