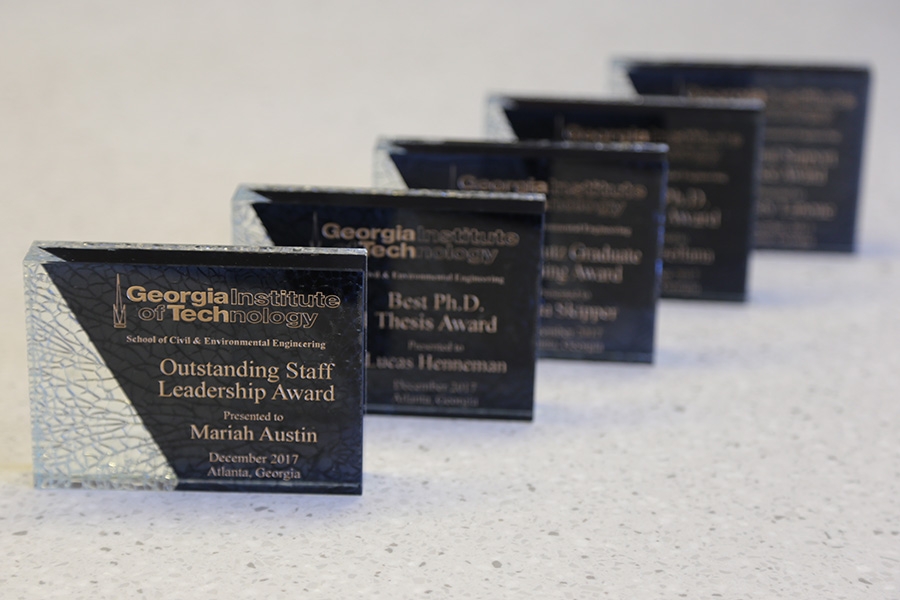 The School of Civil and Environmental Engineering honored nearly a dozen faculty, students and staff Dec. 11.
Interim School Chair Kimberly Kurtis handed out awards recognizing excellence in teaching, research and service to the School. Many of the winners now will be put forward for Georgia Tech awards in the spring.
This year's honorees:
Lauren Stewart
Excellence in Research Program Development Award

Chloe Arson
Interdisciplinary Research Award

 
 

Sheng Dai
Bill Schutz Junior Faculty Teaching Award

Zhongkun "Frankie" Ouyang
Bill Schutz Graduate Teaching Award

 
 

Mohammad "Mahdi" Roozbahani
Jean-Lou Chameau Research Excellence Award

Karie Yamamoto
Best Undergraduate Research Award

 
 
Other award winners who could not attend the ceremony:
Mariah Austin
Outstanding Staff Leadership Award

Christy Lanoue
Professional Support Excellence Award

 
 

Anna Skipper
Bill Schutz Graduate Teaching Award

Lucas Henneman
Best Ph.D. Thesis Award

 
 

Luis Orellana
Best Ph.D. Thesis Award

 
All awards photos by Jess Hunt-Ralston.