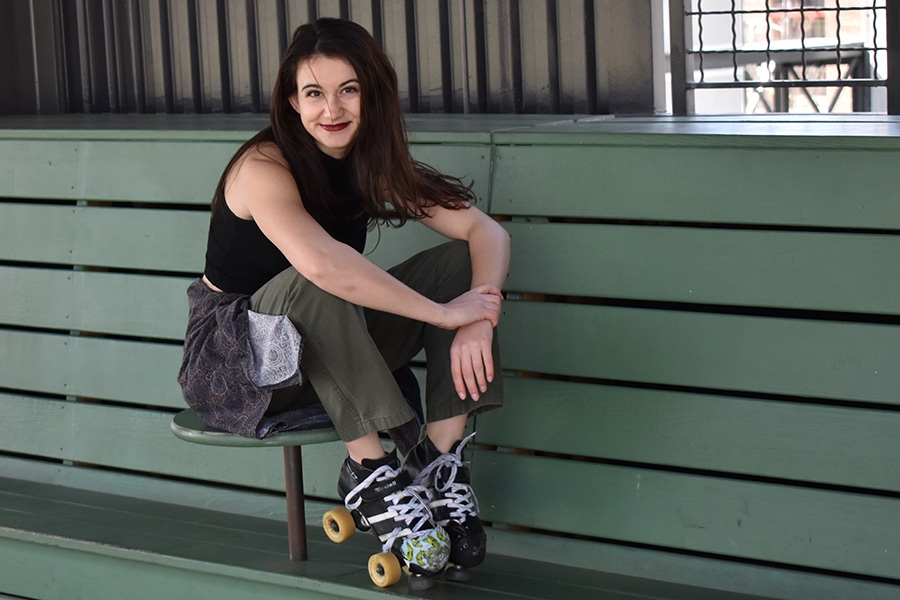 Giuliana Stovall is pretty sure she knows one of every 64 students at Georgia Tech.
She's a Yellow Jacket and an engineering student, so, of course, she's done the math to back up her hypothesis.
"To me, that is just a great, great thing," Stovall said. "I like to see people's faces and smile and say, 'How have you been doing?' and know something about them.
"That's one of the reasons, I think, that Tech has not been as hard to me as it has been to others. So many people are so invested in knowing who I am and what I'm doing."
For Stovall, a fourth-year civil engineering student finishing her bachelor's degree this semester, those connections have built a sense of community. And community — well, that's what it's all about for her. It's what makes Tech feel like home.
"I'm passionate about bringing people together," she said.
Which is why she became a resident assistant.
And why she sings in two different Georgia Tech vocal groups (plus a band on the side).
And why she founded Tech's first club dedicated to roller derby.
"It's the most team sport that I've ever played. It's a lot about knowing your team and their strengths and their weaknesses and really just learning something together," Stovall said.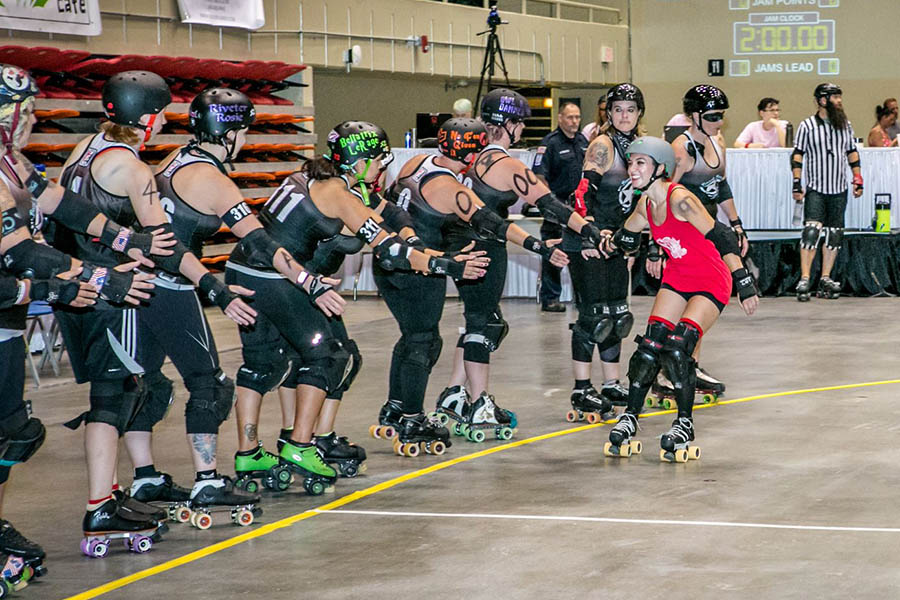 Giuliana Stovall high-fives other players after a roller derby bout with the Savannah Derby Devils, her hometown team. Stovall traveled with the team one summer and has played with teams from England to Texas. This summer, she hopes to connect with a team in the Boston area, where she'll be working at an internship. (Photo: Casey Jones Photography)
She has played all over, from Oxford, England, to College Station, Texas. She traveled with the professional Savannah Derby Devils one summer. Yet there was no roller derby at Tech.
"The most challenging thing was coming to school and thinking that I wouldn't be able to do something that I loved," she said, pausing for a moment: "Actually, I knew I was going to do it, but I didn't know how I was going to do it yet."
Yellow Jacket Rollery Derby has grown from about half a dozen committed members initially to several dozen people signing up this year to learn the sport — and join a community known for its openness.
"We're trying to reach out to everybody," Stovall said. "If anybody wants to play, we'll teach them."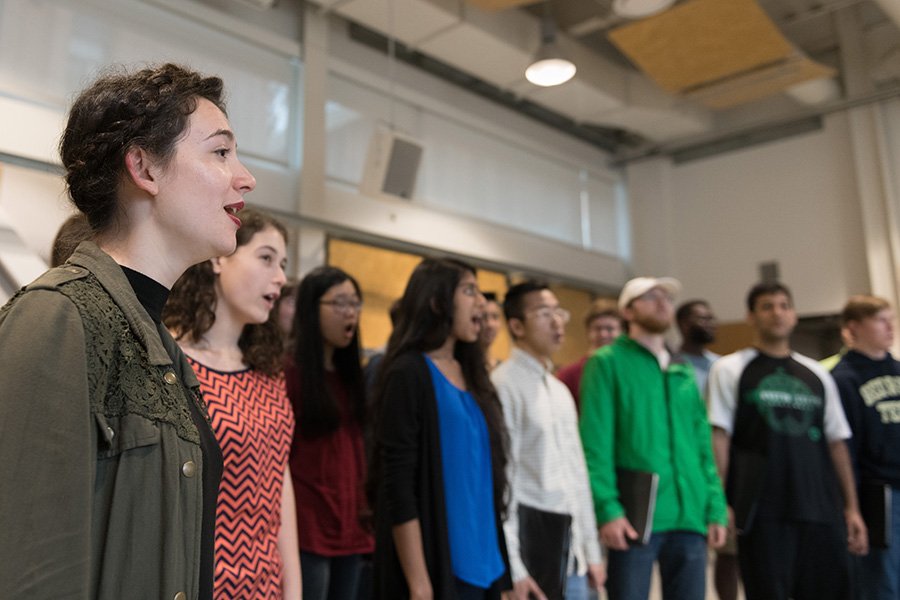 Giuliana Stovall, left, sings with the Georgia Tech Chamber Choir. In addition to founding Yellow Jacket Roller Derby, she sings in the choir and an a cappella group called Nothin' But Treble, and she's a resident assistant. All of those activities build community for Stovall, and are part of the reason she estimates she knows about one of every 64 people on the Georgia Tech campus. (Photo: Allison Carter)
From Skates to Scales (and Skyscrapers)
More recently, the challenge for Stovall has shifted from creating something from scratch to letting it go. Another member took over as president of the roller derby club this year, because Stovall recognized others would need to lead if the group were to continue after she leaves Tech.
Not that she's not staying plenty busy with the Georgia Tech Chamber Choir (where she also has served as president) and the all-women a cappella group Nothin' But Treble. Music has long been part of her life — she studied vocal performance in high school — and likely would've figured into her career until her physics teacher suggested Stovall would make a great engineer.
It's probably not surprising civil engineering resonated with Stovall, given her penchant for community-building.
"As an engineer, I feel like I have taken [the Tech motto,] Progress and Service, to heart, because that's what I want to do: I want to make people's lives better," Stovall said. "I want to serve the public in a way that only I can, using all the skills and the knowledge and experience I have. We know so much; we should use it to make the world a better place."
Stovall comes by her interest in physics and engineering naturally — her dad is also a Tech civil engineer, class of 1988. She's planning for a decidedly different career, however. He works in wastewater and environmental engineering; she's interested in structures, especially skyscrapers and other signature buildings, like performance spaces.
It's a perfect blend of her desire to build and make lives better and her love of the arts. Plus, it's challenging, she said.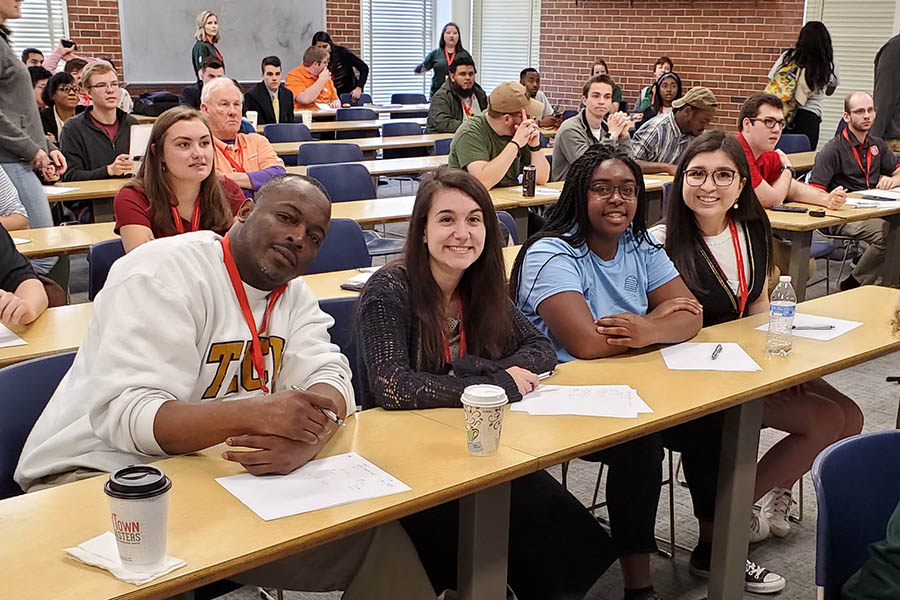 Giuliana Stovall, second from left, with other members of the American Society of Civil Engineers Georgia Tech chapter at the Carolinas Regional Conference in April. Stovall wants to focus her career on structural engineering — especially tall skyscrapers or other signature buildings, like performance spaces. (Photo Courtesy: David Scott)
"There are very few firms that specialize in just skyscrapers; usually they're designing skyscrapers and these like big performing arts centers, these big megaprojects like Atlantic Station," Stovall said. "That's where I'm leaning right now, to go work on those big projects."
She's already done an internship and had conversations with structural engineering firms. They suggested she would need a master's degree to pursue her dreams, so she has started on one through the BS/MS program.
In the meantime, she's balancing all of her interests with one other way she's involved at Tech: talking to young students about engineering as a College of Engineering Champion.
"I like to tell them that civil engineering is the best major, because you're building things for people, you're building something that someone will use every day — be it a road, water systems, or a building," she said.
"It's rewarding. You feel good at the end of the day."
Just as good, perhaps, as when you can greet 1/64th of the faces you see on campus.
Related