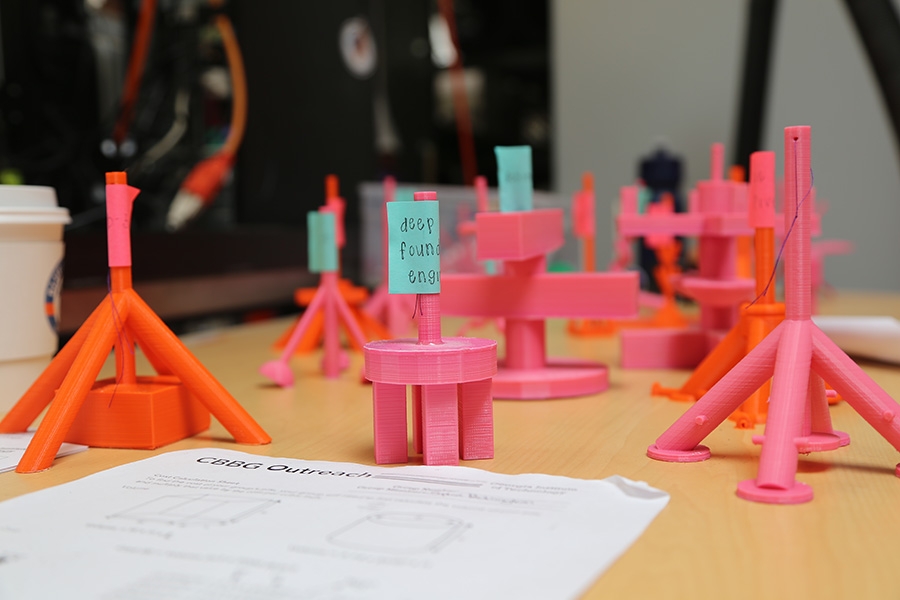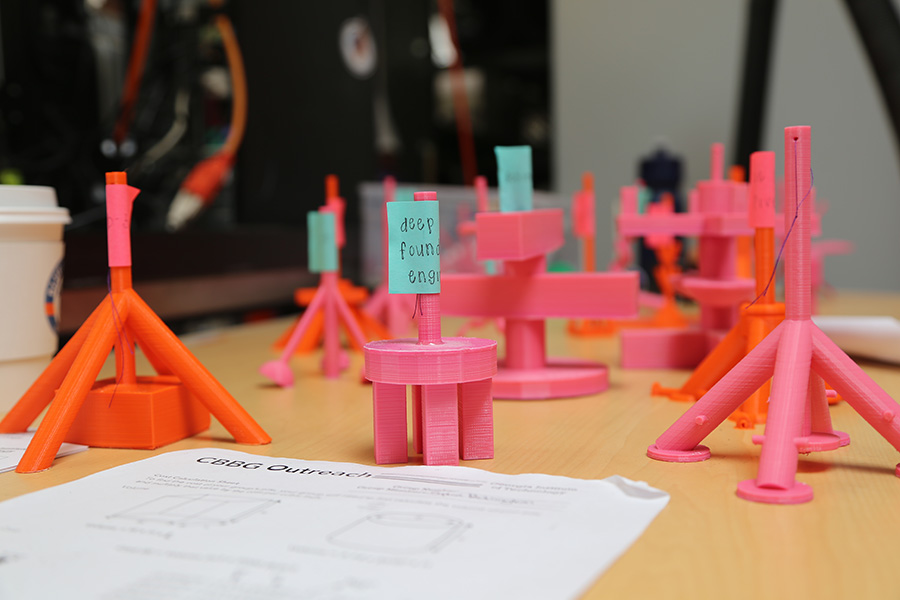 3-D printed models of the deep-pile foundations seventh-graders from Atlanta's Drew Charter School designed as part of a STEM outreach program through the School of Civil and Environmental Engineering and the NSF-funded Center for Bio-Mediated and Bio-Inspired Geotechnics. (Photo: Jess Hunt-Ralston)
Words by Joshua Stewart
Photos by Jess Hunt-Ralston
Two months of engineering lessons culminated in this: a 3-D printed plastic model buried in a bucket of sand.
How well would it perform? Did the team balance cost and function well enough?
More than 100 seventh-graders from Atlanta's Drew Charter School spent the day at Georgia Tech March 8 and 9 working with graduate students in the School of Civil and Environmental Engineering who've spent the semester teaching them about geotechnical engineering and helping them with a bio-inspired design challenge.
The testing was the capstone: For some teams, it took more than 10 pounds of force to pull their design — a miniature of a plant-root-inspired deep-pile foundation — from the bucket. For others, it was less than a pound.
"I've thoroughly enjoyed it," said Candice Price, the seventh-grade science teacher at Drew. "I'm all about doing things differently, kids thinking in a different way, pushing them to see what's out there. … Bio-inspired design was a totally new concept for them. "
A group of master's and Ph.D. students have spent upwards of 250 hours this semester delivering the problem-based learning module to the Drew students and planning the finale on campus. The outreach is funded by the Center for Bio-Mediated and Bio-Inspired Geotechnics, a National Science Foundation Engineering Research Center co-led by Higginbotham Professor David Frost.
Master's student Ariel Siegel led the modules, which were designed to align with the state of Georgia's educational standards.
"It always been something I've enjoyed, working with kids," Siegel said. "Also, being a female in engineering, I recognize that we are very under-represented and that I was privileged enough to always be encouraged by my parents, even though they were not engineers. They were familiar with the field and able to guide me in that direction. But to a lot of students who don't have that exposure, it's hard to find a way into this field.
"So, I'm hoping that this might encourage some who might not have known about it before."
Post-doctoral fellow Jong Muk Won sets up testing on the deep-pile foundation models designed by seventh-graders at Drew Charter School. In the foreground are several of the teams' designs.

 

Won talks with one of the student groups about the force test results for their design. The goal was for students to balance the cost to build their foundation with its strength.

 

One of the deep-pile foundation designs sits just above the top of the sand after testing. Groups of seventh-grade students from Drew Charter School in Atlanta learned about bio-inspired design and then had to create a root-inspired foundation design.

 

Students participated in two other engineering challenges during their day at Georgia Tech. Here, a group of students tries to build the longest bridge using only pennies.

 

Their other engineering challenge was to build a tower using only drinking straws that was strong enough to hold a golf ball for at least five seconds. Left: Students build a spot to hold their golf ball atop their tower. Right: Students smile after their tower remained standing for more than five seconds.